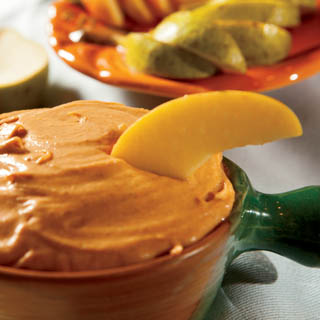 Warning: even Pumpkin Haters may like this treat!
It's a quick and easy way to combine all three fall favorites – apples, pears and pumpkin. Mix up a batch of this simple and healthy dip by adding an entire 15 ounce can of pumpkin to 1/3-less fat cream cheese. Season with cinnamon and some brown sugar and you instantly have an antioxidant-rich dip (beta-carotene from the pumpkin) to serve with fresh apple and pear slices. Any apple variety works, but my favorites are Jonagold and Honeycrisp because they're crisp/tart. And any pear variety works, but I'm partial to the Bosc pear for its texture. Enjoy! 
Oh, and two tips with this dip:
Even people who don't like pumpkin have liked this dip!
Exert some control and moderation because you may be inclined to eat spoonfuls of this decadent dip!
Pumpkin Cheesecake Dip with Apples & Pears
1 package (8 oz.) Neufchatel 1/3-less fat cream cheese
1 can (15 oz.) pumpkin
½ cup firmly packed brown sugar
1 teaspoon Saigon cinnamon
Mix all ingredients in a food processor until blended. Chill one hour before serving. Serve with apple and pear slices.
Makes about 2 ¾ cups (11 servings of ¼-cup each)