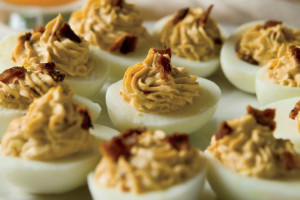 Ever been frustrated trying to peel hard-cooked eggs so your Deviled Eggs will turn out picture perfect? I have numerous times. But with these simple tips, you'll have a better chance of more eggs turning out picture perfect – rather than rough and ripped.
How to Make Perfect Hard Cooked Eggs: Start with 1 dozen large eggs. Older eggs are better than fresher eggs to peel surprisingly. Place eggs in a single layer in a large saucepan. Don't stack the eggs. Add enough cold water to cover the eggs by at least 1-inch. Bring to a rapid boil over high heat (water will have large, rapidly breaking bubbles.) Remove from heat, cover and let them stand 12 – 15 minutes (depending on how "done" you like the yolk.) Drain hot water and run cold water over the eggs for several minutes or place them in ice water until cool enough to handle. Drain thoroughly.
How to Peel Hard Cooked Eggs: Gently tap both ends of egg on the counter top, then roll it on counter or in between the palms of your hands gently. Under cold running water, peel off shell, starting with the larger end.
Now enjoy some smoky Deviled Eggs at your next football party or family gathering.

Smoky Chipotle Bacon Deviled Eggs
Author:
Kim Galeaz, RDN CD
Serves:
12 servings (2 halves per serving)
Ingredients
12 hard-cooked large eggs
⅓ cup reduced fat, light mayonnaise
½ cup light sour cream
2 canned chipotle peppers in adobo sauce, very finely chopped
1 tablespoon adobo sauce (from canned chipotle peppers)
½ teaspoon ground chipotle chile pepper
½ teaspoon smoked paprika
¼ cup finely chopped cooked bacon plus additional 2 or 3 tablespoons for garnish
Instructions
Cut the eggs lengthwise in half.
Scoop out the yolk and place in medium bowl. (Be careful not to damage the white halves.)
Mash the yolks with a fork.
Add mayonnaise, sour cream, chipotle peppers, adobo sauce, chile pepper, smoked paprika and ¼ cup chopped bacon.
Stir well to blend all ingredients.
Place filling in the whites using a small spoon or pipe in with a pastry bag and decorative tube. Garnish with remaining bacon as desired.
Serve immediately or refrigerate in tightly covered container.