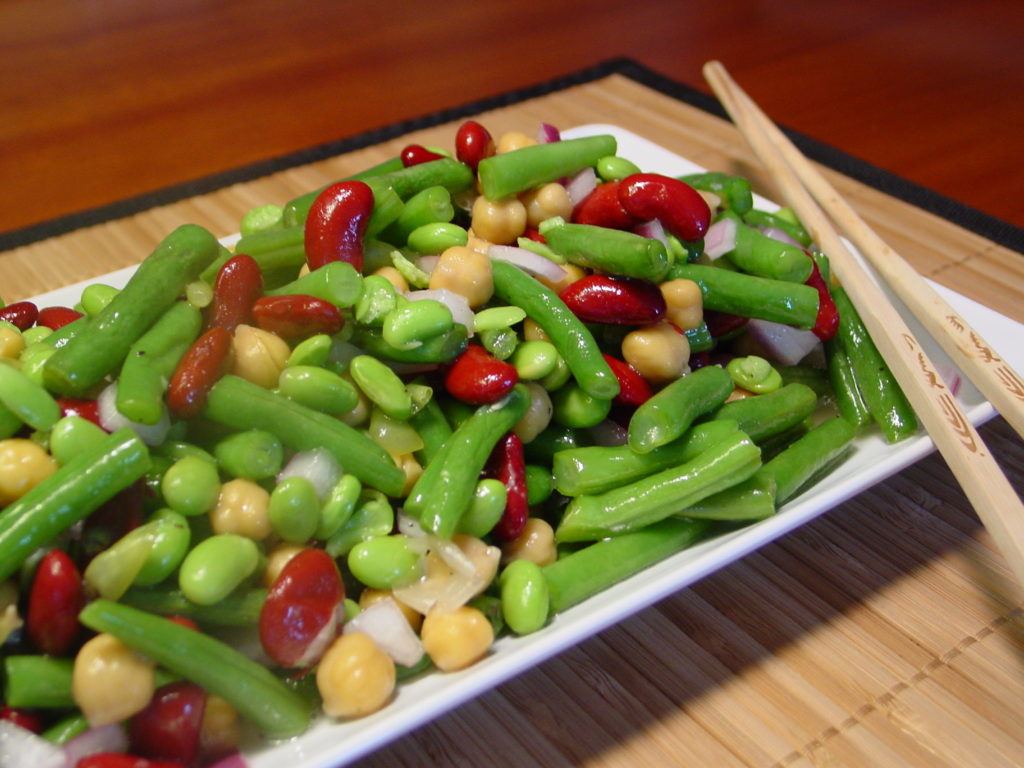 Yes, you have to have a vegetable in your lunch. At least whenever I pack your lunch. Which is a lot. This is by far his #1 favorite side-dish vegetable: My award winning Asian Sweet & Sour Four Bean Salad.
Award-winning because years ago I entered it in a Canola Oil contest and won $500! Lucky me! And lucky Jeff because he's getting fiber, protein, vitamins, minerals and lots of phytonutrients. Lucky me, too, because the only thing I have to chop is the red onion. Everything else is open, drain, rinse, stir, whisk, stir again.

Jeff's Favorite Asian Sweet & Sour Bean Salad
Perfect salad for make 'n take pitch-ins, lunches and time-pressed cooks.
Author:
Kim Galeaz RDN CD
Ingredients
3 cans (14.5 oz.) cut green beans, drained
1 bag (16 oz.) frozen shelled edamame, thawed and microwaved
1 can (15.5 oz.) dark kidney beans, rinsed and drained
1 can (15.5 oz.) garbanzo beans, rinsed and drained
¾ cup finely chopped red onion
½ cup corn, canola or vegetable oil
¾ cup unseasoned rice wine vinegar
¾ cup granulated sugar
1 heaping teaspoon Chinese mustard
½ teaspoon kosher salt
½ teaspoon ground black pepper
Instructions
In a large bowl, lightly stir all beans and red onion together. In a separate small bowl, whisk together vegetable oil, rice wine vinegar, mustard, salt and pepper. Add to beans and stir just to combine/blend. Enjoy immediately. Refrigerate salad in a tightly covered container. Makes about 11 ½ cups salad.
Kim's Healthy in a Hurry Lunch Tip: Enjoy a big serving of this salad with Jeff's favorite Ham, Apple & Cheese Sandwich (whole wheat pita pocket with deli ham, sliced cheese and thinly sliced apples…a little honey or zesty mustard, too.)