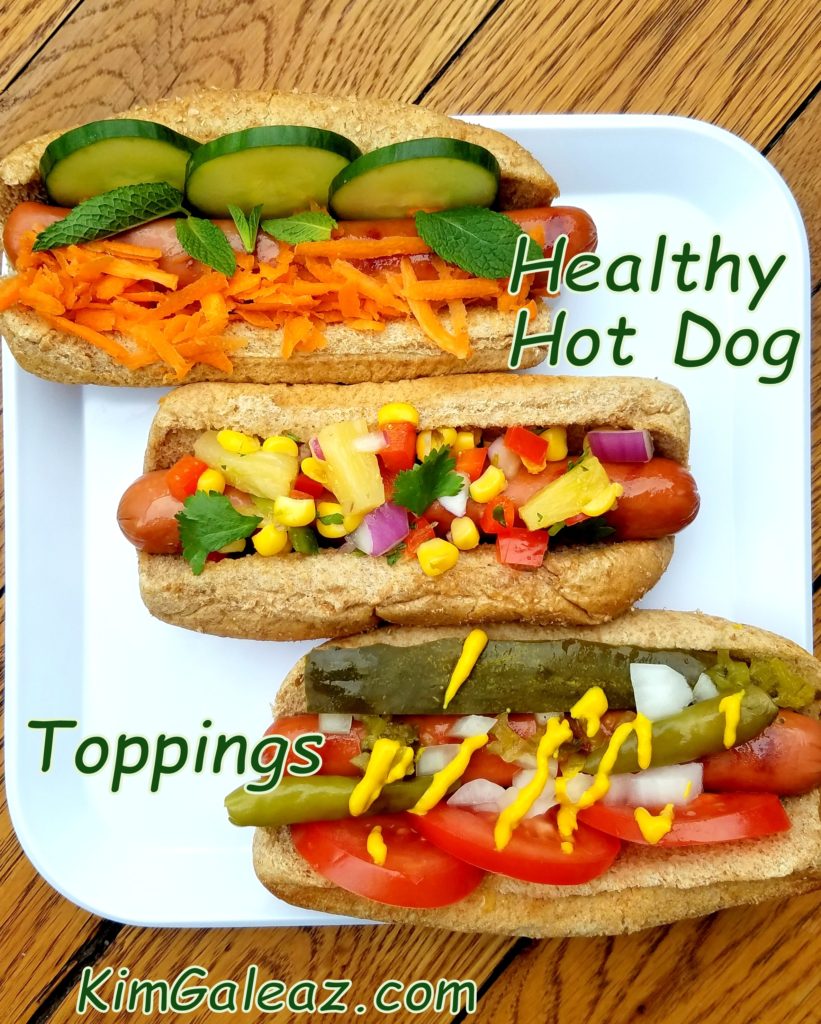 Curious how a dietitian serves hot dogs? Three ways:
1. Topped with plenty of fruits and vegetables.
2. Served inside whole wheat hot dog buns.
3. Grilled outside for the best "at the ballpark" flavor.
That's right. I balance those mouth-watering summer favorites with plenty of nutrient-rich ingredients. I know hot dogs aren't the leanest of meats. Or the lowest in sodium. But that's perfectly okay in my practical dietitian way of eating, because I prefer to celebrate the goodness of absolutely every food.
So let's celebrate!
1. Protein provider. The typical hot dog – whether made from all beef, or part beef, pork, turkey and chicken – gives you at least 5 grams protein, and this protein helps keep your muscles strong and healthy. Concerned about nitrates and nitrites in hot dogs? Let me help allay your fears and concerns. These two ingredients are actually added to prevent the growth of harmful bacteria. And the allowable amount has been proven safe by extensive and thorough research. And did you know? The majority of the nitrates/nitrites in your diet come from a variety of vegetables! That's right, nitrates/nitrites are naturally occurring in many vegetables like celery, beets, spinach and numerous lettuces.
2. Vehicle for whole grains. Hot dogs fit perfectly in those widely available whole grain and whole wheat buns. Every day, if you choose at least half your grain servings from the whole grain category, you'll be giving yourself a huge health boost. Not only do whole grains give you more vitamins, minerals and usually more fiber, you'll also help reduce your risk of Type 2 diabetes, heart disease and stroke.
3. Conduit for consuming more fruits and vegetables. Think about it…you enjoy fruit and vegetable-based salsa with pork, beef, fish, and poultry. Why not hot dogs?! And you love tons of vegetables on your deli sandwiches…why not on hot dogs?!  Just FYI, the average adult needs at least 2 cups fruit and 2 1/2 cups vegetables every day. Every little bit of those fruits and vegetables adds up, so start sprinkling and topping and stuffing away on those hot dogs!
4. Fastest of the fast. Nothing is faster on the grill than hot dogs. Plop, turn, remove. Hot dogs are already fully cooked when you buy them. You're just reheating.
5. FTQ. That's "food truck quality." You know how tacos, dogs, and everything under the sun is a food truck trend and favorite? Well now YOU can serve up FTQ hot dogs with customized toppings right at your own backyard grill! Here are my three favorites – Vietnamese Hot Dogs, Hawaiian Hot Dogs, Chicago Hot Dogs.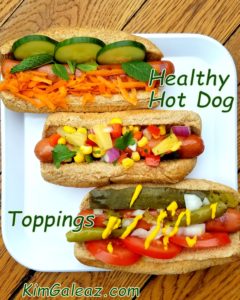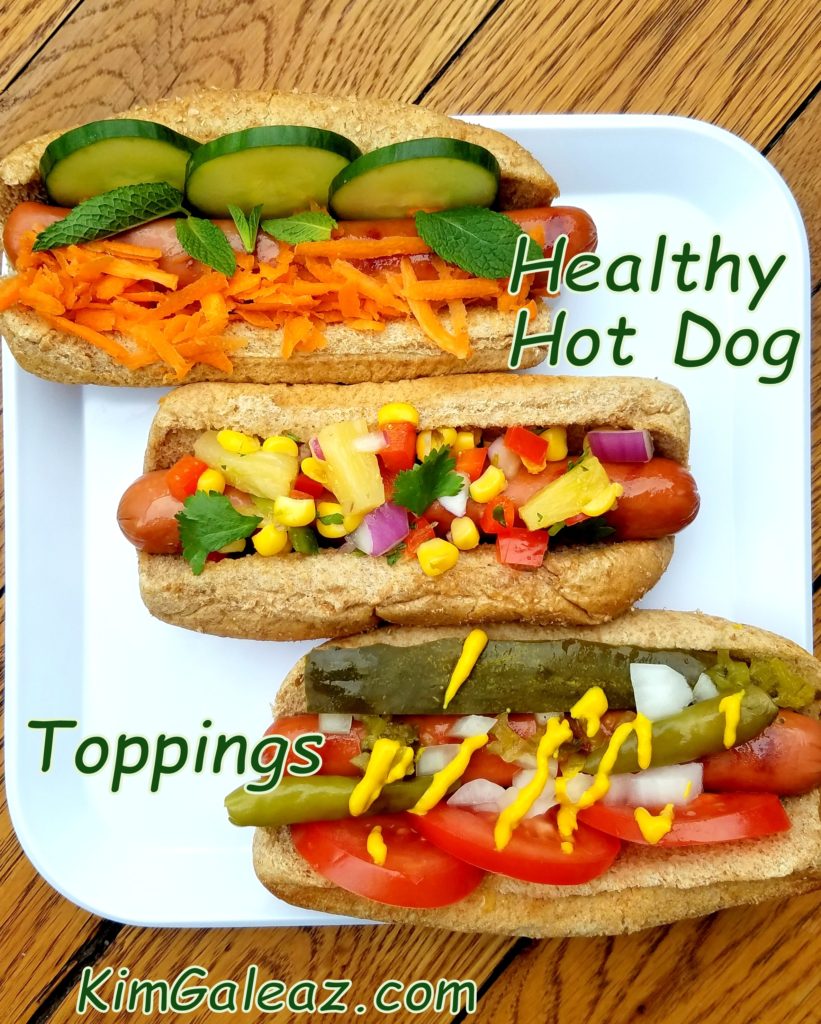 Vietnamese Hot Dogs
Author:
Kim Galeaz RDN CD
Ingredients
½ cup light mayonnaise
2-3 tablespoons Sriracha sauce
½ large cucumber, thinly sliced
¾ cup shredded carrots
½ cup fresh mint leaves
6 hot dogs
6 whole wheat hot dog buns
Instructions
Make spicy mayonnaise by mixing mayonnaise and Sriracha sauce together in a small bowl. Spread mixture on buns then add hot dog. Arrange cucumber slices, shredded carrot and mint leaves over hot dog.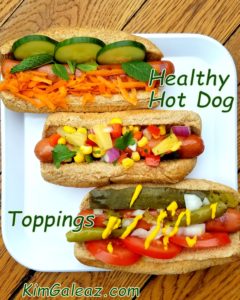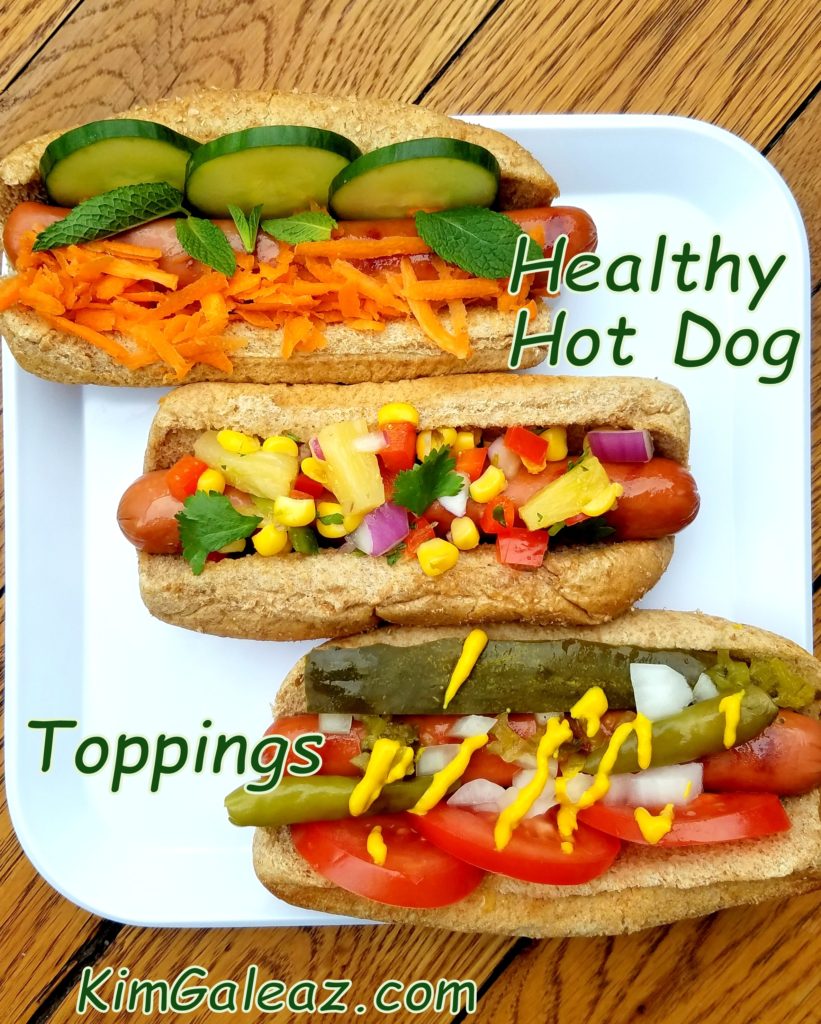 Hawaiian Hot Dogs
Author:
Kim Galeaz, RDN CD
Ingredients
1 ¾ cup Pineapple Corn Salsa*
6 hot dogs
6 whole wheat hot dog buns
*Pineapple Corn Salsa
1 can (20 ounces) pineapple tidbits in 100% juice, drained
1 can (15.25 ounces) sweet corn kernels, drained
1 very large red bell pepper, finely chopped
1 cup red onion, finely chopped
⅓ cup green onion, finely chopped
1 large jalapeno pepper, seeded and finely minced
⅓ – ½ cup cilantro, finely chopped
4-6 tablespoons lime juice
1 heaping teaspoon lime zest
¾ teaspoon garlic powder
¾ teaspoon ground cumin
¼ teaspoon salt
Instructions
Top each cooked hot dog in a bun with about ¼ cup salsa.
To make salsa, toss pineapple, corn, red bell pepper, red onion, green onion, jalapeno pepper and cilantro together in a large bowl. In a separate small bowl, whisk together lime juice, lime zest, garlic powder, cumin and salt. Pour over pineapple-corn mixture and toss lightly. Adjust seasonings to your liking. Refrigerate leftovers in tightly covered container.Yields 5 ½ cups salsa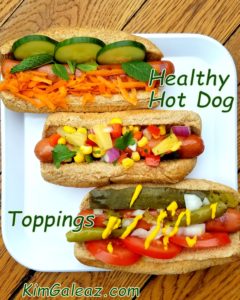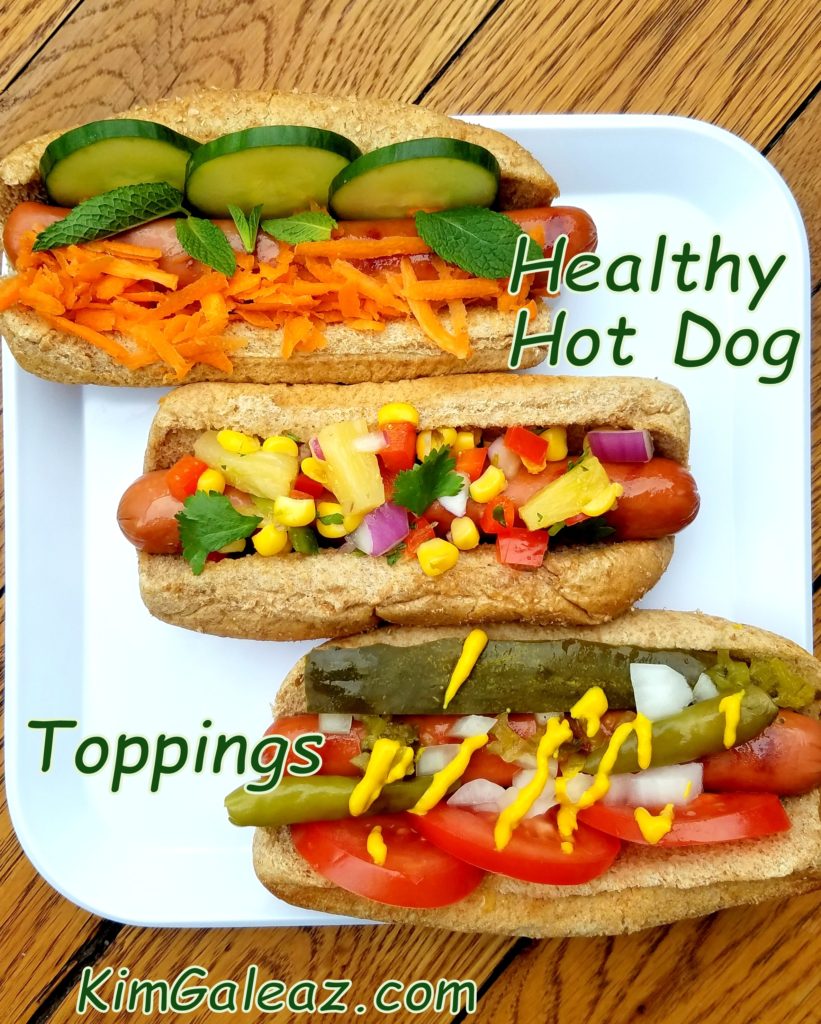 Chicago Style Hot Dogs
Author:
Kim Galeaz RDN CD
Ingredients
1-2 tomatoes, thinly sliced
4 tablespoons white onion, finely chopped
6 tablespoons sweet pickle relish
6 thin dill pickle spears
Hot sport peppers
Yellow mustard
Celery salt
6 hot dogs
6 whole wheat hot dog buns
Instructions
Divide tomatoes, onion, sweet pickle relish and dill spears between 6 hot dogs on bun. Add desired amount of sport peppers and mustard. Sprinkle with celery salt.
Disclosure: As a proud supporter of Indiana Agriculture, I'm happy to mention this is a sponsored post for the Indiana's Family of Farmers. And did you know that mint on your Vietnamese Hot Dog may have been grown in Indiana! That's because Indiana is one of the top mint-producing states.