Leather fabric and leopard prints.
Essential for my style, which could be considered classic with some edginess thrown in. Maybe even bad-ass at times. I always feel vibrant when I dress this way.
But FYI – the only "real" leather clothing piece I own is my winter coat, which is now over ten years old. I love it and it's worth every cent. For other "leather-like" pieces, I happily opt for "pleather," polyurethane leather-like material.
You'll notice I hang on to my clothes. Once I find things I love and that fit me well, I'll keep them indefinitely. Animal prints and leather are a classic, too, and are always in style.
Favorite leopard pieces
Purse, flats, heels and the same belt in two different sizes. The Hobo purse was purchased at Dillard's in Jacksonville Florida, 2010. Showing some wear, but I'm still happily using it. The Calvin Klein heels are my favorite business pump; at least six years old.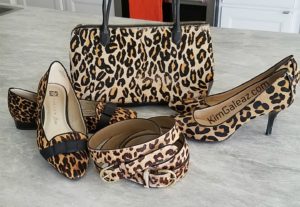 Big leopard-print scarf I can wear at neck or use for sash/belt. Smaller scarf neck only.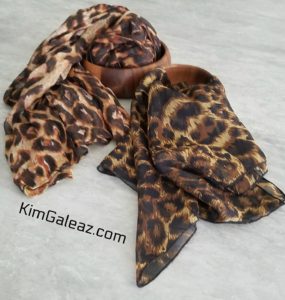 This smaller neck scarf is my #1 favorite. I wear it to the side with one tail hanging down in front & other in back. Or I wear it the "Mad Men" way: the two tied tails hang in back. So 50's & 60's and I love it.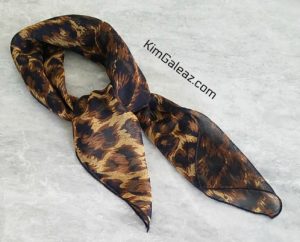 My new Fall/Winter 2017/18 leopard print skirt from White House Black Market. I love to wear it with black or white tops.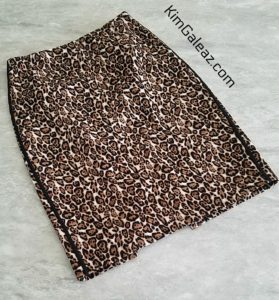 It has an edgy back with outside zipper and back slit. Pencil-type fit.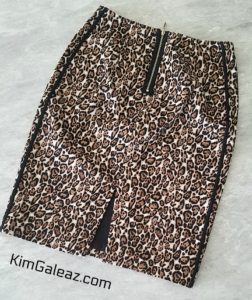 Top with cap sleeves and higher slit-turtleneck-like neckline.I wear alone or under pleather jackets. Ann Taylor at least four years ago.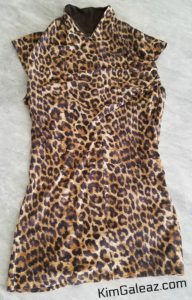 Favorite Pleather Pieces
Oh, here's that real leather coat from Nordstrom – it's still in fabulous condition. Very warm, too.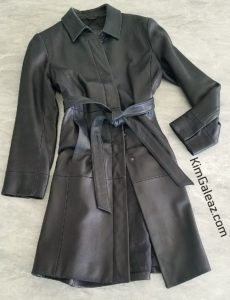 My new Fall 17/Winter 18 pleather Calvin Klein Jacket bought on sale at Macy's with all kinds of offers/coupons and the final price: $39.99! It's a deep greenish-bluish color. I wear it with skirts, black pants and jeans.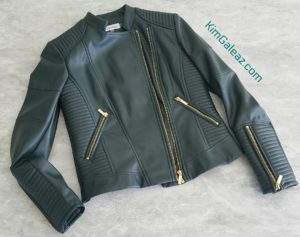 Ubiquitous black pleather pants 2014 Ann Taylor. Still in great shape. And when it comes to pleather or leather, I ignore that edict to not wear elastic waist pants. I prefer this wide-band elastic waist so tighter tops look sleek over the pants.
Ubiquitous black pleather skirt Ann Taylor. Back slit. 2013 or 2014.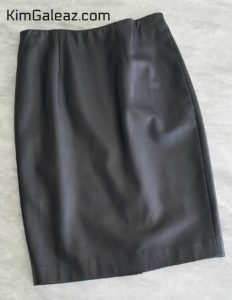 And when you find something you love, buy it on-sale in another color! Brown. Ann Taylor.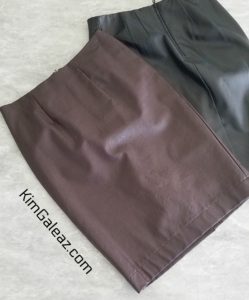 Black pleather jacket INC Macy's. At least five years old. Love the quilting texture detail.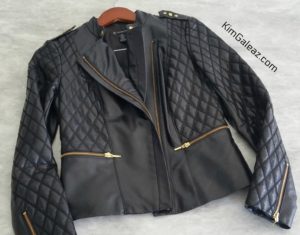 My all-time favorite short sleeve top. Pleather with fabric back and outside zipper. I love wearing neck scarves with it. Bought at Dillard's in Phoenix April 2013. I love the seam detailing.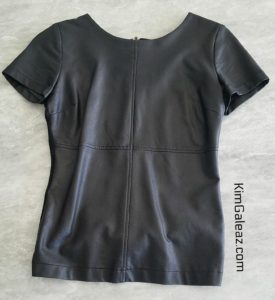 Well, of course I needed to get this summer pleather top on-sale at Ann Taylor for $29.99 a couple years ago! Fabric back. It's a little too blousy for me, so I typically wear a belt.
And finally, the jacket that started this whole pleather purchasing craze. INC Macy's jacket in a steel blue. Six or seven years old.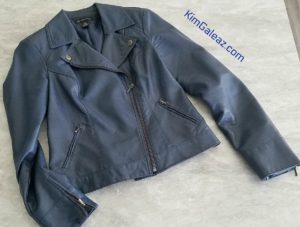 What's one of your favorite "looks?" What are some of your favorite fabrics or prints? I'd love to hear! Thanks for reading.