It's the small things that make life so much better.
They may be simple, small and even silly, but they add tons to my vibrancy. Small things bring laughter, smiles and generally more pleasant, happy feelings. Gratitude, too, because they make my life so rich. I'm celebrating all the small things today. I realized I have so many I'll have to do another post.
Color of the Day.
Every morning first thing, along with Merriam-Webster's Word of the Day, I get Pantone's Color of the Day. Today's color, basil, is just okay, not one of my faves, but I really like the words that go with it: innovative, expressive, originator.
Coffee in bed with Jeff.
Every morning, time-permitting, I have one or two cups of coffee in bed with Jeff. It's just the most satisfying way to start my morning. It's while we're having coffee that we check Word and Color of the Day. The basil color didn't wow him this morning.
Elijah's artwork wall.
Some are old, some new, but all of Elijah's drawings are my favorites. Especially the ones where he has Papa, Grammy and Elijah holding hands. These drawings warm my heart and make me smile Every. Time. Even the hundredth time.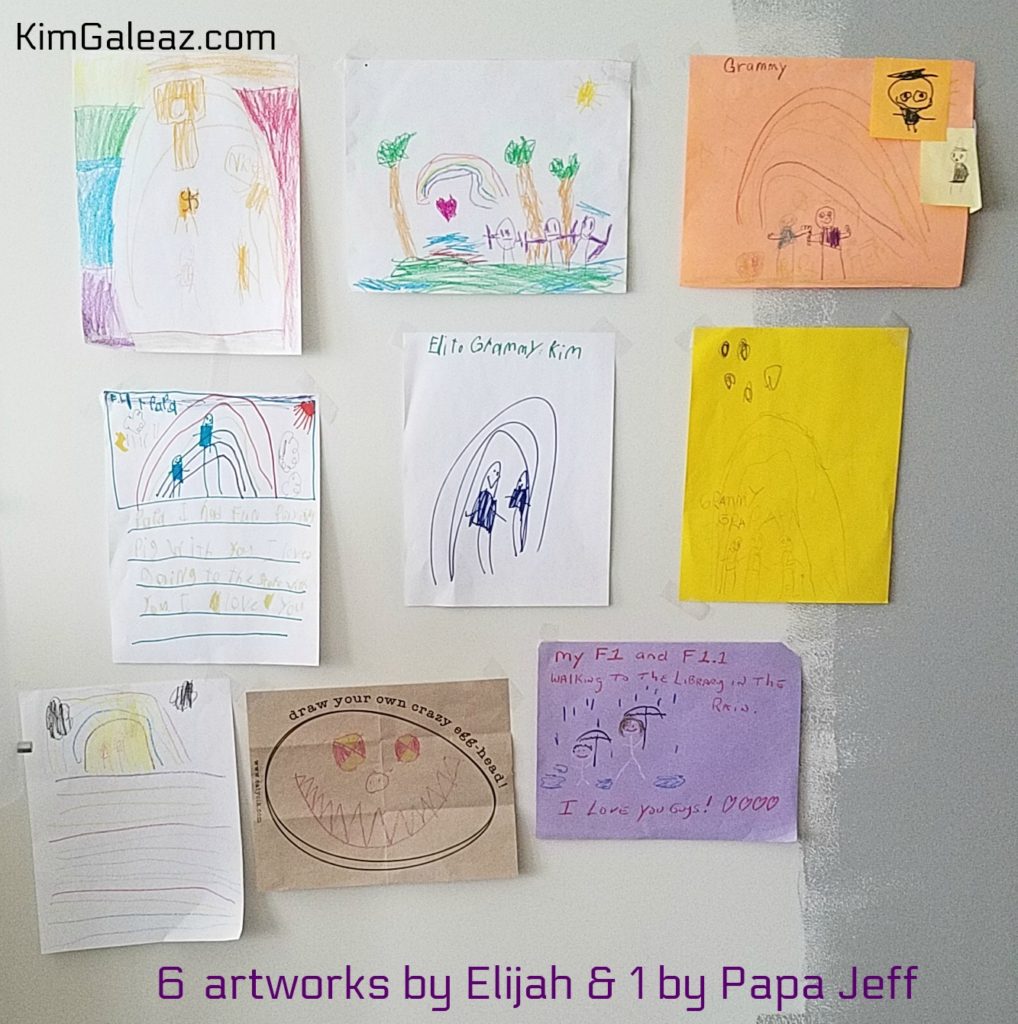 Greg's artwork addition.
When my close friends Greg and Michelle, and their kids Isabel and George came to visit over the holidays, Greg slept in the office where Elijah's artwork wall is. He must have felt the vibes/inspiration, because after they left, I found this hanging on the wall next to Elijah's. I love it. It has a permanent home. It means everything.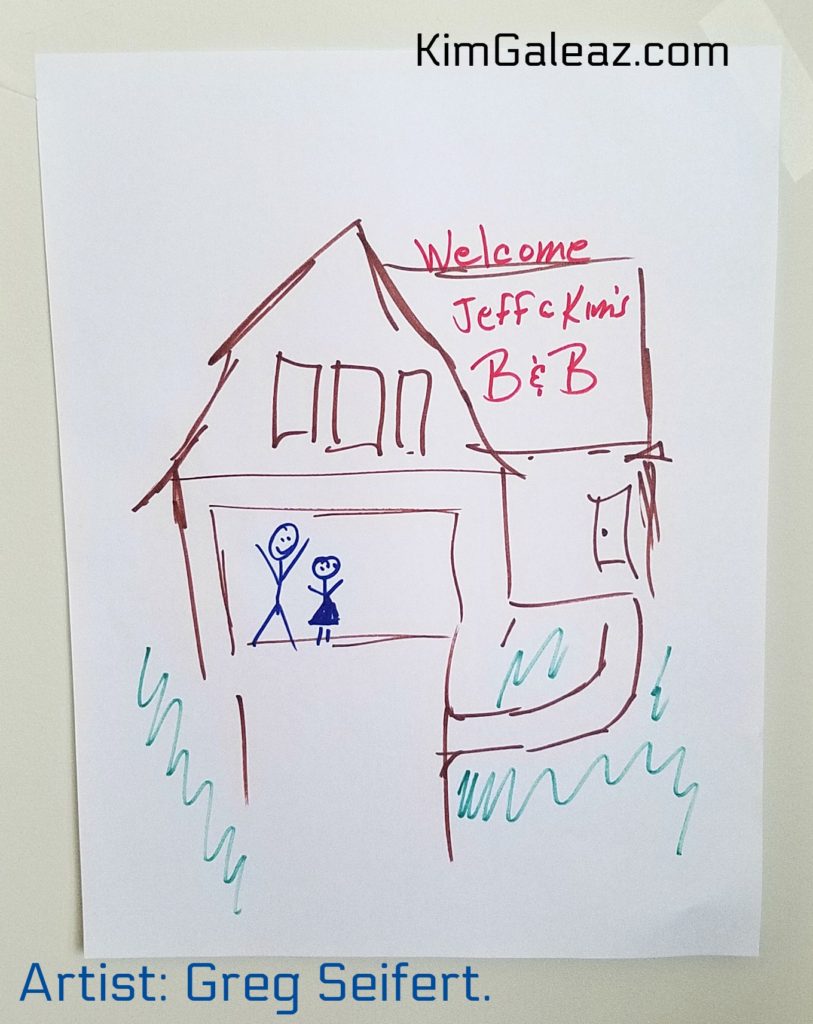 Taking out the trash bin.
Every week the night before Republic comes, I roll out the trash bin to the curb. I love this menial task and I haven't quite figured out why. Maybe it has something to do with getting rid of stuff. Organization? On schedule? Who knows. All I know is I feel happy when I do it.
Getting the mail.
What is it about getting the mail? It's the silliest thing, but it brings feelings of anticipation….maybe I'll get something totally unexpected and really good. I comment on days we don't get mail due to holidays, I comment when it seems light, I comment when it's the overload of catalogs. But I never tire of the old-fashioned mail. Including – and this is brand new now since we moved – going to the Post Office. Our dinky little "ring the bell for service" Whitestown post office makes me smile every time. When I lived downtown Indy driving to one of the big PO's was a pain in the ass with parking and long lines.
Yolk pens.
It's the BEST thing when Jeff comes back from a business breakfast at Yolk and brings me one or two Yolk pens. Or this stack from last week!! It's the mother-load of Yolk pens. Elijah once asked why I had so many yellow egg pens…..well. Hmm. Let's see. They write with the line/thickness I like. They feel good in my hands. I love their bright yellow happy cap. Too much detail for an 8-year-old.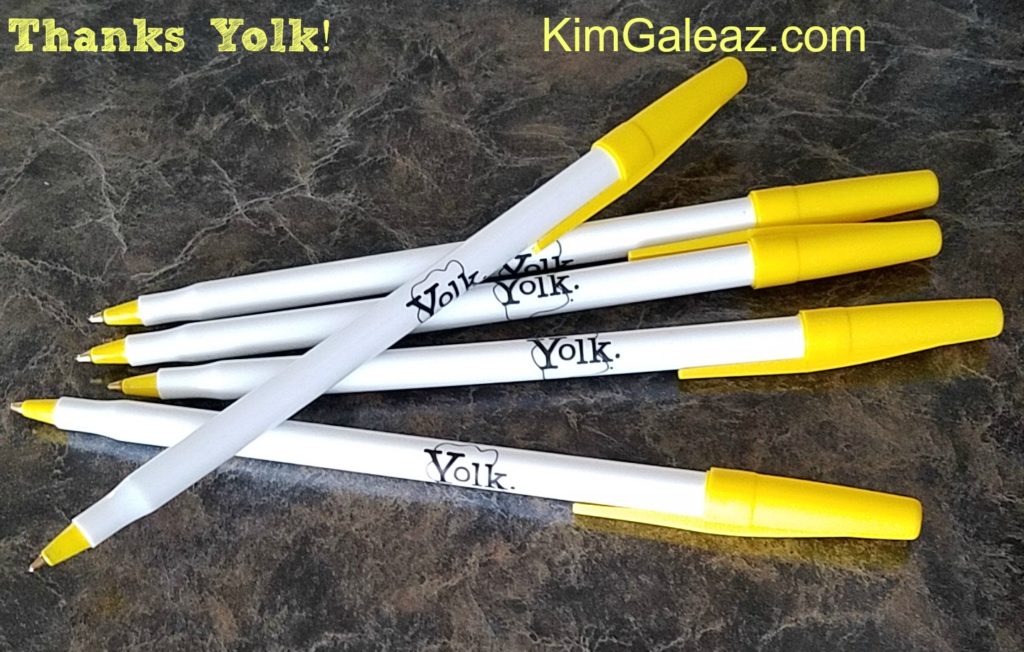 Making too much popcorn.
I don't care if it goes everywhere…I love watching it rise inside that plastic dome. Love eating it just as much with enormous amounts of salt. Enormous. Plus, every time Jeff and I use this popcorn maker, we reminisce about when Elijah was 3 and 4 and would just go bonkers excited watching the popcorn pop.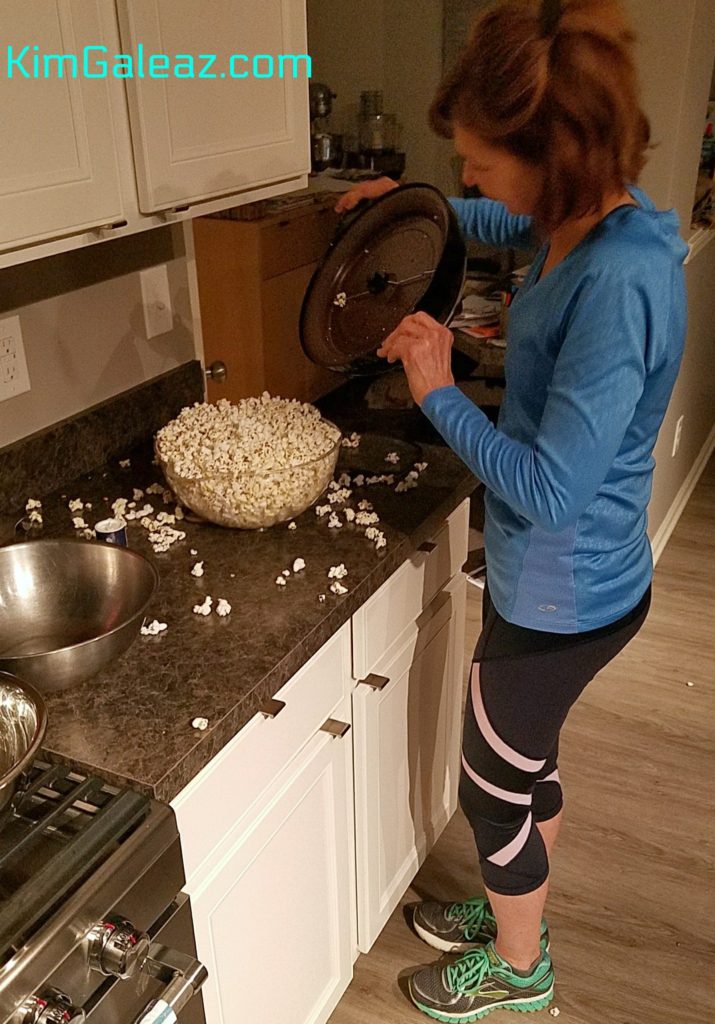 Kitchen smells.
Homemade bread in my ancient Breadman breadmaker tops the list. Well, maybe Jeff's toast with cinnamon and sugar. Wait, maybe onions, celery and garlic sauteing in a stove-top skillet. Steaks on the grill. Coffee wafting upstairs as Jeff makes it for us downstairs.
Turtle sundaes.
Dairy Queen, Culver's, Bobbie's Ice Cream in Illinois or any place possible when traveling, turtle sundaes are my all-time favorite. Something about that combo of caramel, chocolate and pecans. Bobbie's is still in the lead for #1. Or my own homemade one.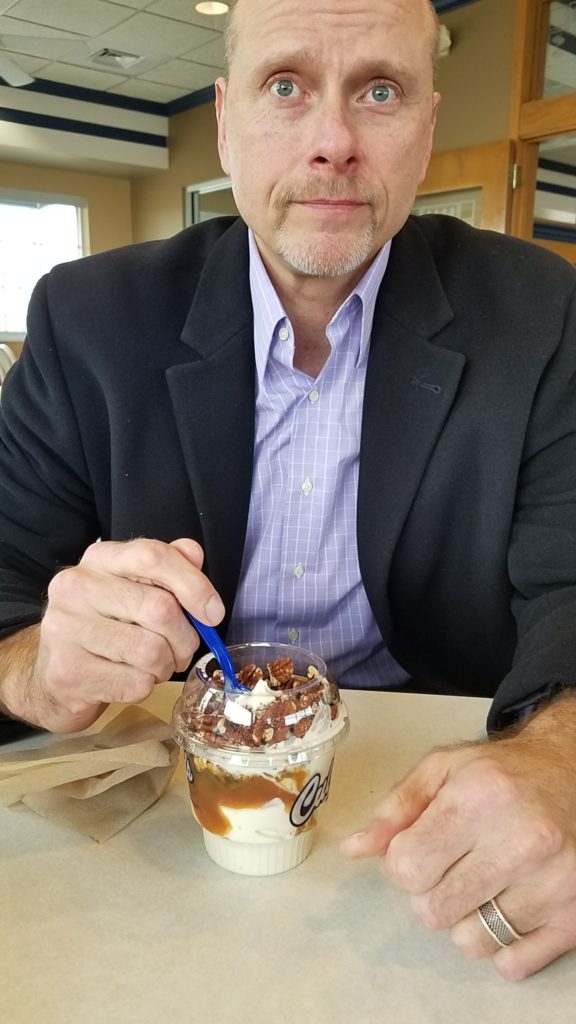 Small things add vibrancy. What are a few of your favorite small things? I'd love to hear.
And I'd like to give special mention to Shannon Cagle Dawson, who inspired me to do this post today. On her facebook page this morning, she said she was "dorky-excited" about her new pencil-cleaner-thingy for keyboards. It's the small things…
Oh, here's the link for Pantone's Color of the Day