Tonight I had my first Bollywood Dancing Class. Talk about getting outside your comfort zone and stretching your body and brain…I certainly did tonight!
New dance moves.
I stretched my body because this was sort of a Zumba-Bollywood dancing type class. Great cardio of course, but more importantly it contributes to healthy, vibrant aging because I was moving my body in new ways. I'll admit I had a hard time with some of the dance moves – maybe 60% success rate -but I imagine with practice and repetition I'll improve.
The hands.
I love to dance, and I've got great rhythm, but Indian dancing involves both the feet and the hands. And oh boy, my success rate those hand moves was about 25%! Hmm…the graceful Indian hand movements will take a little more time. I'm sure I looked like I was dancing at a club to hip-hop and deep house music, which in no way requires graceful hand movements. But I didn't care and kept moving away! And I tried to ace those steps and hands.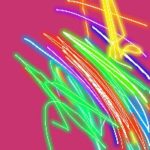 Brain boost.
My brain got the best workout though, because it had to process new information and translate that to physical movement. Whew. That's the tough part. But it's so worth it. I was happy the entire hour of class.
Comfort zone stretch.
I'm typically not fond of group classes, feeling all intimidated and such. But since I started boxing classes two years ago, I think it's helped me get over that group thing. There were four other gals in tonight's class, and I barely looked at them while dancing.
Usha, the instructor
Our instructor, Usha, is a delight and so incredibly skilled. I could watch her dance for hours. Now can't wait for the next five classes to stretch my brain and body!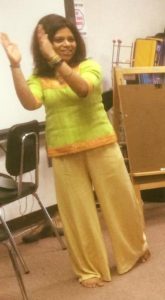 Oh, once Usha posts tonight's group picture to her Facebook page, I'll share it here on my blog.
Here's the links to her Indy Bollywood Facebook page and Website.  
How have you stretched your body and brain recently for vibrant aging? I'd love to hear.