Twenty minutes. That's all you need to throw together a batch of my Sunny Six Can Salsa.
Just a few things need chopping, six cans need draining and the simple dressing needs whisking. Stir all together and start dipping!
All the ingredients are so nutrient-rich, from the canned peaches, pineapple and pears, to the corn kernels, black beans and diced tomatoes.
It's a myth that only fresh is a nutrient-rich choice – canned is just as nutrient-rich and healthy because those ingredients are "picked and packed at their peak."
Which means all the valuable nutrients, vitamins and minerals are retained. And canned tomatoes and canned peaches actually have MORE nutrients than their fresh counterparts because of the canning process!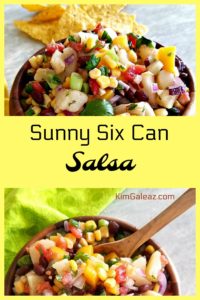 It's a sunny day when you can throw a salsa together in just 20 minutes! Enjoy.

Sunny Six Can Salsa
Easy salsa with six nutrient-rich fruits and vegetables. Ready in just 20 minutes.
Author:
Kim Galeaz RDN CD
Ingredients
1 can (15 oz.) sliced peaches in light syrup, drained and chopped
1 can (15 oz.) pear halves in light syrup, drained and chopped
1 can (20 oz.) pineapple tidbits in 100% juice, drained
1 can (14.5 oz.) petite diced tomatoes, drained
1 can (15.25 oz.) sweet kernel corn, drained
1 can (15.25 oz.) black beans, rinsed and drained
1⅓ cups diced red onion
1 ¼ cups finely chopped green onion
2 jalapeno peppers, seeded and very finely minced
½ to ⅔ cup chopped cilantro
1 ½ tablespoons vegetable oil
½ cup lime juice
Zest from 1 very large lime
2 cloves garlic, very finely minced
½ teaspoon kosher salt
¾ to 1 teaspoon ground cumin
Instructions
Combine peaches, pears, pineapple, tomatoes, corn and black bean in a very large bowl. Lightly stir in red onion, green onion, jalapeno peppers and cilantro. In a separate small bowl, whisk oil, lime juice, zest, garlic, salt and cumin. Pour over fruits and vegetables and toss lightly. Taste and add additional salt and/or cumin if desired. Enjoy immediately with corn tortilla chips. Refrigerate leftovers in a tightly covered container.