Pizza Style Sloppy Joes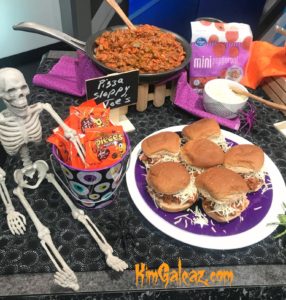 Author:
Kim Galeaz RDN CD
1⅓ pound lean ground beef (Kim likes 90/10 for this recipe)
1 ½ cups finely chopped onion
1 very large green bell pepper, seeded and finely chopped
2 very finely minced garlic cloves
1 jar (16 ounces) favorite pizza sauce
1 teaspoon Italian seasoning
1 teaspoon dried oregano
½ to 1 teaspoon crushed red pepper
1 bag (4 oz.) mini pepperoni slices
6-8 hamburger buns (white or whole-wheat)
2 cups finely shredded Mozzarella cheese
In a large skillet over medium heat, cook ground beef, onion and green pepper until beef is almost done.
Add garlic and cook additional minute or two, until beef is thoroughly cooked. Add pizza sauce, Italian seasoning, oregano, crushed red pepper and mini pepperonis. Stir well and bring to a boil. Reduce heat, cover and simmer for 10 minutes.
Spoon mixture onto bun bottom, sprinkle roughly ¼ cup shredded mozzarella cheese over meat, then top with bun. Enjoy! Refrigerated leftovers in tightly covered container.
Slider buns can be used instead of standard hamburger buns. You'll need two packages, probably.
Recipe by at http://kimgaleaz.com/2017/10/halloween-pizza-inspired-party/