Candy Corn Sugar Cookie Pizza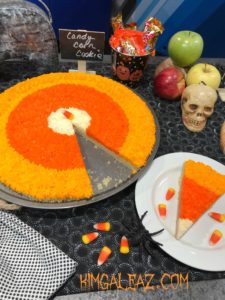 Author:
Kim Galeaz RDN CD
Kim's Homemade Sugar Cookie Dough "Crust"*
1 ½ cups sifted powdered sugar
1 cup butter, unsalted
1 egg
1 teaspoon pure vanilla extract
½ teaspoon pure almond extract
2 ½ cups all-purpose flour
1 teaspoon baking soda
1 teaspoon cream of tartar
Optional garnish: fall/Halloween M&M's or any other favorite candy crushed in small pieces
Kim's Buttercream Icing
1 cup butter (or ½ cup butter + ½ cup Crisco shortening)
1 vanilla or clear vanilla**
4 cups (1 pound) sifted powdered sugar
2 tablespoons whole milk
Gel colors: orange and golden yellow
Kim's Homemade Sugar Cookie Dough "Crust"
In a large bowl, mix sugar and butter together with electric mixer. Add egg, vanilla and almond extracts. Mix thoroughly until blended. In a separate medium bowl, whisk together flour, baking soda and cream of tartar. Add slowly to butter mixture, mixing well on medium until thoroughly blended. Refrigerate dough 2 to 3 hours.
Heat oven to 375⁰F. Lightly grease or spray a large (12-14-inch) pizza pan. Pat or roll dough on pan, making sure it's the same thickness all around. Bake until done in middle and slightly golden, about 9 to 14 minutes, depending on your oven. Cool on wire rack.
Once completely cooled, ice with my buttercream icing to resemble candy corn. Sprinkle with M&Ms or candy if desired. Refrigerate iced cookie until serving time. Slice into wedges.
Kim's Buttercream Icing
In a large mixing bowl, cream the butter. Add vanilla and mix until combined. Gradually add powdered sugar, about 1 cup at a time, beating well on medium speed. Add the whole milk in between sugar additions. Mix 3 minutes, or until slightly fluffier. Take out a tiny amount of white icing and set aside. Tint slightly over half of the remaining icing a bright golden yellow. Tint the remaining amount orange. Pipe or spread each color in a circular pattern on the cookie (yellow on crust edge, wider band of orange in center and small circle of white in middle.)
Kim's Tips: *Use two of those refrigerated sugar cookie dough logs if you want. Use clear vanilla if you're going to need part of the icing to stay bright white.
Recipe by at http://kimgaleaz.com/2017/10/halloween-pizza-inspired-party/