Apple Cider Sangria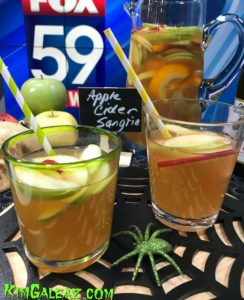 Author:
Kim Galeaz RDN CD
2 cups apple cider
2 bottles (10 to 12 ounces each) alcoholic ginger beer (or non-alcoholic ginger beer or ginger ale for kids)
1 bottle favorite white wine (1 bottle sparkling cider for kids)
3 large apples, assorted colors (red, green, golden), unpeeled, cored and sliced
1 large navel orange, cut into slices
1 lemon, slices
Optional garnishes: more apple slices
In a large pitcher, bowl or container, whisk together apple cider, ginger beer (ginger ale) and white wine (sparkling cider.)
Add sliced apples, orange and lemon.
Refrigerate at least 1 hour before serving to allow flavors to blend.
Recipe by at http://kimgaleaz.com/2017/10/halloween-pizza-inspired-party/