Hot, Spicy, Sweet & Smokey Mixed Nuts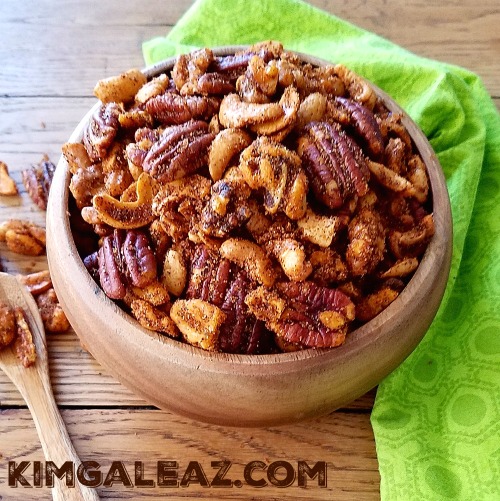 Author:
Kim Galeaz RDN CD
1 cup walnut halves and pieces
1 cup pecan halves and pieces
1 ½ cups cashew halves and pieces
2 tablespoons Mazola corn oil
3 tablespoons firmly packed brown sugar
1 teaspoon ground chipotle chili powder
2 teaspoons chili powder
¼ teaspoon cayenne red pepper
½ teaspoons ground cumin
1 teaspoon garlic powder
1 teaspoon onion powder
Heat oven to 325°F. Coat an 18x13-inch rimmed baking pan with cooking spray (or parchment paper and cooking spray). Set aside. In a large bowl, mix walnuts, pecans and cashews. Add corn oil and toss until blended. In a separate small bowl, mix sugar and all spices. Add to nut mixture and stir well, coating all pieces. Spread evenly in prepared pan. Bake, stirring several times, until nuts are browned, about 15 to 20 minutes. Cool completely before serving. Store nuts in an airtight container or plastic bag at room temperature. Nuts will last about 5 days at room temperature. These freeze exceptionally well.
Makes about 10 servings of ⅓ cup each.
Recipe by at http://kimgaleaz.com/2017/11/hot-spicy-sweet-smokey-mixed-nuts/