Papa Pancakes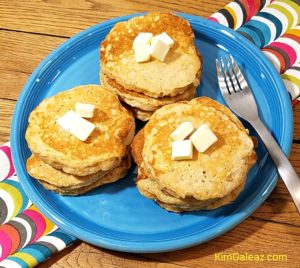 Author:
Kim Galeaz RDN CD
Serves:
20 small pancakes
1¾ cups white whole wheat flour (Kroger or King Arthur)
2¼ cups Kroger quick-cooking oats, uncooked
⅓ cup firmly packed brown sugar
2¼ teaspoons baking powder
½ teaspoon salt
2 – 2 ¼ cups buttermilk or milk
3 large eggs
6 tablespoons vegetable oil
1 teaspoon vanilla extract
Optional add-ins: create your own fruit and nut pancake or see two ideas below
Whisk flour, oats, brown sugar, baking powder and salt together in a large bowl. Add milk, eggs, oil and vanilla and stir just until combined. Pour ¼-cup portions of batter on hot griddle or skillet. Cook until bubbles form, flip and cook until other side is browned and done. Enjoy immediately with favorite toppings. Makes about small 20 pancakes.
Apple Nut Version: stir in 1 ¾ cups finely chopped, peeled apple and ¾ cup chopped pecans, walnuts or almonds.
Lemon Blueberry Version: stir in 2 ½ cups blueberries and 1 teaspoon lemon zest, and replace vanilla with lemon juice if desired.
Recipe by at http://kimgaleaz.com/2018/02/cooking-fantastic-food-fest-whole-grains-vegetables/