Indian Spiced Red Lentil Hummus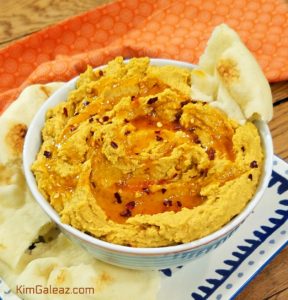 Author:
Kim Galeaz RDN CD
1⅓ cup Kroger red lentils, dry*
4 cups water
1 can (15.5 oz.) Kroger garbanzo beans, drained and liquid saved (for thinning hummus)
2-3 large garlic cloves, coarsely chopped or smashed
¼ cup Kroger almond butter
¼ cup lemon juice
4 tablespoons vegetable oil
1 tablespoon sesame oil
2 – 2 ½ teaspoons Private Selection Garam Masala
1 ½ teaspoons Private Selection Mild Curry Powder
1 ½ heaping teaspoons Private Selection Red Curry Powder
¼ teaspoon Private Selection Turmeric
¼ teaspoon cayenne pepper
1 teaspoon salt
Optional garnishes: crushed red pepper, Mike's Hot Honey, Private Selection Sesame Seeds
In a large saucepan over high heat, combine red lentils and water. Heat until boiling, then reduce to a simmer. Simmer gently with the saucepan lid tilted until lentils are soft, but not mushy, about 10 to 15 minutes. Drain excess water and let lentils cool about 10 minutes. Add lentils, garbanzo beans, garlic, almond butter, lemon juice and both oils to a food processor bowl. Process until nearly smooth, scraping bowl several times. Add all spices and process again until thoroughly blended, adding in a couple tablespoons of reserved garbanzo bean liquid to thin hummus to desired consistency. (I use about 3 to 5 tablespoons liquid.) Garnish with crushed red pepper and swirls of Mike's Hot Honey (from Murray's Cheese Shop at Kroger). Makes about 4 cups hummus (12 servings of ⅓ cup each).
Serve with favorite vegetables, white or whole wheat Naan bread, pita wedges and/or whole grain crackers. Refrigerate leftover hummus in tightly covered container.
*1⅓ cups dried lentils makes about 3 ½ cups cooked lentils.
Recipe by at http://kimgaleaz.com/2018/02/cooking-fantastic-food-fest-whole-grains-vegetables/