Lemonade No Bake Cream Pie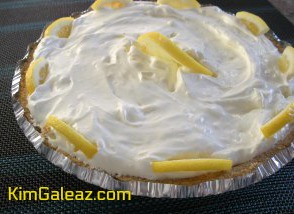 Author:
Kim Galeaz RDN CD
1 package (8 oz.) light cream cheese
2 teaspoons powdered sugar-free lemonade drink mix
3 tablespoons 1% low-fat milk
1 tablespoon fresh lemon juice
Zest from 1 lemon
1 container (8 oz.) light non-dairy whipped topping
1 ready-to-use (6 oz.) graham cracker pie crust
Lemon slices for garnish (optional)
Beat cream cheese and lemonade powder in large bowl with mixer until thoroughly blended. Slowly add milk, lemon juice and lemon zest, beating until combined. Lightly stir in non-dairy whipped topping. Pour into graham crust. Refrigerate at least 4 hours before serving. Garnish with lemon slices if desired.
Recipe by at http://kimgaleaz.com/2018/03/lemonade-pie-pi-day/