Caribbean Chili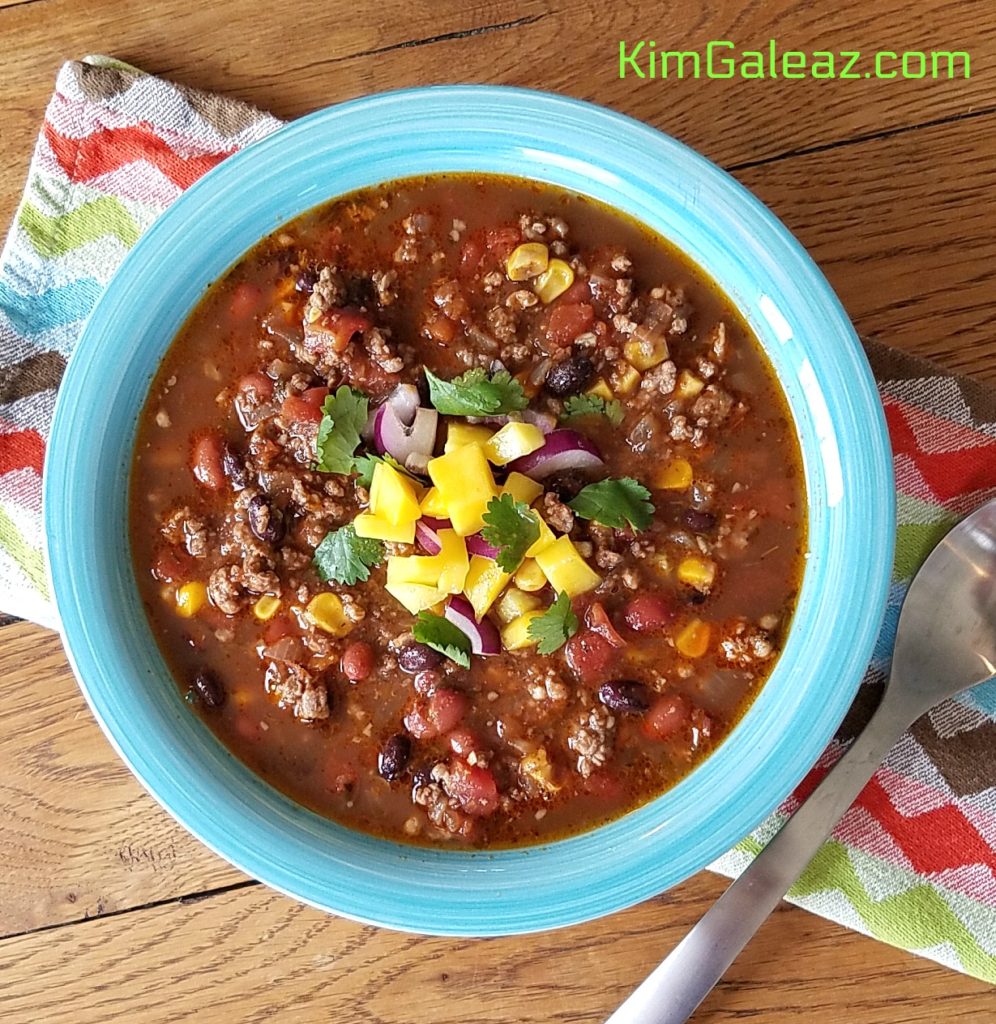 Author:
Kim Galeaz RDN CD
1 tablespoon vegetable oil
1 pound ground pork
1 pound ground beef, 10% fat/90% lean
2 ½ cups finely chopped onion
4 very finely minced large garlic cloves
1 habanero pepper, seeded and very finely chopped
1 can (15.25 oz.) whole kernel sweet corn, drained
1 can (15.25 oz.) black beans, rinsed and drained
1 can (15.25 oz.) red beans, rinsed and drained
2 cans (14-15 oz.) petite diced tomatoes, undrained
3-4 cups lower sodium beef broth
2 tablespoons light brown sugar
¾ teaspoon allspice
½ teaspoon ground Saigon cinnamon
¼ teaspoon ground cloves
1 ¼ teaspoons dried thyme leaves
3 teaspoons chili powder
¼ teaspoon ground ginger
½ teaspoon ground black pepper
¼ teaspoon ground cayenne pepper
¼ teaspoon salt
Toppings: chopped mango, chopped cilantro, sliced red onion


Heat oil in a very large stock pot or Dutch oven over medium heat. Add pork, beef, onions and garlic. Cook until beef and pork are done, and stirring and breaking up pork and beef into small crumbles while cooking. Drain grease if desired, but Kim likes to keep it in for great flavor. Add all remaining ingredients through salt and stir well. Bring to a boil, then reduce heat to simmer. Simmer until flavors blend/meld about 25 minutes. Enjoy immediately with toppings. Refrigerate leftovers in tightly covered container and enjoy (or freeze) within 3 days.
Makes about 14-15 cups chili.
Recipe by at http://kimgaleaz.com/2018/11/election-night-tradition-twist/