Bacon Wrapped Dates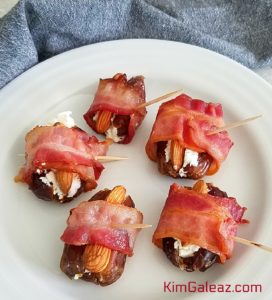 Author:
Kim Galeaz RDN CD
18 Medjool dates
8-12 ounces cheese (Kim used Asiago and Butterkase)
36 roasted, salted whole almonds
9 thick-cut slices bacon, cut in half
Preheat oven to 400⁰F. Slice dates length-wise to remove pit and make cavity for cheese. Cut cheese into rectangle pieces roughly the size of the date slit. Stuff cavity with piece of cheese. Place two almonds in cheese area also, pressing firmly. Wrap half slice of bacon around date and secure with toothpick. Place on large rimmed baking sheet. Bake 10 minutes, then turn and bake additional 5 to 10 minutes, or until bacon is desired crispness. Cool a couple minutes then transfer to serving platter. Serve warm or at room temperature. Refrigerate leftovers in tightly covered container.
Recipe by at http://kimgaleaz.com/2018/12/smart-eating-pork-new-year/