Asparagus Bacon Bundles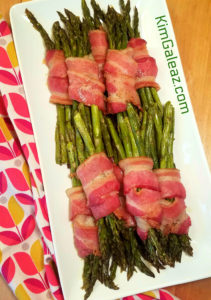 Author:
Kim Galeaz RDN CD
2 bunches (about 1 pound each) asparagus, ends trimmed
3 tablespoons extra virgin olive oil
1 teaspoon lemon pepper seasoning
1 pound thick-cut sliced bacon
Heat oven to 400°F. Lightly grease or spray a large rimmed baking sheet (18x13-inch). Arrange asparagus spears on baking sheet and drizzle with olive oil, turning spears to coat all sides. Sprinkle with seasoning. Divide asparagus into 12-14 bundles, with six to eight spears in each bundle roughly. (Depends on how thin/thick the asparagus spears are.) Wrap one full slice of bacon around each bundle from top to bottom, leaving some of the tips and ends showing. Place bacon-wrapped bundles on baking sheet in two rows, with loose end of bacon on bottom (to secure it while it cooks), and the trimmed ends near outside edges of the pan. Roast until bacon is cooked, about 20-25 minutes. Remove bundles to tray/plate and serve immediately.
Recipe by at http://kimgaleaz.com/2018/12/smart-eating-pork-new-year/