Roasted Pork Tenderloin with Spicy Espresso Rub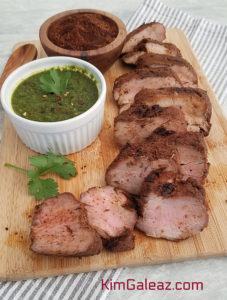 Author:
Kim Galeaz RDN CD
Spicy Espresso Rub
3 tablespoons instant espresso powder
1 tablespoon sweet Hungarian paprika
1 very firmly packed dark brown sugar
1¼ teaspoon ground cumin
1¼ teaspoon ground coriander
1 teaspoon onion powder
1 teaspoon garlic powder
2 teaspoons thyme leaves
¾ teaspoon ancho chile powder
1½ teaspoons Kosher salt
½ teaspoon ground black pepper
2 pork tenderloins, at least 2½ pounds total
Heat oven to 425 degrees.
Whisk espresso powder, spices and herbs together in a medium bowl. Completely coat all sides and edges of pork tenderloin with rub. Place coated tenderloins on greased/sprayed 10x15-inch rimmed baking sheet. Roast until pork reaches 145 degrees on instant read thermometer, about 15 to 20 minutes. Let rest at least 3 minutes before slicing.
Recipe by at http://kimgaleaz.com/2018/12/smart-eating-pork-new-year/