Cajun Red Beans & Rice with Ham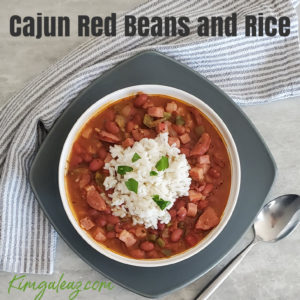 Author:
Kim Galeaz RDN LD
2 - 3 tablespoons vegetable oil
2 cups finely chopped sweet Vidalia onion
1 very large green bell pepper, finely chopped (at least 1 ½ cups)
2 - 3 very large garlic cloves, finely minced
1 can (14.5 ounces) petite diced tomatoes, undrained
3 cans (15 ounces each) red beans, rinsed and drained
1 ½ - 2 cups lower sodium chicken broth (Kim uses one 14-15 oz. can chicken broth)
2 – 3 tablespoons Cajun seasoning (purchased or Kim's homemade - recipe below)*
2 bay leaves
6 - 12 ounces Andouille pork sausage links, thinly sliced and halved
12 - 16 ounces ham, diced (at least a heaping 2 cups diced)
Hot cooked white or brown rice (at least 4 cups)
*Kim's Homemade Cajun Seasoning
3 tablespoons good quality paprika
1 teaspoon cayenne red pepper
1 teaspoon ground black pepper
1 ¼ teaspoons ground cumin
2 teaspoons dried thyme
2 ¼ teaspoons dried oregano
2 teaspoons smoked paprika
2 teaspoons garlic powder
2 teaspoons onion powder
1 teaspoon salt
Heat oil in a large 5-quart Dutch oven over medium-high heat. Add onion and green bell pepper. Cook, stirring frequently, until vegetables are completely tender. Add garlic, diced tomatoes, red beans, chicken broth, Cajun seasoning, bay leaves, sausage and ham. Bring to a boil, reduce heat to a simmer. Cover and simmer 25-30 minutes, stirring a couple times. Remove bay leaves. Serve over hot brown or white rice. Refrigerate leftovers in a tightly covered container and enjoy within 4 days.
For Kim's Homemade Cajun Seasoning: Whisk all spices together in a small bowl. Store in a tightly covered glass container in a cool, dark place. Makes about 8 tablespoons (1/2 cup).
Recipe by at http://kimgaleaz.com/2020/04/leftover-ham-ideas/