Cuban Ham Empanadas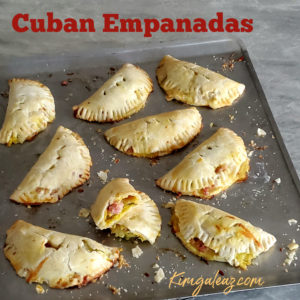 Author:
Kim Galeaz RDN LD
1 package (15 ounces) refrigerated pie crust, softened as directed on package
4 tablespoons yellow mustard
4 tablespoons dill pickle relish, drained
1 ½ cups ham, very finely chopped, almost minced*
1 bag (8 oz.) shredded Swiss cheese
1 large egg
1 tablespoon water, milk or cream
Heat the oven to 400°F. Unroll crusts on a lightly floured work surface. Roll or pat each into a 11 to 12-inch round roughly. Cut four 4 ½ to 5-inch circles in dough, roughly 4 from each circle. (You can re-roll the scraps from both pie crusts and get two more empanadas, 10 instead of 8). Spread a heaping ½ teaspoon mustard on each round, spreading all the way to edge practically. In center of each round, place 1 teaspoon dill pickle relish, 2 tablespoons minced ham and about 2 tablespoons shredded Swiss cheese. In a small bowl, whisk egg with a tablespoon preferred liquid. Fold each dough half, tucking mixture in well. Press edges tightly together and crimp edges to seal with a fork. Brush top and edges of each empanada with egg wash. With a knife, cut three slits on top of each empanada. Place empanandas on an ungreased cookie sheet. Bake 15 to 20 minutes, or until pie crust is done and golden brown. Cool slightly before serving. Refrigerate leftovers in a tightly covered contain and enjoy within 4 days.
*Can mince ham in food processor.
Recipe by at http://kimgaleaz.com/2020/04/leftover-ham-ideas/