Baked Whole Grain Donuts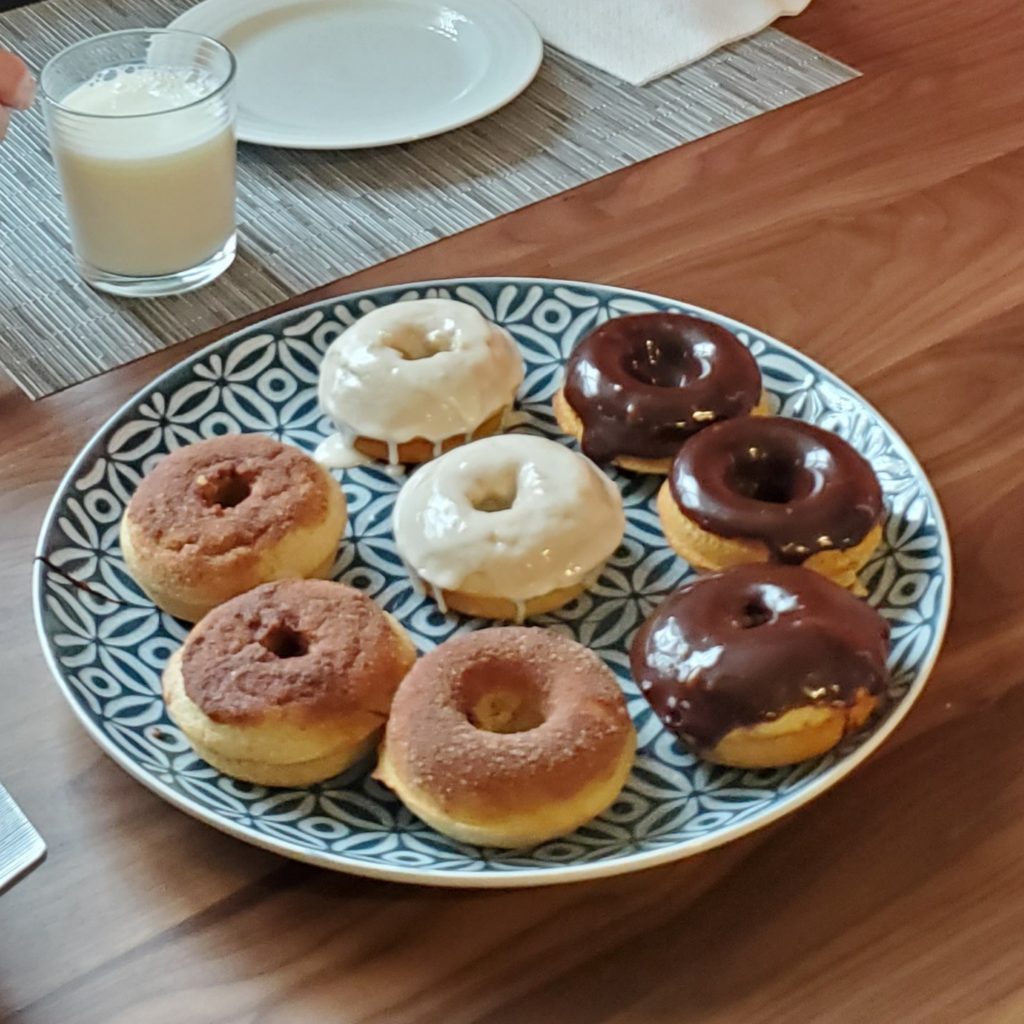 Author:
Kim Galeaz RDN CD
1⅔ cups white whole wheat flour
1 cup all-purpose flour
¼ teaspoon baking soda
1½ teaspoons baking powder
⅛ teaspoon ground nutmeg
¾ teaspoon salt
¼ cup vegetable oil
4 tablespoons unsalted butter, melted
⅓ cup firmly packed light brown sugar
½ cup granulated sugar
2 large eggs
1 teaspoon pure vanilla extract
1 cup full-fat buttermilk
Heat oven to 425 degrees F. Spray two (6 cavity each) standard size pans with vegetable cooking spray. In a medium bowl, whisk together both flours, baking soda, baking powder, salt and nutmeg. Set aside. In a large mixer bowl with paddle attachment, beat melted butter, oil and both sugars until completely smooth. Add the eggs and vanilla and beat until thoroughly combined. Add flour mixture into the liquid mixture in increments along with the buttermilk, starting and ending with the flour. Blend on medium-low speed until thoroughly combined. Batter will be thick. Spoon batter into the prepared donut pans, filling almost to the top. (They will be very full). Bake donuts for 8 - 10 minutes, until the tops spring back when touched. Place donut pans on wire cooling rack for a couple minutes (3-5) and then turn over to remove donuts. Top with favorite chocolate or vanilla glaze or cinnamon-sugar mixture.
Vanilla glaze: mix at least 1 cup powdered sugar with ½ teaspoon vanilla extract and 1 or 2 tablespoons milk. Chocolate glaze: mix at least 1 cup powdered sugar with 3 to 4 tablespoons cocoa powder, 2 tablespoons milk and 1 teaspoon vanilla extract. Cinnamon sugar topping: Mix ½ cup sugar and 1 tablespoon ground cinnamon (or more) in a shallow bowl. Melt 3 tablespoons butter (at least), dip donuts in melted butter, then dunk/roll/plop donuts in cinnamon-sugar mixture.
Recipe by at http://kimgaleaz.com/2020/11/donuts-with-nutrition-benefits/