Kim's Whole Grain Skillet Cornbread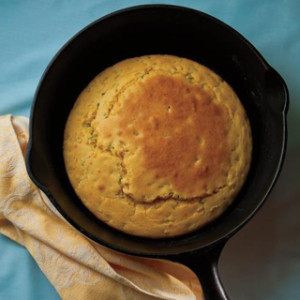 Author:
Kim Galeaz RDN CD
1 tablespoon butter or shortening for 10-inch cast iron skillet plus more for melting over top of cooked cornbread*
2 cups whole grain stone-ground yellow cornmeal
1 cup all-purpose flour
⅔ cup white whole wheat flour
1½ teaspoons salt
2½ teaspoons baking powder
1 teaspoon baking soda
⅔ cup sugar
3 large eggs, lightly beaten
1¾ cups buttermilk
⅔ cup corn oil
*A 10-inch skillet that is 10-inches across the bottom and 12-inches across the top rim.
Tips & Hints
Find wholegrain cornmeal right near the other cornmeal and flour. Always store it in the fridge to keep it fresher.
Corn oil is exactly the same calories and fat grams as other oils, and it works great for any baking, including corn bread, corn muffins and corn pudding.
Lately I've been using full-fat buttermilk in my cornbread, but low-fat works well too.
Recipe by at http://kimgaleaz.com/2015/10/fall-football-favorites/