Maple Apple Baked Beans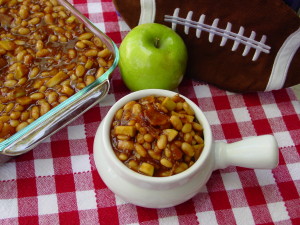 Author:
Kim Galeaz RDN CD
Serves:
15 servings of ⅔ cup each
5 cans (15 oz. each) great northern beans, rinsed and drained
2¼ cups peeled, chopped Granny Smith apple (2 very large apples)
1⅔ cups chopped sweet onion
1 cup coarsely chopped, cooked bacon
1½ cups hickory barbecue sauce
1 cup pure maple syrup
¼ cup firmly packed dark brown sugar
¼ cup stone ground mustard
2 teaspoons dry mustard
½ teaspoon ground ancho chili pepper
Kroger's new Roasted Bacon that only takes 2-4 minutes is an absolute timesaver for this recipe! Just look for boxes of it in near the refrigerated bacon.
Definitely use hickory barbecue sauce to compliment the maple syrup.
Tarter apples, like Granny Smith, really help balance the sweet maple syrup.
Recipe by at http://kimgaleaz.com/2015/10/fall-football-favorites/