Stock Smart: Pantry & Fridge Picks on a Budget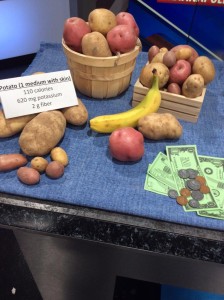 Author:
Kim Galeaz, RDN CD
Pantry
Canned beans (everything from black and pinto, refried and black-eyed, garbanzo and kidney, red and great northern)
Canned corn, green beans, carrots and beets
Canned tomato products (sauce, crushed and petite diced tomatoes (Jeff hates big tomato chunks!)
Canned mandarin oranges, peaches and pineapple (in light syrup or 100% juice)
Dried fruits (raisins, figs, tart cherries, dates)
Dry cereal (from whole-grain frosted mini wheat squares, cheerios, raisin bran and oat squares, to Jeff's favorite night-time snack of sugary cereals!)
Oatmeal (quick-cooking and old-fashioned in big canisters)
Pastas and noodles (both whole-wheat and white versions)
Rice (white and brown)
Nuts & seeds (peanuts, cashews, mixed nuts, sunflower seeds)
Peanut butter (creamy & crunchy)
Corn tortilla chips
Whole wheat crackers
Spices from A (allspice) to Z (za'tar) I literally have dozens of spices and herbs
Flour, sugar, brown sugar, low-calorie sweeteners
Fresh onions and garlic
Fresh red, russet and gold potatoes
Assorted oils and vinegars
Canned black olives & mushrooms (my favorite pizza ingredients!)
Canned/jarred pizza sauce
Diet soda
Canned tuna and salmon
Chocolate chips
Fridge
Eggs, large and extra large
100% orange, apple and grapefruit juice
Milk (we're a 1% family)
Chocolate syrup (to make chocolate milk & also for ice cream sundaes!)
Buttermilk
Yogurt (assorted light and Greek)
Butter sticks (salted and unsalted)
Light tub margarine
Salsa in jars
Cheese (mozzarella blocks for fast shredded for pizza, string cheese, shredded Mexican and cheddar)
Whole wheat flour tortilla shells
Corn tortilla shells
Whole grain cornmeal
Maple syrup
Assorted Asian sauces and seasonings
Lemon and lime juice (bottled)
Baby carrots
At least one in-season fruit and/or vegetable
Freezer
Frozen vegetables (plain unseasoned varieties like green peas, edamame shelled, broccoli florets, corn, Brussels sprouts, sugar snap peas)
Frozen mixed berries (unsweetened)
Uncooked pork, beef and chicken (bought on sale to use later)
Have plenty of zippered freezer bags and freezer paper on hand so you can take advantage of sales to stock up!
Recipe by at http://kimgaleaz.com/2016/02/stock-smart-budget-friendly-pantry-picks/