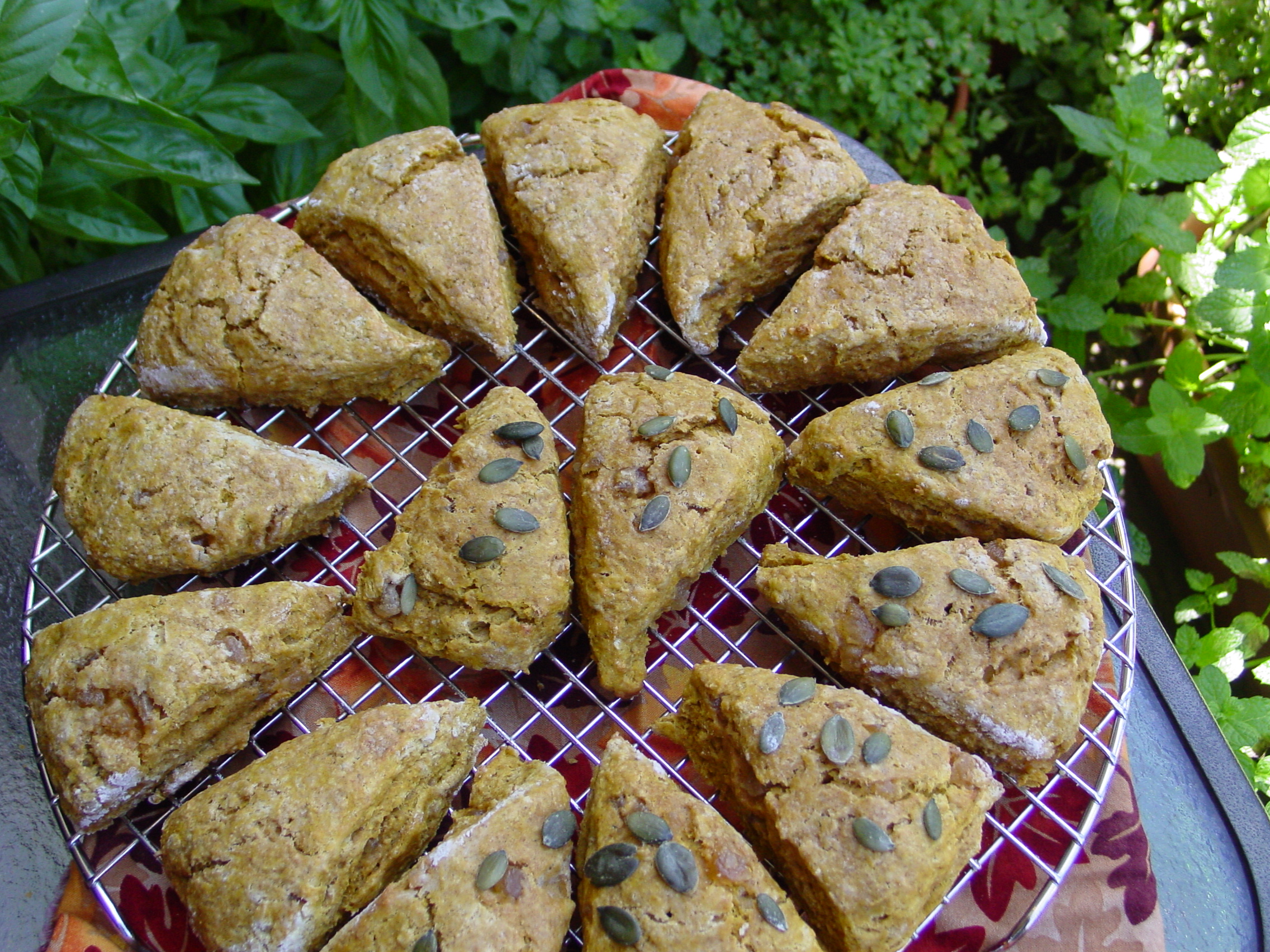 That's right – run with a scone. As in when you're running out the door first thing in the morning and you haven't even eaten breakfast yet, grab a scone and keep on running!  Eat it along the way or once you get to school or work. Have it with a glass of low-fat milk, a piece of fruit or a glass of 100% fruit juice and you've given yourself a nutrient-rich, balanced breakfast. You'll stay fueled until a mid-morning snack or lunch.
 Scone benefits:
*100% whole grain – from the white whole-wheat flour and oats
*Cinnamon antioxidants
*Omega-3's from the walnuts
*Potassium and other vitamins & minerals from the banana
*Lots of fiber and whole grain goodness
 These whole-grain scones are simple to make and can be stored in a huge zippered plastic bag at room temp for a couple days. Or wrap each one individually and store all in a freezer plastic bag and freeze…just grab and thaw!
Shopping tip: Saigon cinnamon is available in jars right along side the regular cinnamon in the spice aisle. Saigon cinnamon is a premium cinnamon with strong intense flavor. Raw sugar, also known as turbinado sugar, is found right near all the other sugars in the baking aisle.  It's a tannish, coarse sugar that is perfect for crunchy toppings. (Please thank Dale H. for suggesting I include this useful info!)
 Banana Walnut Scones
2 cups white whole wheat flour (suggest King Arthur Brand)
1/3 cups old-fashioned oats
1/3 cup sugar
2 1/4 teaspoons baking powder
1 teaspoon Saigon cinnamon
5 tablespoons cold unsalted butter, diced
½ cup chopped walnuts
1 large, very ripe banana, completely mashed
1 large egg
½ cup whole milk, plus extra for glazing
Raw sugar
Preheat oven to 450°F. Spray large baking sheet with vegetable cooking spray. Whisk all dry ingredients in large bowl. Cut in butter with fork, fingers or pastry cutter until no pieces are larger than small peas. Stir in walnuts. Mix mashed banana, egg and milk together in a small bowl. Add to flour mixture and stir with fork just until combined, about 30 strokes. There will be some unincorporated flour, so form mixture into a ball in bowl and gather up all the loose flour. Knead with hands about 8 to 10 times to incorporate, but don't over-mix. Turn out onto lightly floured surface and pat into ¾-inch circle. Brush circle with a little milk and sprinkle with raw sugar. Cut into 8 wedges and place on large baking sheet. Bake 10 to 12 minutes, until lightly golden brown. Remove from baking sheet and cool on wire rack. Store in tightly covered container, zippered plastic bag or freeze.
Makes 8 large scones.