Can you guess what item in my pantry is so versatile it works for every around-the-clock eating occasion, from breakfast, lunch and dinner, to snack party-time?
Canned T0matoes.
And all their forms. Diced. Petite Diced. Diced with chilies. Crushed. Whole. Sauce. Salsa. Pizza Sauce.
Versatility is just part of the reason my pantry is filled with numerous canned tomato products. As a registered dietitian nutritionist, my goal is to create recipes that blend great taste with good nutrition. Dishes that are budget-friendly and nutrient-rich as I frequently say. That goal is easily met with canned tomato products because they are extremely nutritious, affordable, tasty and best of all, available all year long.
I particularly love that canned tomatoes are actually more fresh than those fresh red tomatoes I've let sit on my counter for over a week and failed to use. Why? Because canned tomatoes are picked and packed at their peak, then make it in that can within HOURS. All the nutrients are retained.
Here are four of my many around-the-clock recipes, all featuring a variety of canned tomato products. Enjoy cooking with tasty, healthy, versatile and affordable canned tomatoes!
Breakfast.
Breakfast calls for Tacos. My "ready-in-fifteen-minutes" Fiesta Beef Taco Filling features canned petite diced tomatoes. Start filling those whole grain flour tortillas!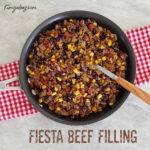 Lunch.
Lunch calls for an easy soup, like my Spicy Tomato and Red Pepper Soup. Canned crushed tomatoes and tomato paste star in the best half of the "soup and sandwich" combo.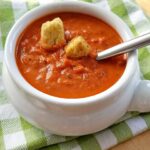 Dinner.
Dinner is on the table in a flash with my skillet peachy pork dish. Jarred tomato salsa adds the kid-friendly kick.
Snack time and Party Time.
Unique salsa with corn tortilla chips, like my Sunny Six Can Salsa, is always a snack and party favorite.  Elevate your snack time and party table spread even more with my Pepperoni Pizza Hummus. Canned tomato paste and jarred sundried tomatoes in oil star in this easy dip.