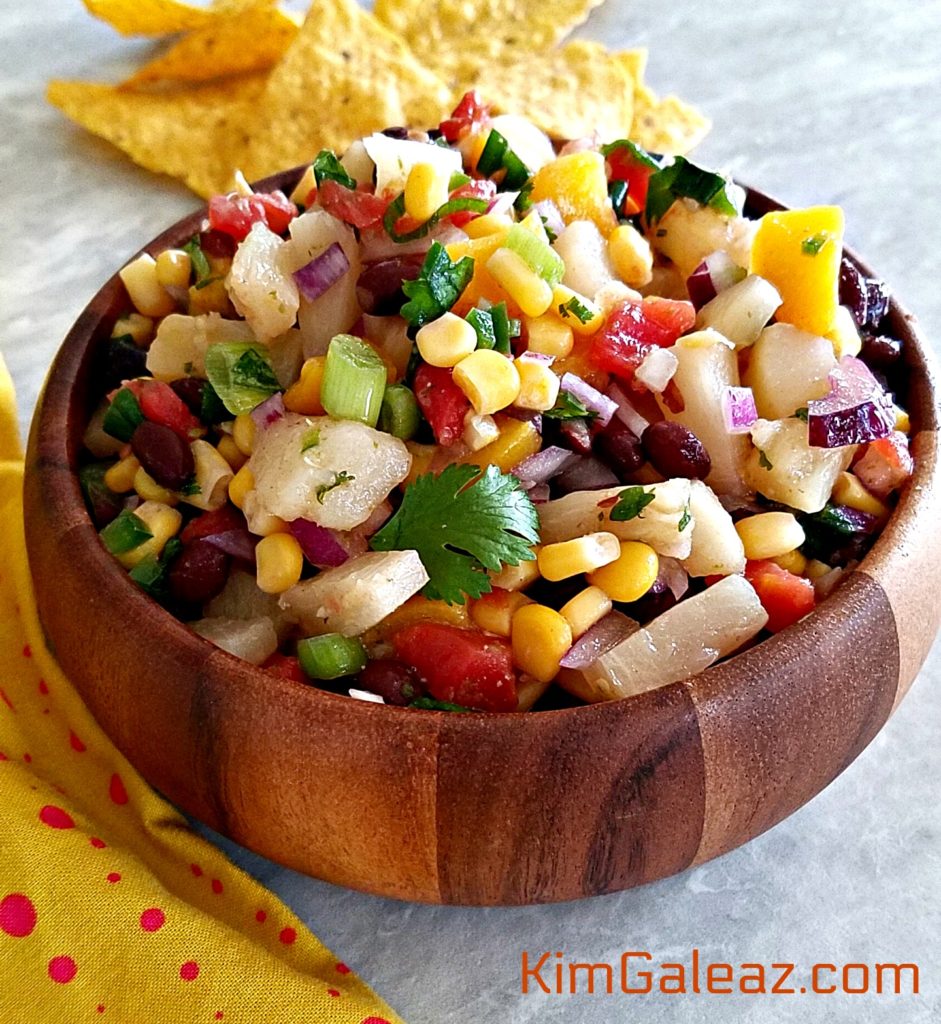 A Bowl of Ten Benefits.
Sunny Six Can Salsa is great for parties, pitch-ins and just about anytime you want to make a big batch of something and enjoy it for the next several days.  Check out this additional bonus, too: this salsa happens to be rich in all the right nutrients to keep everyone healthy and aging vibrantly.
Top Ten Benefits.
More fruits and vegetables.  You're already trying to eat more fruits and vegetables, but fresh isn't your only nutrient-rich choice. Canned fruits and vegetables count and are just as nutrient-rich as fresh. Why? Because of the 3 P's: picked and packed at their peak. In fact, they're packed within hours. Which means all those phytonutrients, vitamins and minerals are retained. And some canned varieties contain even MORE beneficial nutrients than their fresh counterpart.
Vitamin C. Canned peaches contain almost four times more vitamin C than fresh peaches. So along with the other vitamin-C rich ingredients (tomatoes, pineapple, pears, jalapeno peppers, lime), this salsa is a vitamin C powerhouse. Boomers need vitamin C for optimal immune system functioning and wound healing.
Lycopene. Attention all guys, men, males! Cooked tomato products, (like canned diced tomatoes, spaghetti sauce, tomato sauce and salsa) contain far more prostate-cancer fighting lycopene than fresh tomatoes. Once again, that canning process makes more of it available to you.
Soluble fiber. The black beans and pears are rich in soluble fiber which helps lower LDL cholesterol to keep your heart healthier.
Fiber. Every ingredient except the oil, salt, cumin and lime contributes dietary fiber, like the insoluble type. This Sunny Six Can Salsa is an excellent source of dietary fiber and helps keep our digestive systems healthy and contributes to regularity.
Eye Health. Canned corn is a valuable food for optimal eyesight, especially as you age. Two main phytonutrients in corn, lutein and zeaxanthin, help reduce the risk of age-related macular degeneration. So eat your corn, whether it's canned, frozen or fresh – including plenty of Indiana Sweet Corn!
Blood pressure. The magnesium and potassium in nearly every fruit and vegetable – including all those in this Sunny Six Can Salsa – helps promote healthy blood pressure levels. And healthy blood pressure helps overall heart health.
Healthy Heart. Along with that magnesium and potassium, the vitamin C and A from all the fruits and vegetables, including the phytonutrients in red onion, green onion and garlic, contribute to optimal heart health and disease prevention.
Vitamin K. For healthy blood clotting and bone-building health, vitamin K comes from the cilantro, so if you like it, add more! But we all know it's very divisive.
Time-saver. We all have busy and hectic schedules. And if you love to cook and create in the kitchen, take advantage of convenient products blended with good nutrition. This is why my Sunny Six Can Salsa is so perfect – it's best of both worlds with canned ingredients saving you time but still giving you necessary nutrition.
Cheers to happy and healthy meals and celebrations!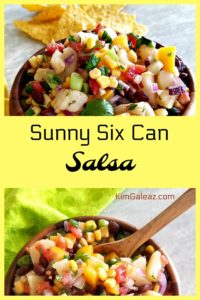 Sunny Six Can Salsa
Author:
Kim Galeaz RDN LD
Ingredients
1 can (15 oz.) sliced peaches in light syrup, drained and chopped
1 can (15 oz.) pear halves in 100% juice, drained and chopped
1 can (20 oz.) pineapple tidbits in 100% juice, drained
1 can (14.5 oz.) petite diced tomatoes, drained
1 can (15.25 oz.) sweet kernel corn, drained
1 can (15.25 oz.) black beans, rinsed and drained
1⅓ - 1½ cups diced red onion
1⅓ - 1½ cups finely chopped green onion
2 large jalapeno peppers, seeded and very finely minced
⅔ cup chopped cilantro*
2 tablespoons vegetable oil
½ cup lime juice*
Zest from 1 very large lime (or 2 small)
2 cloves garlic, very finely minced
½ teaspoon kosher salt*
2 teaspoons ground cumin*
Instructions
Combine peaches, pears, pineapple, tomatoes, corn and black bean in a very large bowl. Lightly stir in red onion, green onion, jalapeno peppers and cilantro. In a separate small bowl, whisk oil, lime juice, zest, garlic, salt and cumin. Pour over fruits and vegetables and toss lightly. *Taste and add additional salt, cumin, lime juice and/or cilantro if desired. Enjoy immediately with corn tortilla chips. Refrigerate leftovers in a tightly covered container. (Feel free to use canned diced mango or any combination of canned fruits you like. My favorite this "3 P" version of pears, peaches and pineapple.)
Makes about 12 cups salsa.