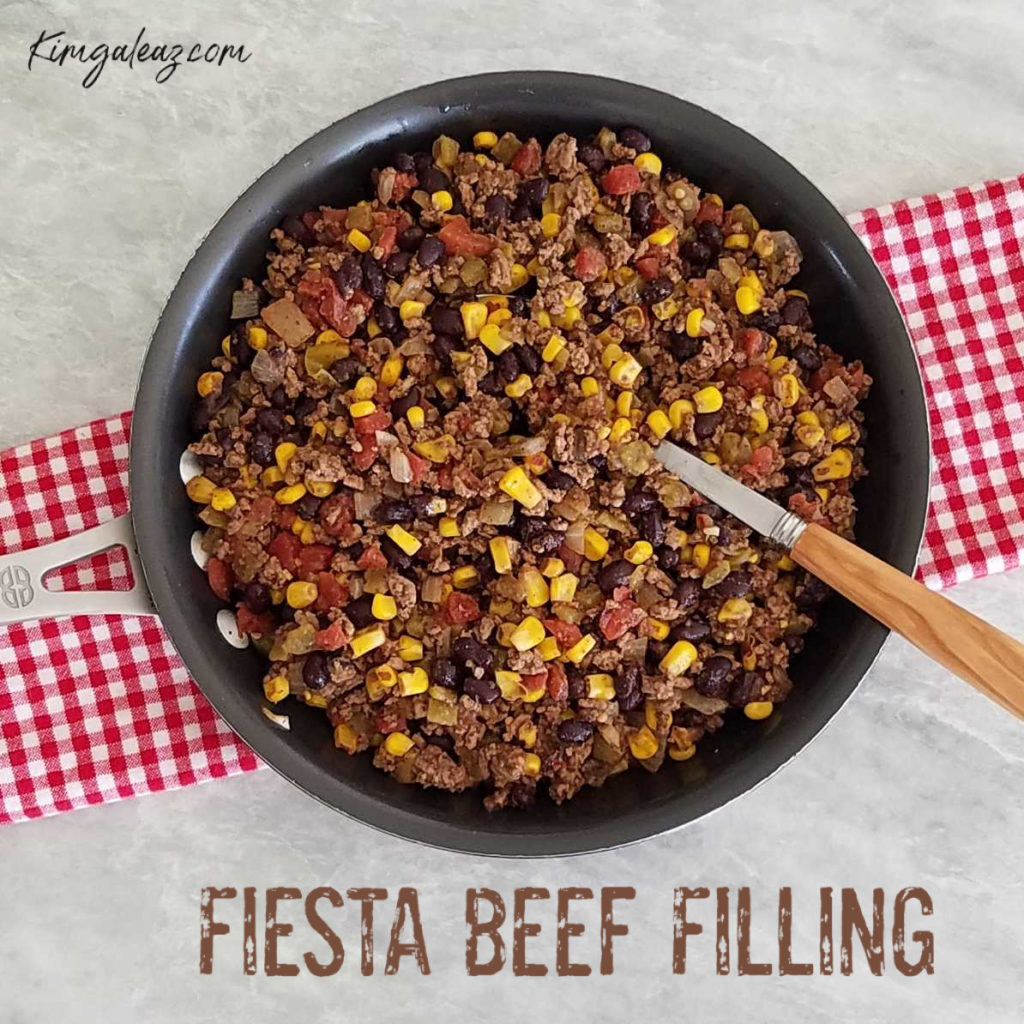 My super easy skillet dish makes Taco Tuesday a snap, or any night you're craving tacos, burritos or nachos.
And surprise! You'll be getting a hefty dose of vegetables along with this protein-rich filling since it contains canned corn, black beans and diced tomatoes.
Add extra cumin, chili powder, hot pepper sauce and crushed red pepper if you prefer dishes hot and spicy. Or use less if you prefer milder seasonings.
I love making it with 90% lean ground beef. You'll never miss the fat in this dish because of all the other ingredients and seasonings. You'll get a power-punch of protein with minimal fat for heart health, along with numerous vitamins, minerals and phytonutrients from those canned beans, corn, tomatoes and chilies. Feel free to sub ground pork, ground turkey or chicken, sausage, chorizo or soy meatless crumbles if you'd like. Switch up the corn and beans. That's the beauty of this recipe….you can pretty much put your own twist and spin on it.
Serve my Fiesta Beef Filling with corn and flour tortillas, hard taco shells or boats or turn it into sheet pan nachos.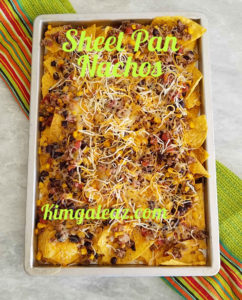 Fiesta Beef Filling (Tacos & Burritos)
Stove-top skillet dish filled with lean ground beef and canned black beans, corn, tomatoes and zesty seasonings. Perfect for Taco Tuesday or any night.
Author:
Kim Galeaz RDN LD
Ingredients
Fiesta Beef Filling
1 pound extra lean ground beef (90% lean, 10% fat) (or sub ground turkey, chicken, pork,
chorizo, soy crumbles or whatever protein you have or like!)
1 - 1⅓ cups finely chopped onion (or frozen onions)
1 - 2 large garlic clove, very finely minced (or garlic powder)
1 can (15. 25 oz.) black beans, rinsed and drained
1 can (14.5 oz.) petite diced tomatoes, drained
1 can (15.25 oz.) sweet corn kernels, drained
1 can (7 oz.) diced green chile peppers, drained
1 – 2 teaspoons cumin (depending on your cumin preference)
1 teaspoon chili powder
½ to 1 teaspoon crushed red pepper (depending on your preferred heat level)
4-6 drops hot pepper sauce (your preference)
Instructions
In a large skillet over medium heat, cook ground beef, onions and garlic until beef is browned and onions are soft. Add black beans, diced tomatoes, corn, green chilies, cumin, chili powder, crushed red pepper and hot pepper sauce. Cook until everything is thoroughly hot. Taste and season with more spices if desired.
Serve in taco shells, corn or flour tortilla shells, or with corn tortilla chips as nachos.
Makes at least 8 cups Fiesta Filling. (12 servings of ⅔ cup each)