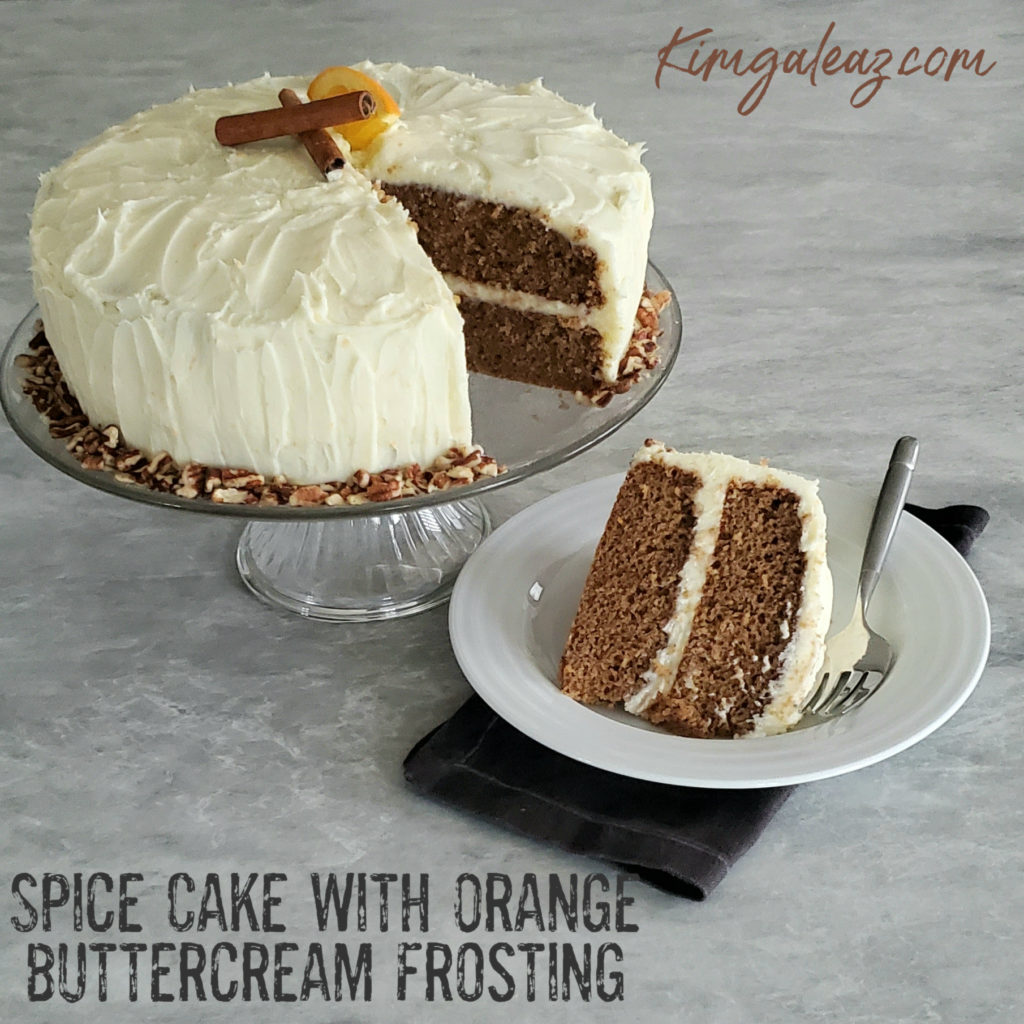 Spice cake. Simple. Elegant. Flavorful.
My Spice Cake with Orange Buttercream Frosting pleases everyone, from non-chocolate lovers to those that love cinnamon, nutmeg and all things orange. Even those who say they aren't fond of spice cakes because they might be "too clove-forward." The mixture of spices in my cake is just perfect according to the Jeffs, who consider themselves Spice Cake aficionados.
No fussy or special ingredients needed for this easy cake. You probably already have everything on hand in your pantry and fridge. Tips: Set out eggs and buttermilk for about 30 minutes before baking. Make sure your cake stand/plate can be covered and that it'll fit in your refrigerator. Allow cake (or cake slices) to sit out a little at room temperature before enjoying. This will allow flavors to really shine.

Spice Cake with Orange Buttercream Frosting
Simple and elegant spice cake with creamy orange buttercream frosting
Author:
Kim Galeaz RDN LD
Ingredients
2¼ cups all-purpose flour
1 teaspoon baking soda
1 teaspoon baking powder
½ teaspoon salt
3 teaspoons ground Saigon cinnamon
1 teaspoon ground ginger
1 teaspoon ground nutmeg
¾ teaspoon allspice
½ teaspoon ground cloves
1 ¾ cups firmly packed brown sugar
¾ cup vegetable oil
¾ cup unsweetened applesauce
4 large eggs
2 teaspoons pure vanilla extract
1 cup buttermilk (full-fat, whole)
Toasted, chopped pecans and orange slices for garnish
Orange Buttercream Frosting
2 cups salted butter, slightly softened
1 teaspoons clear vanilla extract
8 cups (2 pounds) powdered sugar
2 tablespoons whole milk
2 tablespoons 100% orange juice
1 heaping tablespoon orange zest
Instructions
Heat oven to 350⁰F. Grease (with shortening) and flour two 9-inch round cake pans. In a large bowl, whisk together flour, baking soda, baking powder, salt and all spices. Set aside. In the bowl of an electric mixer with paddle attachment, add brown sugar, oil and applesauce. Mix until thoroughly combined and well blended, scraping bowl occasionally. Add eggs, vanilla and about half of the flour-spice mixture, mixing on low just until blended. Add buttermilk and remaining flour mixture and mix until thoroughly combined. Pour cake batter evenly in the cake pans. Bake 25 to 35 minutes, until toothpick inserted in center comes out clean. On a wire rack, cool cake layers in pans a couple minutes, then remove from pans, flipping upside down, to cool completely. While cake layers cool, make the frosting. Frost completely cooled cake. Garnish bottom edge of cake with toasted pecans and top with a couple pecans and fresh orange slices if desired. Tightly cover cake and refrigerate so it lasts a couple days longer.
Serves 12 to 16.
For Orange Buttercream Frosting:
In a large bowl of electric mixer with paddle attachment, beat butter. Add clear vanilla and mix until combined. Gradually add powdered sugar, one heaping cup at a time, beating well after each addition. Add milk and orange juice and zest in between powdered sugar additions. Mix at medium to medium-high speed until icing is thoroughly blended. Add a touch more powdered sugar if you think it's too thin or a tad more orange juice/milk if you think it's too thick. Store any leftover icing in tightly covered container in refrigerator.
Makes about 6 cups icing.