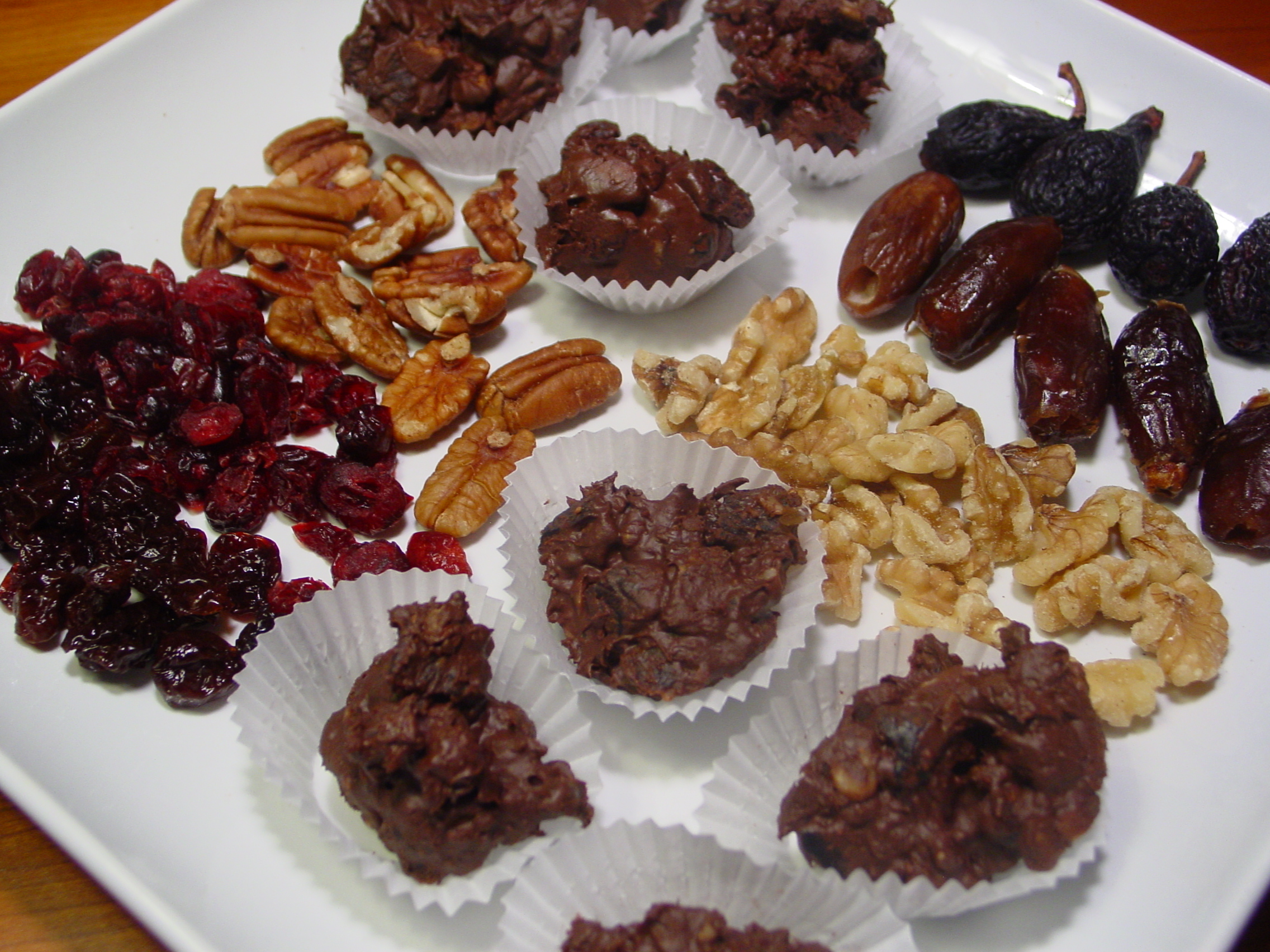 When it comes to losing weight or eating more healthfully, every small step adds up to make a big difference.  Persistence with small steps means you'll eventually reach your goal.
The same analogy applies to membership campaigns for Public Radio, my second passion behind cooking/eating/baking/reading about food. Every phone call – or online pledge – no matter how small, does contribute to the overall financial goal for the Spring Pledge Drive. Like the one going on at WJCT in Jacksonville, Florida, my second home. (Indy friends: the WFYI drive doesn't start until mid-April). Jax friends: that number to call is 353-9528 or online to wjct.org 
WJCT volunteers and staff who give their time to help the station raise much-needed funds deserve a treat and I'm happy to oblige. I'm taking Chocolate Cherry Nut Clusters to WJCT this afternoon for my ATC shift.  These sweet, crunchy clusters should really be called "Antioxidant Clusters," because every ingredient – the cherries, walnuts, sunflower seeds and semi-sweet chocolate – is rich in antioxidants and good-for-you nutrients.  
 Did you know?
*Walnuts are the only nut with a significant source of heart-healthy omega-3 fatty acids?
*Dried tart cherries are filled with nutrients to fight inflammation.
*Sunflower seeds are loaded with Vitamin E, zinc, copper, and iron.
*Semisweet chocolate (54% cacao) contains heart-healthy antioxidants. Use darker chocolate with 60 – 70% cacao, and you'll up the antioxidants.
Here's to a successful WJCT Spring Pledge Drive!
Chocolate Cherry Nut Clusters
1 bag (12 oz.) semisweet chocolate chips
1 ½ cups dried tart cherries (about 1½ to 2 bags dried cherries, each 5 or 6 oz.)
1 cup coarsely chopped walnuts
2 tablespoons sunflower seeds
Cover a large baking sheet with wax paper; set aside. Melt chocolate in double boiler over slightly simmering water in pan or heat-proof bowl. Combine cherries and nuts in small bowl; add to melted chocolate and stir to completely coat all ingredients. Spoon level tablespoon-sized clusters onto baking sheet about one-inch apart. Refrigerate 30 minutes until completely hardened, or set. Clusters can be stored in the frig or at room temperature, but flavors taste best at room temp.
 Makes 30 to 36 clusters.