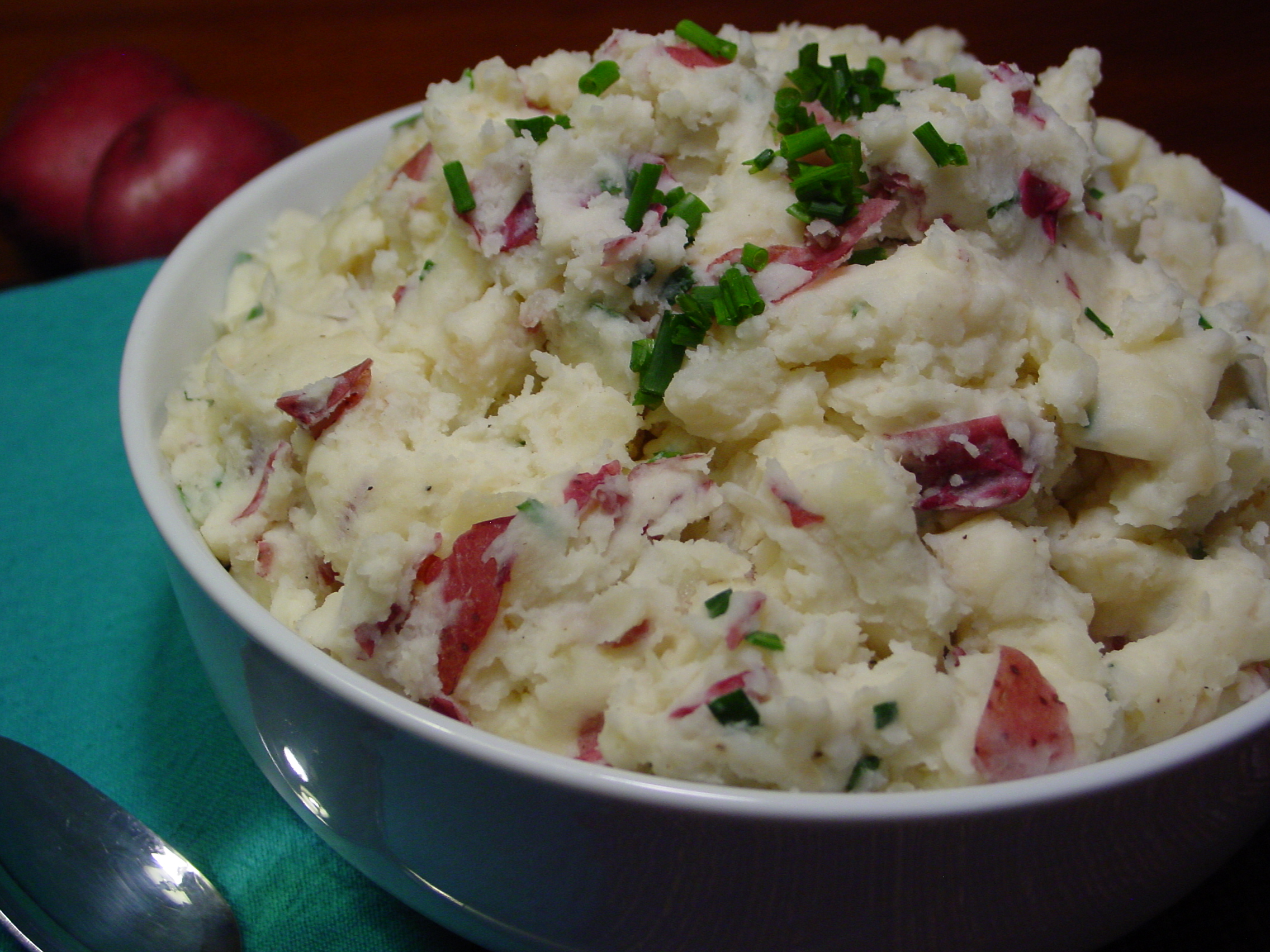 I'm not one to tamper with tradition too much when it comes to holiday foods. Stuffing still needs to be made with white bread/stuffing mix, mashed potatoes still need butter and maybe even cream cheese and sour cream, and pumpkin pie needs a pastry crust.
But with just a few minor tweaks, I'm able to keep all the traditional taste and save a few calories and fat grams. Simple substitutions. Great flavor.
Comparisons:
Stuffing: 75% less fat and 65 fewer calories
Smashed Potatoes: 50% less fat and 80 calories
Pumpkin Pie: 40% less fat and 50 calories
 Spiced Pumpkin Cheesecake Dip with Asian Pears and Apples: a fast, easy, tasty and Vitamin-A-packed way to add more fruits to your Thanksgiving offerings. One serving (about 1/4-cup) gives you over 100% of your Vitamin A for the day!
Happiest Thanksgiving to All!
Savory Stuffing
Makes 12 servings
1 package (14 – 16 oz.) herb seasoned stuffing mix
2 1/3 to 3 cups fat free, lower sodium chicken broth
¾ teaspoon poultry seasoning
¼ teaspoon pepper
1 tablespoon extra virgin olive oil
1 tablespoon finely minced garlic
1 ½ cups each finely diced celery and onion
Heat oven to 350°F. Coat a 9×13-inch glass or ceramic baking dish with vegetable cooking spray.
Combine stuffing mix, 2 1/3 cups chicken broth, poultry seasoning and pepper in a large bowl.
Heat oil in large skillet over medium high heat. Add garlic, celery and onion; sauté 5 minutes or until slightly tender. Add sautéed vegetables to stuffing mix; toss lightly to combine. (Add additional chicken broth for a moister stuffing if desired) Place stuffing in baking dish and bake about 30 to 35 minutes, or until completely hot throughout.
Spiced Pumpkin Cheesecake Dip with Asian Pears, Apples & Pears
1 package (8 oz.) Neufchatel 1/3-less fat cream cheese
1 can (15 oz.) pumpkin
½ cup firmly packed brown sugar
1 ½ teaspoons pumpkin pie spice
Mix all ingredients in a food processor until blended. Chill one hour before serving. Serve with apple and pear slices.
Makes about 2 ¾ cups (11 servings of ¼-cup each)
Smashed Potatoes with Chives
 Makes 12 servings (1 cup each)
5 pounds red potatoes
½ to 1 cup reserved potato cooking water
1 package (8 oz.) reduced fat Neufchatel cream cheese, room temperature
1 ¼ cups reduced fat light sour cream, room temperature
6 tablespoons light trans-free margarine
2/3 cup finely chopped fresh chives
¼ teaspoon onion powder
¼ teaspoon garlic powder
½ teaspoon salt
¼ teaspoon ground black pepper
Wash and cut potatoes into equal-size large chunks. (Depending on potato size, either halve or quarter potatoes.) Place potatoes in a large 7 quart stock pan and cover with cold water. Bring to a boil over high heat, then reduce heat to medium-low and simmer gently about 25 to 40 minutes or until tender. (Knife or fork inserted in chunks will have no resistance.) After reserving 2 cups potato cooking water, drain potatoes thoroughly. Add ½ cup potato cooking water and all other ingredients. Smash lightly with fork or potato masher, leaving some chunks. Add additional potato cooking water in ½-cup increments, to obtain desired smashed consistency. Serve immediately. Can be warmed in microwave.
Kim's Favorite Light Pumpkin Pie
Makes 1 pie (about 8 slices)
1 can (15 oz.) pure pumpkin
1 can (14 oz.) Fat Free Sweetened Condensed Milk
2 eggs, slightly beaten
1 ½ teaspoons ground cinnamon
½ teaspoon each ground ginger and ground nutmeg
¼ teaspoon salt
1 pie crust (9") unbaked, frozen deep dish, refrigerated or homemade
Preheat oven to 425 degrees. In a large bowl, combine filling ingredients, mixing well. Pour into pie crust. Bake 15 minutes at 425 degrees. Reduce oven temperature to 350 degrees and continue baking 35 to 45 minutes or until knife inserted in center comes out clean. Cool pie before cutting. Refrigerate any leftovers.