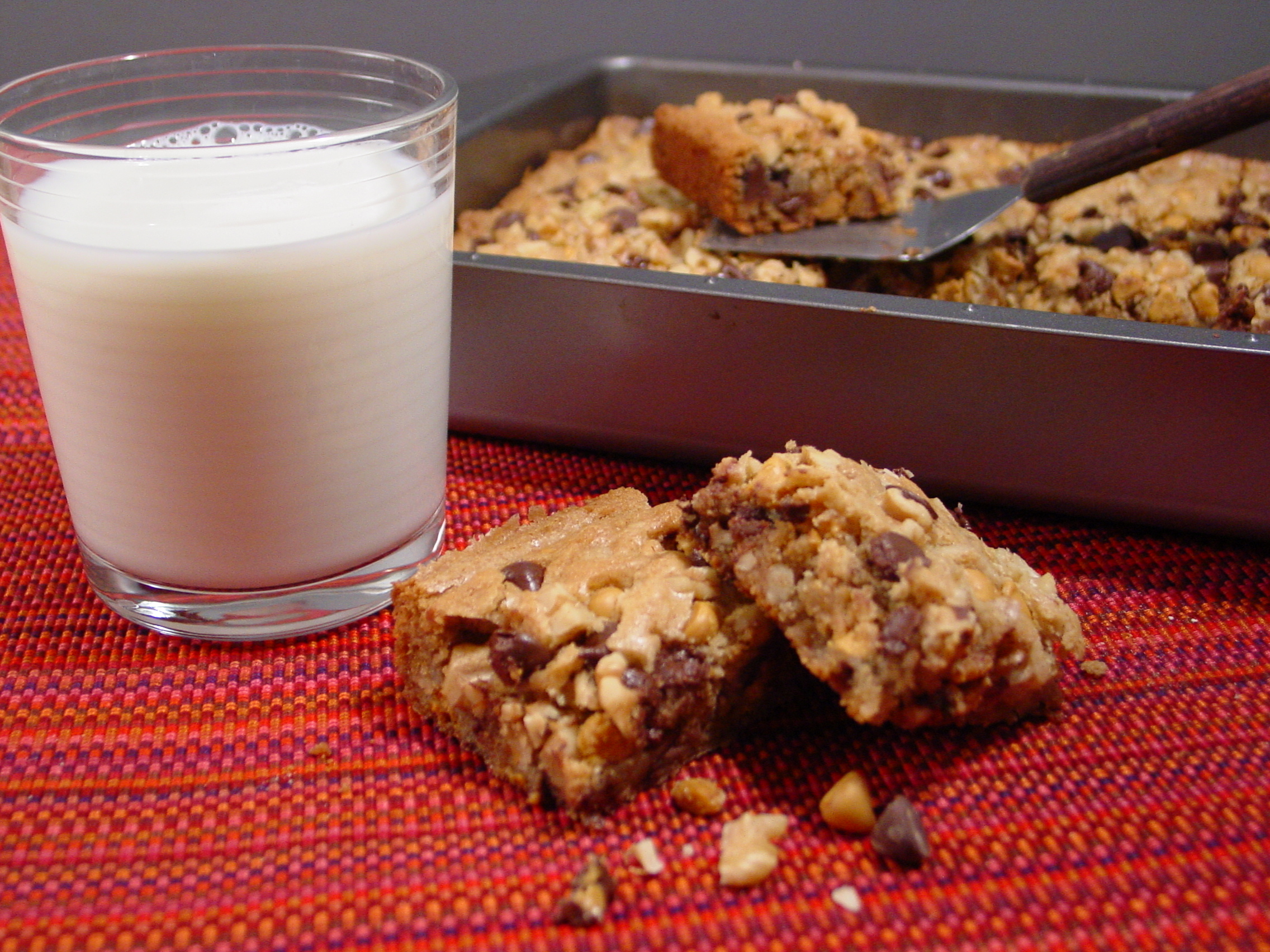 Treat Dad to a homemade dessert on his special day, like Blueberry Crisp, Strawberry Shortcake or Blondies with Double Chips & Walnuts. These desserts may be indulgent, but they also offer Dad a few healthy perks, too. Fiber-rich blueberries are filled with antioxidants to boost immunity, strawberries contain powerful antioxidants for brain and heart protection plus fight cancer, and the walnuts pack a punch of plant-based omega-3 fats for heart and brain benefits. All three desserts are made with whole-wheat white flour – a 100% whole-grain version that is milder in flavor and lighter in color than traditional whole wheat flour.
And remember to balance these dessert calories – grab Dad and head out for a long walk, run, hike or bike ride. Happy Father's Day to my Dad, my father-in-law and my handsome husband!
Blueberry Crisp with Streusel Topping
Filling:
½ cup granulated sugar
2 tablespoons (+ 1 teaspoon cornstarch)*
6 cups blueberries
1 tablespoon fresh lemon juice
Streusel:
1 cup white whole-wheat flour
¾ cup quick-cooking oats
½ cup firmly packed brown sugar
½ cup granulated sugar
½ teaspoon ground cinnamon
¼ teaspoon ground nutmeg
1 stick (1/2 cup) cold unsalted butter, diced
Preheat oven to 375°F. In a large bowl, whisk sugar and cornstarch until blended. Add blueberries and lemon juice; stir to thoroughly coat all berries. Pour blueberry mixture into 2-quart glass baking dish that has been coated with vegetable cooking spray.
In the same bowl, whisk together flour, oats, both brown and white sugar, nutmeg and cinnamon. Mix in diced butter with pastry cutter, fork or fingers until coarse crumbs form. Crumble evenly over blueberry filling.
Bake 35 to 40 minutes or until top is browned and fruit is bubbly at edges. Cool on wire rack for 30 – 45 minutes if serving warm. Otherwise, cool completely, then cover and serve later.
Tips:
* I increased the cornstarch an extra teaspoon the second time I made this (instead of just the 2 TB because I thought it was too runny the first time.) I suppose it truly depends on how juicy you like your desserts.
*Since one pint of blueberries is two cups, you'll need three containers. I always buy four containers, though, in case I have to pick out some of the berries when rinsing….those that aren't quite ripe or too mushy. I just add a few nice ones from that 4th container.
*My favorite white whole-wheat flour is King Arthur brand.
*My 2-qt dish of choice is always my 8-inch glass square Pyrex. 
Blondies with Double Chips & Walnuts
 1 cup unsalted butter, melted
1 cup firmly packed light brown sugar
2/3 cup granulated sugar
2 large eggs
2 teaspoons pure vanilla extract
½ cup all-purpose flour
1½ cups white whole wheat flour
¼ teaspoon baking soda
1 teaspoon salt
1 cup butterscotch chips, divided
1 cup semi-sweet chocolate chips, divided
1½ cup chopped walnuts, divided
Preheat oven to 350° F. Grease a 9 x 13-inch baking pan with vegetable cooking spray. In a large bowl, whisk melted butter and sugars until smooth. Whisk in eggs and vanilla extract. With a wooden spoon, stir in flours, baking soda and salt. Mix just until moistened; do not over mix.  Lightly stir in 1/2 cup butterscotch chips, 1/2 cup semi-sweet chocolate chips and 1 cup chopped walnuts. Spread mixture in prepared pan and smooth top. Sprinkle remaining ½ cup each butterscotch chips, chocolate chips and walnuts. Bake until top and sides are golden brown, about 25 to 30 minutes, or until toothpick inserted in center comes out clean. Set pan on wire rack to cool. Cut into 24 squares. Keep in tightly covered container.
Strawberries with Whole Grain Cinnamon Shortcakes
2 cups white whole wheat flour
¼ cup old-fashioned oats, dry
1/3 cup sugar
2 ½ teaspoons baking powder
½ teaspoon salt
1 teaspoon Saigon cinnamon
6 tablespoons cold, unsalted butter, diced
½ cup whole milk + extra for glazing
1 teaspoon orange juice
1 large egg
1 tablespoon raw sugar
½ teaspoon Saigon cinnamon
4 pounds strawberries (or more!)
¾ cup sugar
Prepare strawberries several hours in advance by slicing and mixing with sugar. Refrigerate for several hours or overnight to allow juices to form.
When it's time to make the shortcakes, heat the oven to 450°F. In a large bowl, whisk together flour, oats, sugar, baking powder, salt and 1 teaspoon cinnamon. Cut in butter with fork, fingers or pastry cutter until completely combined, crumbly and no pieces are larger than tiny peas.
Mix milk, egg and orange juice together in a small bowl. Add to flour mixture and stir with fork just until combined, about 30 strokes. Form mixture into a ball in the bowl, then gather up all loose or shaggy flour pieces. Knead lightly about 10 times in bowl. Dough will be sticky.
Turn out onto lightly floured surface and pat into a ¾-inch thick circle. Brush with a small amount of milk. Mix raw sugar and ½ teaspoon cinnamon together in small bowl; sprinkle over circle.  Cut into 8 large wedges and place on large ungreased baking sheet.
Bake 10 to 12 minutes, until lightly golden browned. Cool on wire rack. When cooled, cut in half and top with strawberries and strawberry juice.