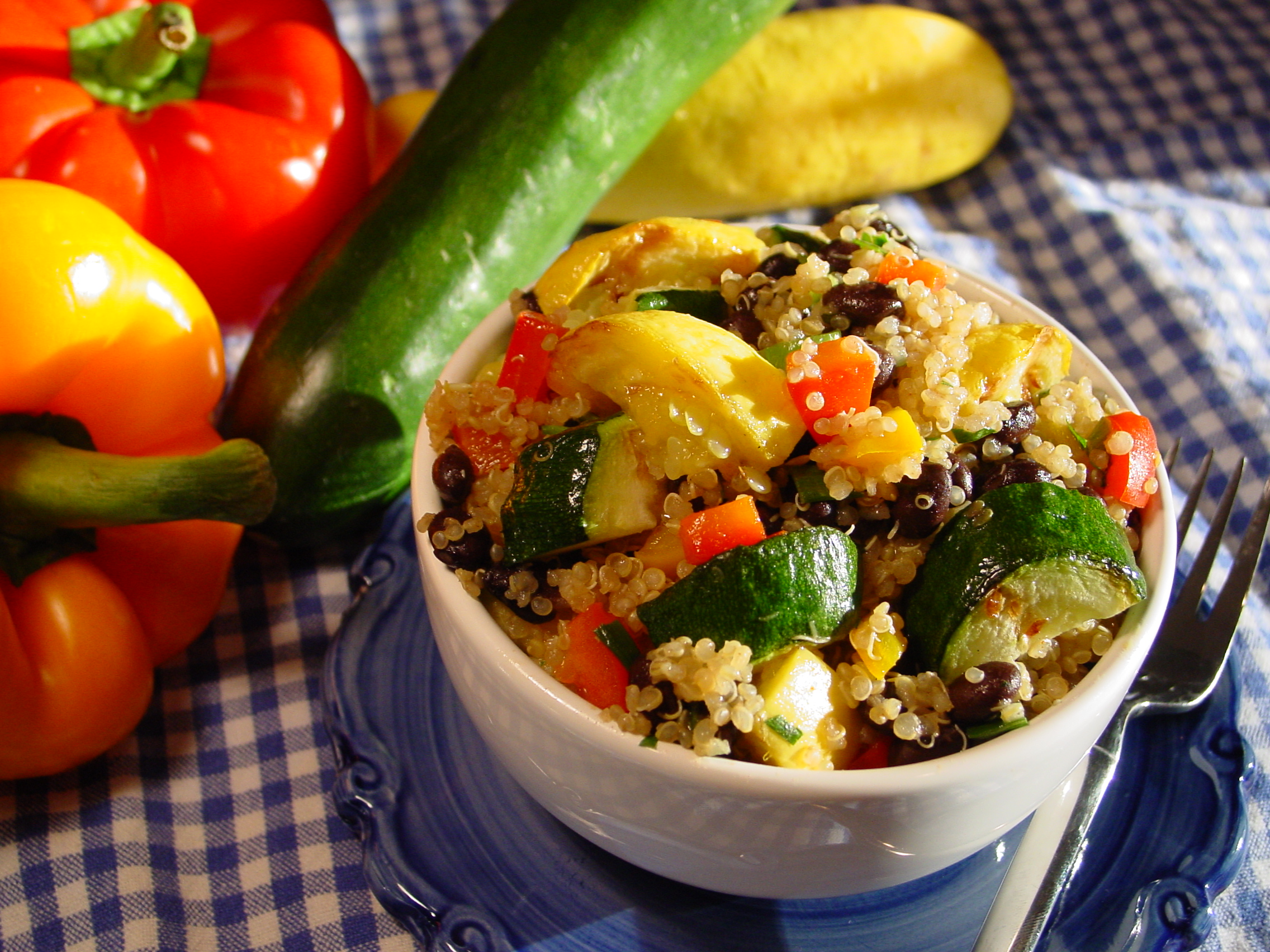 If you're packing lunch for your child who likes to eat the "flexitarian" way – eating both meat and meatless meals occasionally – consider something other than PB&J for those meatless days.
Beyond the Basic PB&J. Instead of always reaching for PB, try different nut butters like cashew, almond, sunflower or soynut. All contain protein plus valuable vitamins and minerals. Spread on any type of bread (see part 1 of this lunch series) – whole wheat cinnamon swirl is especially delicious – and top with sliced apples or pears, dried chopped figs or dates, dried tart cherries or raisins. Sliced banana and kiwi are outstanding on nut butter sandwiches.
Grain Salads.  Take any grain, like barley, quinoa, brown rice or couscous, and toss with purchased light Italian dressing, then add a bunch of chopped veggies (raw or cooked). Bell peppers, zucchini and squash, tomatoes, cucumber, broccoli, cauliflower, roasted eggplant…. Be creative! Try using Quinoa more often, though for the true vegetarians in your family, as it's the only grain that is a complete protein. That means it contains all the essential amino acids your body needs.   
Round 'n round. Make pinwheels with light cream cheese spread on whole wheat flour tortillas and top with lots of sliced, chopped or shredded veggies like carrots, colorful bell peppers, zucchini and summer squash. Even rinsed and drained canned black or pinto beans for a protein boost. Roll-up and slice into a bunch of pinwheels.
White Bean Dip. Aka, hummus. Purchased hummus is a real timesaver, but it's easy to make a big batch yourself on Sunday for the week ahead. My favorite recipe is below. All types of white canned beans like cannellini, great northern and chick peas work well in hummus/white bean dips. And you can be as creative as you want with seasonings and ingredients. Serve as a dip with whole wheat crackers, fresh cut-up veggies or use to spread on those pinwheels.
Trail Mix. Since trail mix contains nuts, seeds, whole-grains and fruits, typically, they can really pack in the nutrients and protein. Create your own version or try my "Let's Go Fishin" recipe with whole-grain cereal, whole-grain goldfish, dried fruits and honey-roasted peanuts.

Kim's White Bean Dip
1 can (15 oz.) great northern beans, drained and rinsed
1 can (15 oz.) cannellini beans (white kidney beans), drained and rinsed
2/3 cup chopped green onion
2 finely chopped garlic cloves or 1 to 2 teaspoons ready-to-use minced garlic
4 tablespoons lemon juice
2 tablespoons tahini (sesame paste)
¼ teaspoon ground cumin
¼ teaspoon black pepper
1 tablespoon olive oil
¼ teaspoon salt
Place all ingredients in food processor bowl and pulse until smooth and thoroughly blended. Serve immediately and refrigerate leftover dip.  Makes about 2 ½ cups (about 10 servings of ¼ cup each)   Customize your white bean dip by adding: roasted red pepper, Parmesan cheese, roasted garlic, black or green olives, fresh dill, and/or chives.
Nutrition facts for ¼ cup:  115 calories, 6 g protein, 17 g carbohydrate, 3 g fat, 0 mg cholesterol, 300 mg potassium, 1.5 mg iron, 50 mg calcium, 5 g fiber.
 Let's Go Fishin' Snack Mix
 2 cups frosted o-shaped or honey-nut o-shaped cereal
1 cup whole-grain goldfish crackers
1 cup honey-roasted peanuts
1/2 cup dried tart cherries
3/4 cup raisins
Combine all ingredients in a large bowl. Makes about 5 1/2 cups
(about 22 servings of 1/4-cup each)