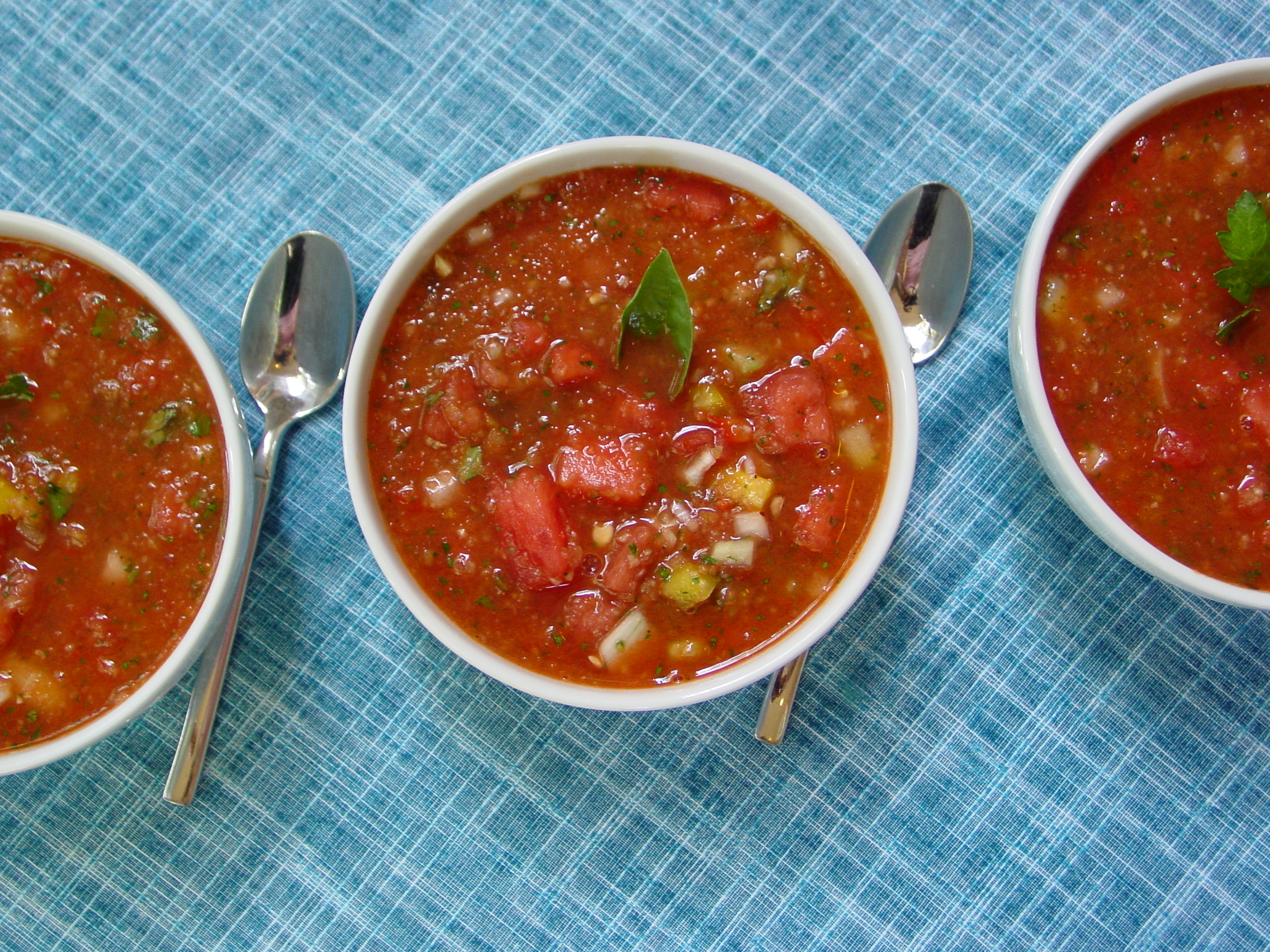 Easy and refreshing, this no-cook soup is like eating an entire garden of goodness! One bowl-full is filled with disease-fighting and immunity-boosting phytonutrients along with valuable vitamins and minerals. Plus, it provides much-needed fluid during these hot summer days.
Garden-in-a-Bowl Goodness highlights:
*Watermelon – a lycopene leader, that's the phytonutrients that may help reduce risk of heart disease and some cancers, including prostate cancer.
*Garlic – contain allyl sulfides which may work to help reduce risk of various cancers and boost immune system response.
*Onions – Excellent source of antioxidant vitamin C and a good source of fiber, specifically the prebiotic inulin type which helps keep your gut healthy. Onions also contain the polyphenols quercetin, a phytonutrient which may help reduce heart disease risk.
*Cucumber – Surprising source of Vitamin K for maintaining optimal bone health as well as proper blood clotting.
*Bell peppers – Huge amounts of antioxidant vitamins A, C and E to help reduce of some cancers and heart disease while also boosting immunity and keeping skin healthy.
*Italian parsley – lots of cancer-fighting nutrients plus an outstanding source of vitamin K for bone health.
 *Basil and oregano – both contribute antioxidant and disease-fighting properties. Oregano is currently being studied to determine if it provide some anti-inflammatory and anti-bacterial properties. Basil contains some vitamin A and K, too.
Watermelon Gazpacho with Garden Herbs
10 heaping cups diced watermelon (diced ½ to ¾-inch)
1½ cups finely chopped sweet white onion
1 to 2 garlic cloves, finely minced
1½ cups finely chopped, peeled and seeded cucumber
1 medium yellow bell pepper, seeded and diced (about 1 heaping cup)
1 medium red bell pepper, seeded and diced (about1 heaping cup)
1/3 cup finely chopped Italian parsley
1/3 cup finely chopped fresh basil
2 tablespoons finely chopped fresh oregano
¼ cup red wine vinegar
1½ tablespoons lemon juice
1½ tablespoons extra virgin olive oil
½ teaspoon ground black pepper
¾ teaspoon salt
In a large bowl, combine all ingredients and toss lightly. In a large food processor or blender, puree about half of the mixture, in batches if necessary, and transfer to another large bowl. Stir remaining diced mixture in pureed mixture.  Serve immediately at room temperature or chill one hour before serving. Refrigerate in tightly covered container.
Estimated prep time:  30 minutes
Cooking time: 0 minutes (Chill time optional: 1 hour)
Servings: 6 servings of 1-2/3 cup each (makes about 10 cups total soup)
Difficulty rating: Easy
Recipe created by Kim Galeaz, RDN, CD originally for My Indiana Home magazine (Summer 2012 issue)