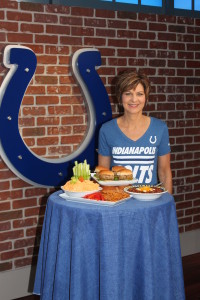 Lucky me…I happened to be the "first food" in the new, enlarged studio at the Colt's Indiana Farm Bureau Football Center. That's what the production crew told me earlier this week when I taped three short videos for the Indiana Soybean Alliance and Indiana Corn Marketing Council and their #ColtsBestTailgate contest.
I took Buffalo Chicken Cheese Dip, Big Beef Chili and Spicy Pork Sliders. These three tailgate party dishes highlight our Indiana soybean and corn farmers (feed for the chickens, cows and pigs). These dishes also exemplify my philosophy with any dish: blend and balance great taste with good health! And I had representation from EVERY nutrient-rich food group!! (Grains, fruits, vegetables, protein & dairy).
For example –
My Buffalo Chicken Cheese Dip has slightly less calories and fat because I use lighter, 1/3-less fat cream cheese and light Ranch dressing instead of full-fat and lots of lean protein-rich chicken breast. I serve it with pretzels and veggies like celery sticks (vitamin K for bones) and bell pepper strips (vitamin A for immunity & eyes).
My Big Beef Chili is brimming with belly-filling lean beef protein (I use ground beef that is no more than 15% fat) and fiber + phytonutrients for optimal health (from all the beans, tomatoes, garlic and onions. Lots of onions).
My Spicy Pork Sliders are made with lean ground pork (satiating protein + B-vitamins, iron and zinc for immunity) and some green/white onions (phytonutrients). I serve them on whole-grain/whole-wheat slider buns with Chinese cabbage and slices of Asian pear (there's the FRUIT!!)
You'll find all three recipes on my Recipe page and details about the contest at coltsroundup.com. Go Colts!