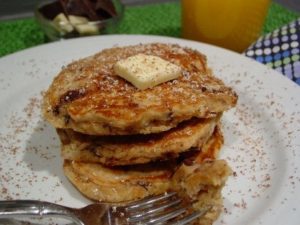 Really they're just 100% whole grain pancakes. Easy to make in one bowl. But they are now known as Papa Pancakes that's what grandson Elijah named them. Because Papa Jeff loves them. So does Elijah! And he started cooking them with me when he was 2 1/2. Easy tasks, stirring, whisking and tap-tapping to level the flour. Tasting, too. He loves to taste many ingredients in a dish. Brown sugar is a favorite, but flour not so much. He even learned how to crack eggs making these pancakes. Expert egg-cracker at 3 years old.
I love these pancakes as a dietitian because they're 100% whole grain, filled with phytonutrients, vitamins and minerals for your heart, skin, brain and overall health.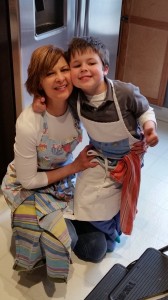 Papa Pancakes
100% whole grain goodness. Easy and fast for breakfast, brunch or breakfast-for-dinner.
Author:
Kim Galeaz, RDN CD
Ingredients
1¾ cups white whole wheat flour
2¼ cups quick-cooking oats, uncooked
⅓ cup firmly packed brown sugar
2¼ teaspoons baking powder
½ teaspoon salt
2 cups low-fat 1% buttermilk or regular 1% milk
3 large eggs
⅓ cup plus 1 tablespoon vegetable oil
1 teaspoon vanilla extract
Instructions
Whisk all dry ingredients together in large bowl. With a spoon, stir in milk, eggs, oil and vanilla. Pour ¼-cup portions of batter on hot (350-375°F) griddle or skillet. Cook until bubbles form, flip and brown other side until done. Makes about 20 pancakes.
*Tip for holiday decadence: add chopped white chocolate, dark chocolate or milk chocolate in these 100% whole grain pancakes!
Enjoy!