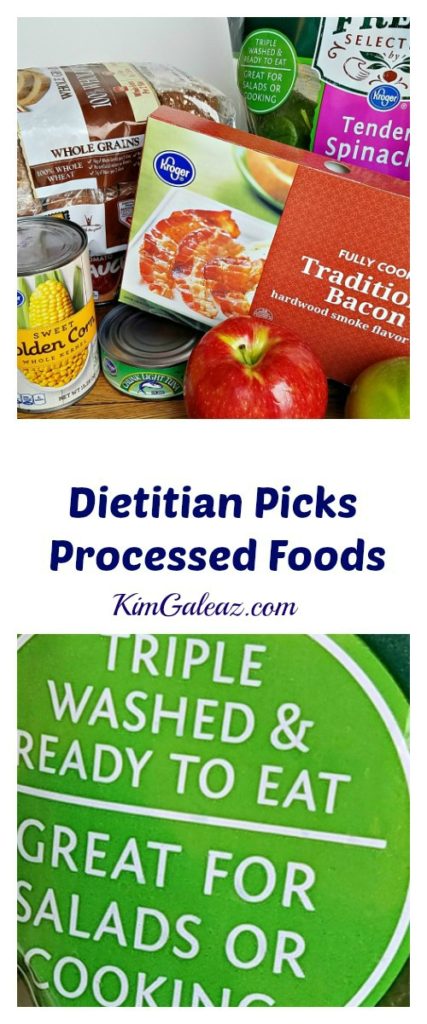 Frustrated and annoyed. That's how I feel when I hear most of the prevailing "healthy eating" adages. "Shop only the perimeter of the supermarket." "Don't eat processed foods." "Don't eat foods with ingredients you can't pronounce or that your grandma wouldn't recognize as food." "Fresh is best."
I may be a dietitian, but I have no desire to follow any of those adages because they are too simplistic and short-sided. Too negative and guilt-inducing. And completely unnecessary if you want to be healthy and stay within your grocery budget. Furthermore, I'll bet my great-grandmother would have been thrilled to use the many safe, affordable, nutrient-rich and convenient foods we have available today in supermarkets. She wouldn't need to spend hours in the kitchen scratch-cooking three meals a day. Day after day. Let's look at just a few of my favorite processed foods.
Canned vegetables and fruits. This is one of main reason I detest "shop only the perimeter." Canned fruits and vegetables are safe, have a longer shelf life and provide all the same nutrients as fresh. That's because modern food processing technology means they are picked and packed at their peak and canned immediately, so nutrients are retained. I think everyone would eat more fruits and vegetables if they knew this. Drain canned vegetables and beans to slash sodium, or opt for the no salt added varieties. Choose canned fruits packed in 100% juice or light syrup rather than heavy syrup to reduce added sugars. Some canned fruits and vegetables even have more beneficial nutrients than fresh because of the heat/canning process itself. Canned peaches and tomato products are two examples.
Breads and grains. Food technology in the bread aisle means I can buy a loaf of bread or bag of hamburger buns on February 10 and it's good until February 25. The approved and safe preservatives in these baked goods mean quality, taste and texture are maintained with a longer shelf life. That's a good thing, because I really don't want to be baking homemade bread every couple days. Or throwing out store-bought bread and buns without preservatives. Nothing affordable about that. By the way, I'd miss out on my favorite 100% whole wheat bread slices if I only shopped the perimeter.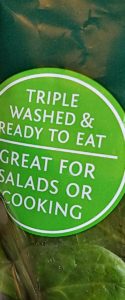 Bags of baby spinach leaves. I find cleaning and trimming fresh spinach bunches incredibly annoying, so I love the convenient bags lining the produce shelves. Just open and eat. I don't even need to wash that spinach thanks to food processing technology – those leaves have already been triple-washed for me at the production plant. And they're packed in a thoroughly tested and safe plastic bag that keeps those leaves fresh and eye-appealing for many days. Safe, convenient, affordable and yes, incredibly nutrient-rich.
Canned seafood. It's a lot like the fresh fruit and vegetable thing – fresh isn't best and isn't the only thing that counts as nutrient-rich. Canned tuna, salmon and all seafood varieties are packed with protein and valuable omega-3 fats. The process of canning keeps my tuna safe and affordable. And ready to grab anytime I want to whip up some curried tuna salad with my favorite light mayo (processed), golden raisins (processed by drying fresh grapes), cashews (processed to remove shells), and enjoy a sandwich on that whole wheat bread (processed) with some baby spinach leaves from the bag (processed). So nutrient-rich and so processed.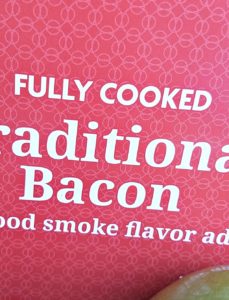 Ready-to-eat bacon. Those little boxes of precooked bacon are a far cry from the jars of bacon-like bits we used in the 60's and 70's. That was the only option back then, but now advanced food technology processes have created pretty decent precooked slices. You can't beat them when you're short on time and want to add some crumbled bacon to salads and casseroles. Or make a quick BLT. On slices of that whole wheat bread. Maybe even a few baby spinach leaves. I also love processed chicken breasts and chicken strips (refrigerated and frozen) that make mealtime a snap.
Apples that don't brown. Surprise! This one is brand-new technology and the apples aren't even available yet locally. So I'll tell you more about them when they're on the shelves. But I'm very excited that I can now serve apple slices with my pumpkin cheesecake dip and in salads without that unappealing brown tinge. All thanks to genetic modification and food processing.
Disclosure: As a proud supporter of Indiana Agriculture and Farmers, I'm happy to mention this is a sponsored post for The Glass Barn. All content/opinions created solely by me. The Glass Barn is a physical and online resource providing educational materials on Indiana farming to educators and students; it's funded by the soybean checkoff. You can visit the Glass Barn at the Indiana State Fairgrounds.