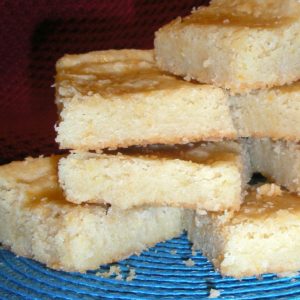 Sigh. Big sigh.
Today is National Shortbread Day. I felt like sharing my favorite shortbread recipe – my Bipartisan Shortbread Bars. So I searched for my old blog post from days long ago.
Found it! Read it. Sighed. Then sighed again. With sadness. And wistfulness.
I'm definitely not one for wishing that things would be "the way they used to be," but geez…. 2017? And now already in 2018? It just keeps getting worse.
I'm going back to calling them Obama Bars. But if you don't like that, or Bipartisan Bars either, just call them "F-ing Lemon Bars" like my dear friend Rick in Provincetown, Mass. He really likes them. I hope you do, too.
Recipe below. Story about naming them below. too.  I'll be baking them shortly and probably eating a fourth of the pan. In stressful, unsure times, my definition of moderation has changed.
Original Post from 2010:
BIPARTISAN SHORTBREAD BARS
January 31, 2010 By Kim Galeaz
After hearing President Obama's address last week, I decided to make a batch of Bipartisan Shortbread Bars.  I felt it was the least I could do to show support for everyone working together to accomplish great things.  Besides, this recipe holds personal significance.
Flashback January 19, 2009. I was driving and listening to this NPR story on All Things Considered about the Inaugural Dinner. I had to pull over and make a note: GET RECIPE NPR OBAMA BARS. Michelle Obama's Shortbread Cookies were going to be served and I could get the recipe online! Woo hoo – Shortbread is tied with brownies as my favorite treat.
So I went online and printed out the recipe. Pan size was missing. No problem. Bipartisan people can work through little glitches. Decided on a 9 x 13. Ran to the grocery, grabbed all the ingredients and baked these buttery treats with a citrus twist just two hours after hearing the story.
When it came time to share them with friends, I decided to call them Bipartisan Shortbread Bars instead of Michelle Obama's Shortbread Cookies. I wanted to avoid any preconceived, biased dislikes without even tasting. (Yes, even food brings out the partisan in many of us.) To my delight – and ultimate goal – everyone loved these bars regardless of their political persuasion.
I've made these bars numerous times over the past year and tweaked the recipe a bit. Michelle wouldn't mind. I'll bet she's just glad for three things:
I'm resourceful. Her original recipe called for cake flour. I didn't want to spend money on that so I used the standard substitution for all-purpose flour. One cup cake flour = 1 cup minus 2 tablespoons all-purpose flour.
I exert moderation and control when eating these bars by cutting them into reasonably sized pieces. This helps control portions and ultimately, calories….perfect for Michelle's new campaign to help Americans lead healthier lives.
I'm trying to foster open-minded bipartisanship about dessert/treat eating. Yes, it IS okay to eat sugar and butter.
Bipartisan Shortbread Bars
Easy, one-pan shortbread bars with hints of citrus and almond flavors and plenty of butter, sugar, flour.
Author:
Kim Galeaz RDN CD
Ingredients
1½ cups unsalted butter, softened
1 ½ cups sugar
2 egg yolks
2 ½ cups + 2 tablespoons all-purpose flour
1 ½ to 2 teaspoons each orange and lemon zest
2 tablespoons amaretto liqueur
¼ teaspoon salt
1 beaten egg white
2 tablespoons raw sugar
Instructions
Preheat oven to 325 degrees.
Lightly coat a 9x13x2-inch pan with vegetable cooking spray.
Beat butter and sugar with electric mixer until combined.
Add egg yolks one at a time and beat until smooth.
Stir in flour, zests, amaretto and salt, mixing only until everything is incorporated.
Spread dough evenly in pan and brush top with egg white.
Sprinkle with raw sugar.
Bake until golden brown, approximately 30 – 35 minutes. (I think they're done when the top is golden brown and they appear slightly deflated.)
Cool slightly and cut while still warm. Enjoy!
Cut into 24 bars. These bars freeze well. Just cut and place in a zippered freezer bag. Microwave one bar for a couple seconds to thaw.
(Adapted from Michelle Obama's Shortbread Cookie recipe online at www.npr.org)