Of course you'll find the usual suspects in my pantry – foods you'd expect ANY dietitian to keep on hand. Like canned fruits, vegetables, beans, tuna, salmon, whole-wheat pasta and whole-grain cereal.
But are you ready for some eye-opening revelations? Because certain foods are a pantry necessity in my balanced book of eating and enjoyment. They must always be on-hand for fast, easy and healthy meals and snacks.
Sloppy Joe Sauce.
What could be faster than opening a can of sloppy joe sauce and pouring over some lean ground beef cooking in a skillet? Since sloppy joe sauce is made with tomatoes, you get vitamins, minerals and phytonutrients. Lean ground beef provides muscle- and bone-building protein. And if you serve sloppy joes on whole-wheat hamburger buns, you get a "whole grain" serving for the day. Microwave frozen vegetables and you have a super-fast, balanced and healthy meal. The right kind of "processed" foods.
Shake 'n Bake
Who doesn't like a little seasoning and crunch on their chicken or pork chops? The shake 'n bake cooking method is a dietitian's dream – oven-baked rather than fried. Less fat and calories Oven-roast frozen potato wedges while the chicken is cooking, throw some frozen vegetables in the microwave, and you've got a healthy, balanced dinner. Minimal effort and time.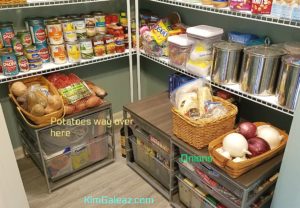 White Potatoes and Onions.
Speaking of potatoes, you'll always find a 5 or 10 pound bag of white potatoes in my pantry. On the left side, far, far away from the basket of onions on the right side. That's because onions release gases that can hasten sprouting of potatoes. White potatoes are just as nutrient-rich as sweet potatoes. They have fiber, potassium, numerous B-vitamins and vitamin C; they just don't have the vitamin A found in sweet potatoes.
Sugary Cereal.
Lots of sugary cereal. Lots of whole grain cereal, too. Well, actually, I have an entire pantry dedicated to just boxed cereal. Why? Because cereal is fast and easy for breakfast and snacks, it's tasty, and yes, it has nutrient value. Some more than others obviously, but ALL cereals are fortified with vitamins and minerals. So no need to demonize or avoid "sugary" cereals, especially since you enjoy them nutrient-rich dairy milk. In essence, your bowl of cereal is filled with brain-boosting carbohydrate energy and muscle- and bone-building protein and calcium. Focus on choosing whole grain cereals, too, rather than just the sugary varieties. My husband Jeff's guideline: whole grain cereals before supper, sugary after. Every night he has a bowl of his favorite sugary cereal. With milk. Lots of milk. He's in terrific shape, by the way. He understand balance.
 5. Bisquick Baking Mix.
You're either a Bisquick or Hungry Jack pancake person. A refrigerated tube or Bisquick biscuit baker. I grew up making Bisquick pancakes and love them today for an easy breakfast with juice and lean ham or Canadian bacon. In-season blueberries turn these comfort-food pancakes into antioxidant-rich delights. And it wouldn't be right to have strawberry shortcake any other way than with a wedge of Bisquick shortcake made in a 9-inch round cake pan. Oh, and I use this baking mix in Jeff's favorite Apple Bacon Cheese Egg Casserole.
White Pizza Crust Pouch Mixes.
Just mix with warm water and "almost like homemade" pizza crust is ready in minutes. Yep, this crust mix is made with white refined flour, but remember, half (not all) your grains every day need to be from "whole" sources. So enjoy your white pizza crust and get your whole grains somewhere else, like bagels, flour tortillas, English muffins, pasta, bread and crackers. Which also reside in my pantry all the time.
Pizza and Pasta Sauce.
Cans of pizza sauce for that white-crust pizza and jars of pasta/marinara sauce for my whole-wheat pasta. Both sauces are tomato-based products with oodles of nutrients and they count as vegetable servings. So use liberally. Don't get hung up on the added ingredients, either. You'd be adding a pinch of sugar and some salt to any homemade recipe. FYI men: cooked tomato products provide more prostate cancer-fighting lycopene than fresh tomatoes. Yet another reason to use purchased pizza and pasta sauce.
 8. Chocolate and Butterscotch Chips
Because I love to bake chocolate chip cookies. And Jeff's favorite blondies with chocolate AND butterscotch chips. And Jeff loves to make his childhood favorite "cornflake candy." Melt butterscotch chips in microwave. Just eyeball it. Stir in peanut butter – eyeball that, too. Microwave until smooth. Pour over lots of cornflakes –eyeball amount – in a big glass bowl. Stir everything. Pat into a glass dish. Cover and refrigerate until you can't wait any longer. Enjoy. Nutrient-rich peanut butter and cornflakes blended with decadent chips. A perfect dessert in my book.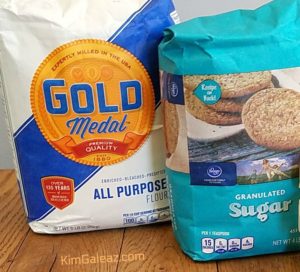 All Purpose Flour and White Sugar
Good 'ole white refined flour and white sugar. Necessary for all my baking, from those chocolate chip cookies and Jeff's blondies, to the plethora of scones and muffins I make and freeze. All of these baked goodies also contain white whole wheat flour, but that's stored in the fridge so it doesn't go rancid (due to the whole-grain flours having the natural fats.) Baking scones and muffins with part whole wheat flour and lots of nutrient-rich fruits and nuts is a perfect way to balance the refined flour and sugar. Nutrients + happiness. How eating should be in my dietitian book.
Disclosure: As a proud supporter of Indiana Agriculture and Farmers, I'm happy to say this is a sponsored post for The Glass Barn, brought to you by Indiana Soybean Checkoff dollars.  All content is created solely by me and all opinions are mine. The Glass Barn is a physical and online resource providing educational materials on Indiana farming to educators and students. You can visit the Glass Barn at the Indiana State Fairgrounds.