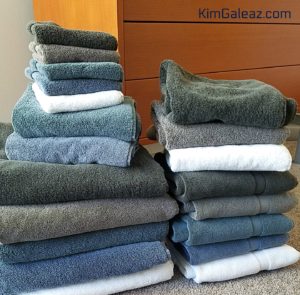 Use the good towels.
I do. Because I think I'm worth it. And feeling worthy is one of many ways I've stayed vibrant.
I know too many people from my past who "save the good towels for company." Or don't use the better dishes, better coffee cups, better pillow, sheets, you name it….and only use these things for "others."
Well, I happen to think I'm personally just as deserving. No deprivation for me. Life is too short, and you just might not get around to enjoying all those nice things you really want to.
Of course, you have stay within your means/budget when it comes to treating yourself with nice things. Hmmm. Sounds a lot like that calorie budget thing I talked about yesterday, doesn't it?
But I really believe it's important to take care of yourself….indulge yourself….and enjoy certain luxuries.
Like in 2003 when, as a single woman, I decided to buy The Sports Car.  I really liked those Acura NSX's, but they weren't budget-friendly. So I comprised with myself and bought a fabulous 2004 Infiniti G35 Sports Coupe in Desert Platinum. I always had a thing for cars to a degree, and I finally said at age 45, how the heck/hell will I ever get a sports car unless I buy it for myself? So I did. And stayed within my budget completely. Still have that car today and love it. (It's not Jeff-friendly though, as he's 6'5".)
But back to those towels…..
I really splurged about 7 years ago and bought beautiful Restoration Hardware towels. On sale. Then when Jeff and I moved into our new home last June, we bought a few more. Now there are plenty for company, too.
For dish towels though, nothing but Crate & Barrel for me because I'm extremely picky about absorbency. But I mainly love them because the color and contemporary makes me happy every time I see, use and fold them. And trust me, I fold A LOT of them, since I'm in the kitchen with my business every day.
Happiness = vibrancy.
Are YOU using the "good towels?"