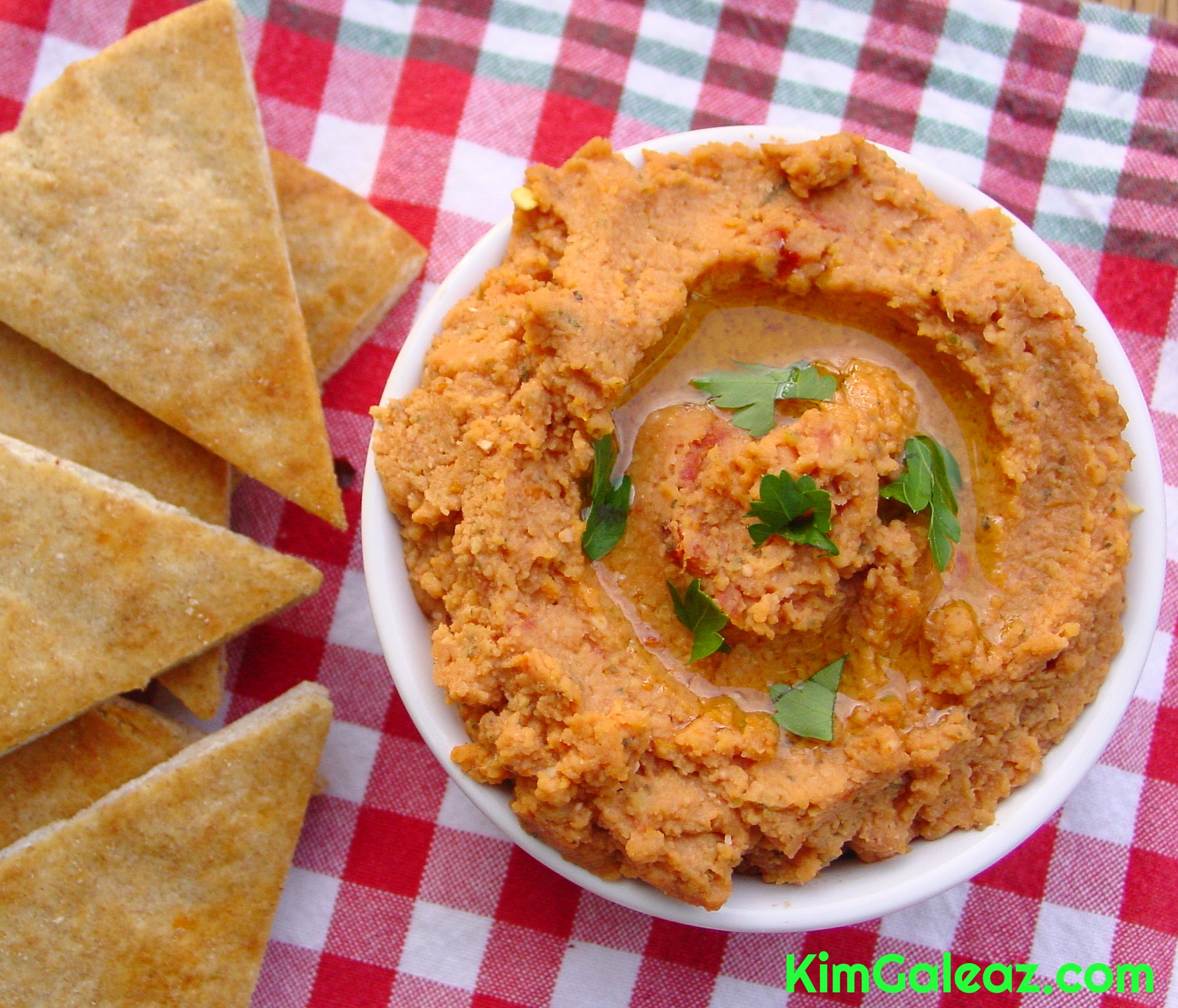 Dive into a bowl of Pizza Hummus if you're trying to eat more vegetables. And who isn't? From moms and dads trying to get their kids – and themselves – to eat more nutrient-rich vegetables, it's time for a family-friendly solution.
Pizza Hummus is one of the easiest ways to "eat more vegetables" because hummus counts as a vegetable.
That's right. It's made from garbanzo beans, a vegetable. And my Pizza Hummus has even more vegetables, since it includes sun-dried tomatoes and tomato paste. They all count as vegetables.
Plus, along with the obligatory bread pieces or breadsticks, you just might want to dip fresh cut-up vegetables into my pizza hummus. Score with even more vegetables!

Pizza Hummus
Easy pizza-flavored hummus makes eating more vegetables so easy.
Author:
Kim Galeaz RDN CD
Serves:
12 (1/2 cup) servings
Ingredients
3 cans (15 oz.) Kroger chickpeas, rinsed and drained, reserving at least 1 cup liquid
1 can (6 oz.) Kroger tomato paste
¼ cup Private Selection julienne sun-dried tomatoes (from 7 oz. jar packed in oil)
½ cup grated Parmesan cheese
3 tablespoons Kroger or Private Selection olive oil
¼ cup red wine vinegar
1 teaspoon each dried Kroger Italian seasoning, basil and oregano
1 teaspoon each Kroger garlic powder and onion powder
¾ teaspoon salt
½ to ¾ cup Kroger Mini Pepperoni Slices
Chopped Italian parsley, crushed red pepper and/or mini pepperoni slices, optional garnishes
Instructions
Place all ingredients except pepperoni slices and garnishes in a large food processor bowl. Add ¾ cup reserved chickpea liquid. Process until thoroughly combined and blended, stopping and stirring occasionally. Add a tablespoon more reserved chickpea liquid (or olive oil) if you want a thinner hummus. Stir in mini pepperoni pieces with spoon. Refrigerate hummus until serving time. Garnish if desired before serving. Serve with crackers, pita wedges, pita chips, bread cubes and/or fresh cut-up vegetables like bell pepper strips and broccoli.
Makes about 6 cups hummus (12 servings of ½ cup each)