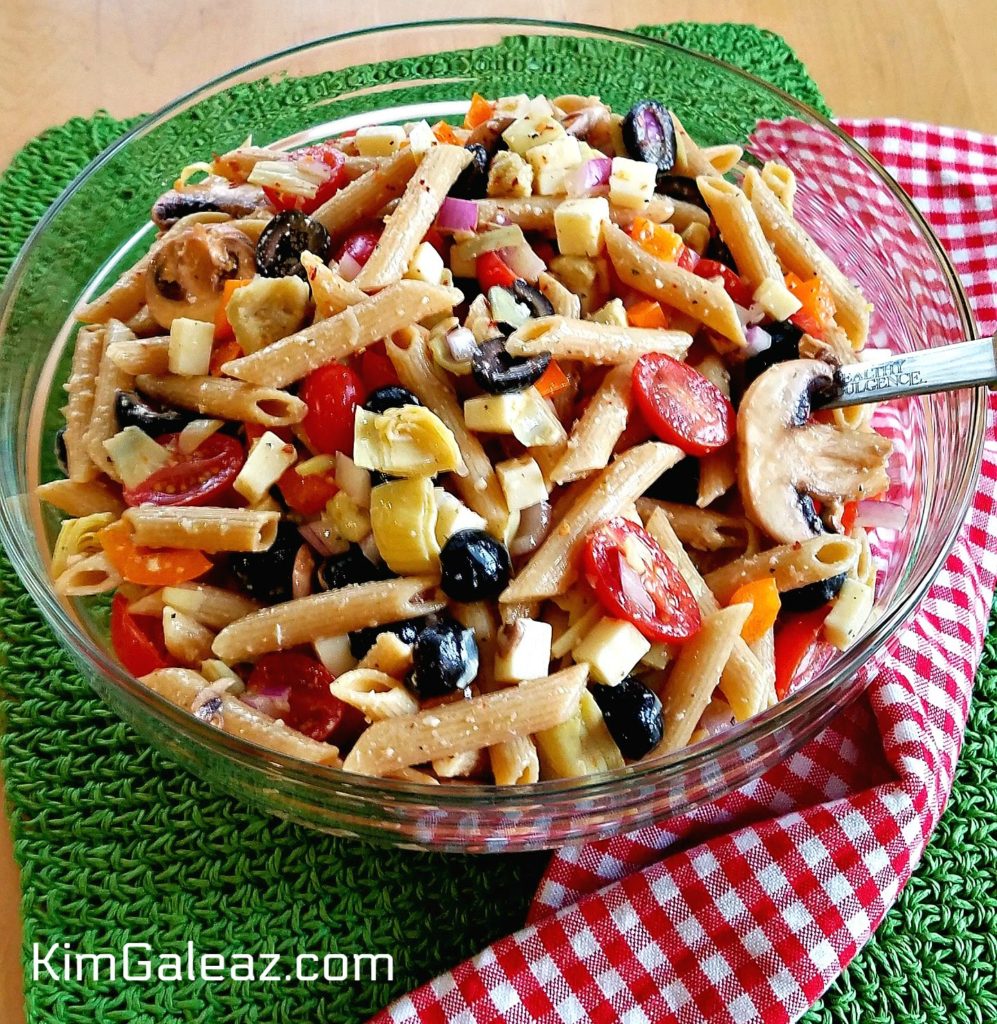 I had no idea this pizza-inspired pasta salad loaded with vegetables would be so popular. But it was a hit with the Fox 59 Morning News production crew. They enjoyed it after one of my segments…even coming back for seconds!
This big-batch recipe perfect for picnics, potlucks and parties is loaded with nutrient-rich vegetables and whole-grain goodness.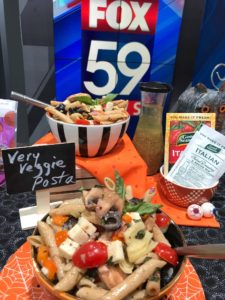 This dish features mushrooms, bell peppers, artichokes hearts, onion and tomatoes. All these vegetables are fairly low calorie, but they're high in nutrients and health-boosting benefits.  Add other veggies to this salad if you'd like, like broccoli and cauliflower.
You can even dice up a different cheese if you'd like, perhaps Romano or Asiago instead of the mozzarella….any cheese gives this salad a hefty dose of bone-and muscle-building protein.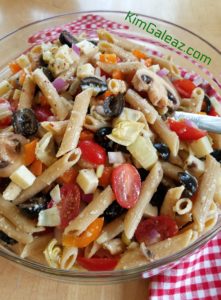 The Italian Salad Dressing you choose on this salad is critical, and I think my #1 all-time favorite Good Seasons Italian is what made this salad. It's those little dry packets of seasoning mix you buy along with the cruet and mix it yourself at home with oil, vinegar and water. I like to make the low-fat version to save calories, but still get all the great taste.
Note: this is a huge, party-sized, big-batch recipe, making roughly 18 cups. Great for big gatherings, but you can halve the recipe for smaller meals/events.
Enjoy my Very Veggie Pizza Pasta Salad at your next get-together.

Very Veggie Pizza Pasta Salad
Author:
Kim Galeaz RDN CD
Ingredients
1 box (16 oz.) whole wheat penne (or rotini, shells or bow ties)*
1 orange or red bell pepper, seeded and finely chopped
2 cups sliced mushrooms
2 cups grape tomatoes, cut in half (an entire pint container)
1 can (15 oz.) large black olives, cut in half (roughly 1⅓ cups olives)
1 cup finely chopped red onion
1 can (14-15 oz.) quartered artichoke hearts, cut in half
1 block (8 oz.) mozzarella cheese, cut into tiny ¼-inch diced pieces
½ cup grated Parmesan cheese
¼ teaspoon crushed red pepper
¼ cup chopped fresh basil
1 cup (or more) favorite light Italian Vinaigrette
Instructions
Cook pasta according to package directions. After draining, place in extra large bowl. Lightly stir in all vegetables, from bell peppers to artichoke hearts, plus diced mozzarella cheese, Parmesan cheese, crushed red pepper and chopped fresh basil. Pour favorite salad dressing over all and toss lightly again. Refrigerate in tightly covered container.
Nutrition Facts per serving (about 1 cup pasta salad): 210 calories, 7.5 g fat, 2 g saturated fat, 0 g trans fat, 10 mg cholesterol, 29 g carbohydrate, 9.5 g protein, 5 g fiber, 320 mg sodium.