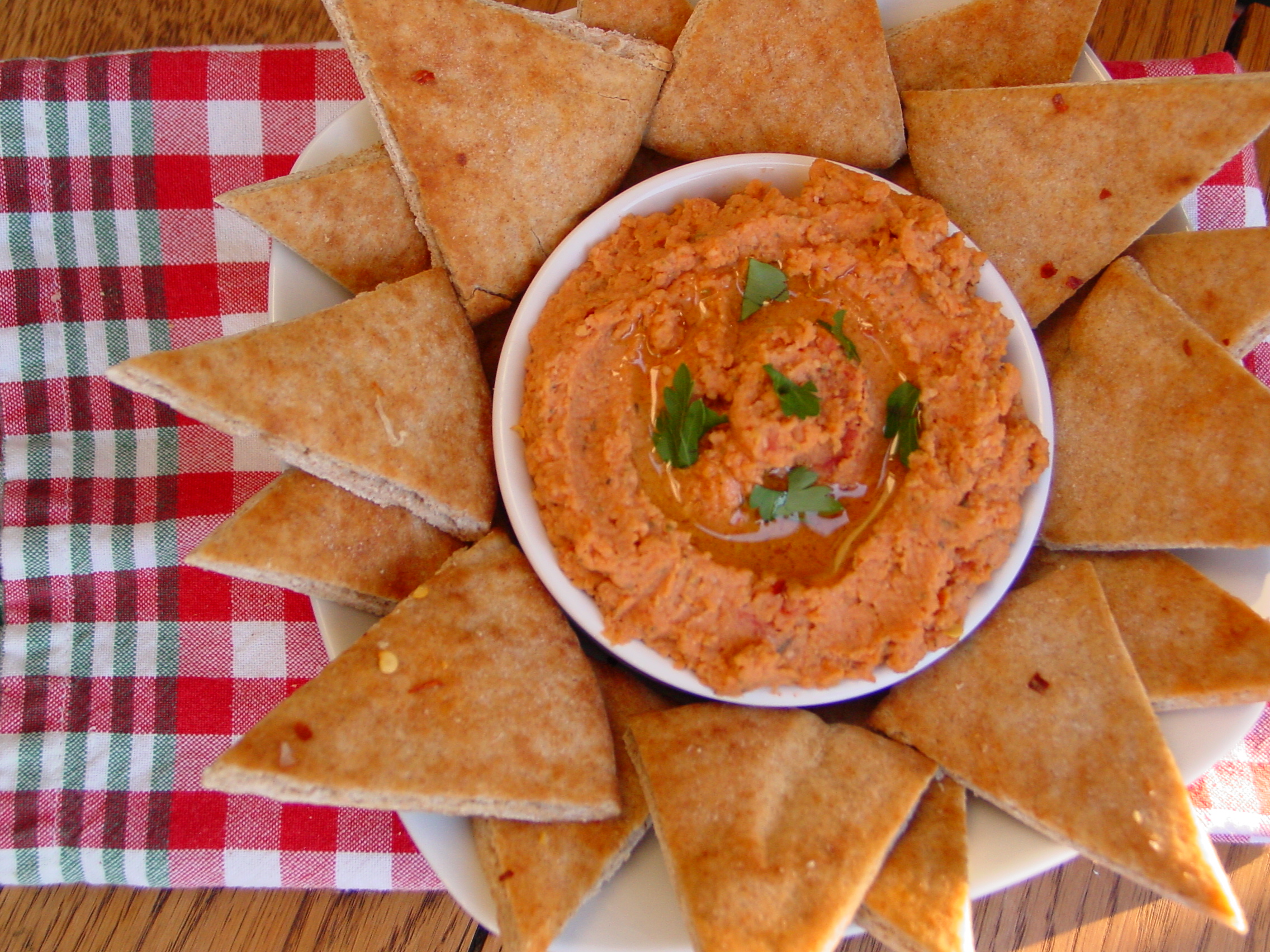 Need some inspiration on what to take to the next office pitch-in, weekend party or Monday night football get-together? Try a nutrient-rich dip, like White Bean Dip. It's a great vehicle for eating more whole grains and vegetables!  I love to serve this dip with 100% whole grain crackers – my favorites are Triscuits Reduced Fat and Kroger's 100% wheat squares – and a slew of fresh veggies, from carrots and celery to sugar snap peas, red, yellow & orange bell pepper strips and zucchini wedges.
Here's a secret:  Men who either hate hummus or have never tried it will love this white bean dip. Just be sure and call it that instead of hummus! My dip is "practically" hummus – the only difference is traditional hummus uses chickpeas and my version contains white kidney beans and great northern beans. Rinse those beans and cut over 40% of the sodium! I've boosted the onions in this recipe to up the antioxidants and I've kept tahini – it's an essential ingredient in dips like this – but I've reduced it slightly since it's a huge calorie and fat source.
Enjoy! And remember… when you're with really, really good friends, they won't mind if you accidentally double-dip!
White Bean Dip
1 can (15 oz.) great northern beans, drained and rinsed
1 can (15 oz.) cannellini beans (white kidney beans), drained and rinsed
2/3 cup chopped green onion
2 finely chopped garlic cloves or 1 to 2 teaspoons ready-to-use minced garlic
4 tablespoons lemon juice
2 tablespoons tahini (sesame paste)
¼ teaspoon ground cumin
¼ teaspoon black pepper
1 tablespoon olive oil
¼ teaspoon salt
Place all ingredients in food processor bowl and pulse until smooth and thoroughly blended. Serve immediately and refrigerate leftover dip.  Makes about 2 ½ cups (about 10 servings of ¼ cup each)   Customize your white bean dip by adding: roasted red pepper, Parmesan cheese, roasted garlic, black or green olives, fresh dill, and/or chives.
Nutrition facts for ¼ cup:  115 calories, 6 g protein, 17 g carbohydrate, 3 g fat, 0 mg cholesterol, 300 mg potassium, 1.5 mg iron, 50 mg calcium, 5 g fiber.