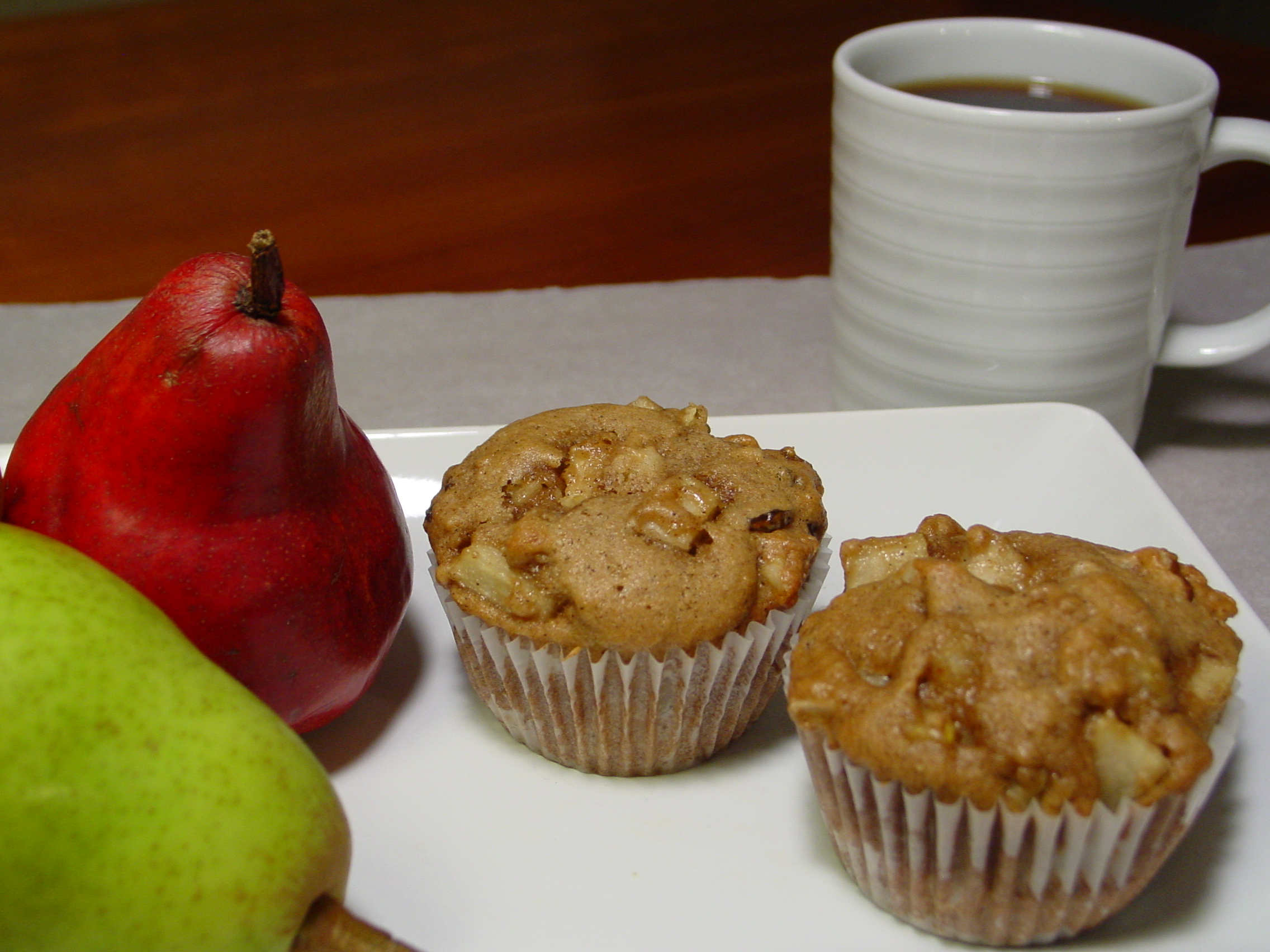 One of my passions is public radio, so every spring and fall for the WFYI FM 90.1 fund drives, I volunteer to be in-studio and help with on-air pledge breaks. It's one of the most rewarding things I do….such a great feeling when we're able to meet a challenge or goal.
Of course there's a food angle, too. Since I absolutely LOVE to bake, I try to bake something and take it for everyone I'm working with that morning, especially Scott Hoke (he eats more than anyone). Sometimes I try completely new recipes and let everyone critique.
Yesterday I took Orange Oatmeal Walnut Muffins. Here's Scott giving the thumbs up. (Thanks to Top Producer Tracy Mitchell for this photo!) Scott is the on-air personality for Morning Edition from 5 – 10 am. He was very disappointed I didn't bring anything in this morning. He'll get Frosted Pumpkin Bars tomorrow, though.
Scott says the streusel-like topping on these muffins is "too messy." Falls off and gets on his board. It's messy because I tried not to add any more fat to this recipe; a typical streusel contains fat along with the other ingredients, allowing everything to "stick" better.  WFYI President and CEO Lloyd Wright, who I was on-air with yesterday, had the perfect solution: A dollop of Orange Marmalade on top of every one! So I've added orange marmalade to this  recipe, although the muffins in the photo don't have any.
Nutrient Benefits: Every muffin is packed with nutrients: omega-3's from the walnuts, fiber from the whole wheat flour and oats, and Vitamin C from the orange juice.  Freeze a batch and warm a few in the microwave anytime. 
Orange Walnut Muffins
Muffins
¾ cup whole wheat flour
¾ cup all-purpose flour
1 cup quick-cooking oats, uncooked
2/3 cup granulated sugar
2 teaspoons baking powder
½ teaspoon baking soda
¼ teaspoon salt
2 tablespoons finely grated orange zest (from about 2 large oranges)
1 cup finely chopped toasted walnuts*
¾ cup orange juice
1/3 cup 1% milk
1 extra large egg
¼ cup canola oil
Topping
3 tablespoons quick-cooking oats, uncooked
3 tablespoons sugar
1 tablespoon finely grated orange zest (from about 1 large orange)
1/3 cup orange marmalade
Preheat oven to 400°F. Prepare muffin pans with paper baking cups and coat paper cups with vegetable cooking spray. Mix topping ingredients in small bowl with a fork and set aside.
Whisk together flours, oats, sugar, baking powder, baking soda, salt and orange zest in large bowl. Stir in walnuts.
In a separate medium bowl, whisk together orange juice, milk, egg and oil until well blended. Add to dry mixture and stir only until all ingredients are moistened; do not over mix.  Divide batter evenly between prepared muffin cups and sprinkle with topping and a dollop of marmalade.
Bake 10 to 14 minutes or until wooden pick inserted in center comes out clean. Cool in pan for two minutes and remove to wire rack. 
Makes 16 muffins.
*Toasted walnuts: Place chopped walnuts in a single layer on a cookie sheet or pan and toast in 350° oven for 8 to 12 minutes or until lightly browned. Stir several times while toasting.