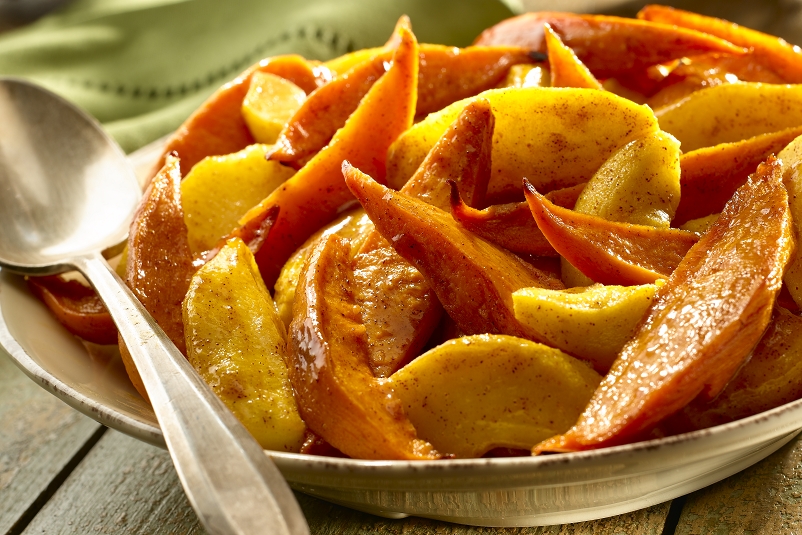 Game Plan: Create nutrient-rich – and tasty – family meals.
Defensive Strategy:  Tackle tasteless foods before they end up off-sides….and off the plate for Mom, Dad and the kids. From entrees and side-dishes, salads and desserts, nothing can be so low in fat or seasonings that it lacks the MVP of family meals: great flavor!
Offensive Strategy:  Half your Plate Fruits and Vegetables. Increase/add nutrient-rich ingredients in every dish if possible, too. Serve whole grains and lean proteins like the six lean cuts of pork, twenty-nine lean cuts of beef, boneless skinless poultry or seafood. Focus on flavor first and foremost. 
Formation:  Front and center with plenty of fall apples. Apples are in-season right now, which means they're very budget-friendly and taste best. Let apples shine in entrées, side dishes and even desserts.  All fresh apples add fiber, especially the cholesterol-lowering soluble type, plus lots of disease-fighting antioxidants. One antioxidant in particular, quercetin, is being studied extensively and may help reduce risk of some cancers and possibly even Alzheimer's disease. 
Touchdown to Victory:  A family-pleasing menu filled with great flavor AND good nutrition: Pork, Apples & Onion entrée, Spice Roasted Sweet Potatoes & Apples side dish and Whole-Wheat Rolls.  Use a trans-fat free soft margarine like Country Crock with 70% less saturated fat and 30% fewer calories than butter to coat the potatoes and apples, then roast in the oven while the Pork Tenderloin, Apples and Onions on the stove-top burner!  Sauté the apples in margarine, too, instead of oil and save a few calories.   
Extra Points:  Score extra points with your family by serving a delicious homemade dessert – especially one filled with nutrient-rich ingredients. Try a simple Apple Crisp made with two whole grains: oats and whole-wheat flour. Or Pumpkin-Spiced Apple Crisp with pecans and dried apricots along with those two whole grains.  Or even Apple 'N Peanut Butter Bread Pudding made with whole-grain bread! 
Spice-Roasted Sweet Potatoes & Apples 
¼ cup Shedd's Spread Country Crock® Pumpkin Spice Spread
¼ teaspoon ground black pepper
3 medium Granny Smith apples, peeled, cored and cut into 1-inch wedges
3 sweet potatoes, peeled and cut into 1-inch wedges 
Preheat oven to 450°F. Combine Shedd's Spread Country Crock® Pumpkin Spice Spread*with pepper in a small bowl; set aside. Toss apples with one tablespoon spread mixture in medium bowl; set aside. Toss potatoes with remaining spread mixture on baking sheet and arrange in single layer. Bake 10 minutes. Stir in apple mixture and bake, stirring once halfway through, an additional 25 minutes or until potatoes and apples are tender. Gently toss before serving. *Use regular Country Crock and mix with 1 teaspoon pumpkin pie spice if you don't have this variety of margarine available.  Makes 6 servings. Prep Time: 10 minutes    Cook Time: 35 minutes 
Dessert recipes mentioned available at www.countrycrock.com. Nutrition information for this sweet potato/apple recipe there, too.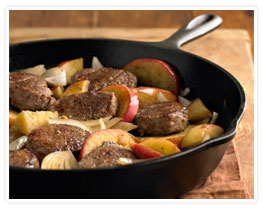 Skillet Pork Medallions with Sautéed Apples & Onions
¼ teaspoon salt
1 teaspoon black pepper
2 teaspoons Saigon cinnamon
1 tablespoon packed brown sugar
2 pork tenderloins (2 to 2½ pounds total)
2 to 4 tablespoons trans-fat free soft margarine, divided
2 large yellow onions, thinly sliced
1 large garlic clove, finely minced
2 large red apples (Jonagold or Honeycrisp), cored and sliced into wedges
½ to ¾ cup apple juice 
Mix salt, pepper, cinnamon and brown sugar together in a small bowl. Rub over both tenderloins to completely coat, and then slice each tenderloin into eight medallions. Set aside. Heat 1 tablespoon margarine in a large 12-inch skillet over medium-high heat. Add pork and brown on both sides. Remove pork and set aside on a covered plate. Heat additional 1 to 2 tablespoons margarine in same skillet, then add onions, garlic and apples and sauté until just becoming tender. Add pork medallions along with apple juice, cover, reduce heat to simmer and cook until pork reaches 145°F and apples and onions are tender. Let pork rest 3 minutes before serving. Makes 6 to 8 servings.
(Recipe adapted from and photo courtesy of porkbeinspired.com)
Disclosure: I'm a culinary-nutrition consultant to Kroger Central Division, various restaurants, numerous public relations representing one or more foods/beverages included in this post and several agriculture organizations.