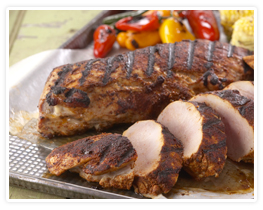 Living in downtown Indianapolis right now is one mega, super-sized serving of excitement.  That's right – I live less than a mile from Lucas Oil Stadium, home of Super Bowl XLVI on February 5. Since Super Bowl is apparently the #2 eating event for Americans, I'd like to share my ideas for serving great-tasting, nutrient-rich and decadent foods for this super-sized occasion.  
Menu
Smoky Rubbed Pork Tenderloin with Chipotle-Lime Mayonnaise on Whole Grain Mini Buns
Good Luck Salsa with Whole Grain Corn Tortilla Chips
Bacon Apple Football Cheeseball
Pork tenderloin stars as the lean protein choice to provide satiety and an excellent source of certain B-vitamins; it's also a good source of zinc. Black-eyed peas, a fiber-filled legume, star in the savory salsa that will bring Good Luck to your team. And decadent bacon stars in the dried-apple studded, calcium-rich sweet-savory cheeseball shaped like a football.
Disclosure: I'm a culinary-nutrition consultant to restaurants and numerous public relations representing one or more foods/beverages included in this post and several agriculture organizations.
Smoky Rubbed Pork Tenderloin
2 pork tenderloins, about 2 to 2 1/3 pounds total
Smoky Rub
1 tablespoon chili powder
1 tablespoon chipotle chili powder
2 teaspoons smoked paprika
1 teaspoon ancho chili powder
1 teaspoon black pepper
1 tablespoon sugar
¼ teaspoon salt
Preheat oven to 425°F. Combine all smoky rub ingredients in small bowl and stir well. Completely cover pork tenderloins with rub. Roast for 20 to 27 minutes, or until temperature in center of pork is 145 degrees. Remove pork and let rest 3 minutes before slicing. Serve with chipotle lime mayo on whole grain buns. Makes about 6 to 8 servings.
Find more inspiration with lean pork, bacon and side-dishes for your Super Bowl Party at www.PorkBeInspired.com
Good Luck Salsa
2 cans (15 – 16 oz.) black-eyed peas, rinsed and drained
1 can (15 – 16 oz.) white and yellow sweet corn, rinsed and drained
1 can (15 oz.) petite diced tomatoes, drained
1 to 1 ½ jalapeño peppers, seeded and finely minced
¼ to 1/3 cup finely chopped fresh cilantro
¾ cup finely chopped red onion
1/3 cup red wine vinegar
2 ½ tablespoons extra virgin olive oil
1 teaspoon kosher salt
½ teaspoon black pepper
½ teaspoon garlic powder
1 teaspoon dried oregano
¾ to 1 teaspoon ground cumin
Combine peas, corn, tomatoes, peppers, cilantro and onion in large bowl. Whisk together remaining ingredients and pour over vegetables, stirring to combine and coat. Refrigerate a couple hours before serving. Enjoy with whole-grain corn chips. Makes about 6 cups, or 24 servings of 1/4 cup each.