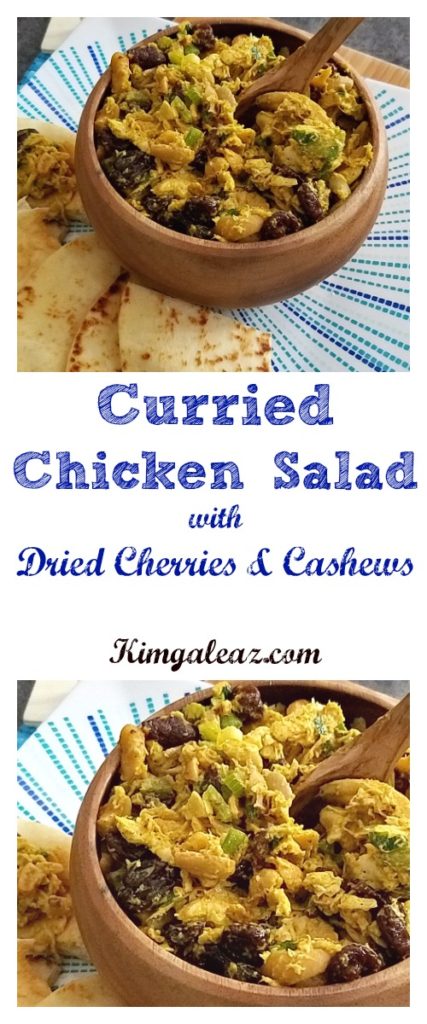 Basic chicken salad gets a flavor, texture and nutrient boost when you start adding fruit, nuts and spices.
First, the fruit. Of course you can add chopped fresh fruit like apples, pears, mango or grapes. But I think dried fruits work the best, because they add all the typical "fruit nutrients" without extra moisture. Raisins, dates, cranberries, figs and my top favorite – dried cherries – compliment any chicken salad. Dried fruits offer fiber, vitamins and minerals for optimal health. And dried fruits add interesting texture to chicken salad, too.
Next, the crunchy nuts. Just about anything works, from peanuts, almonds and pistachios, to walnuts and pecans. My favorite combo with the dried cherries are cashews. All nuts provide healthy fats along with a little protein and fiber.
Finally, the spices. Basic basil, oregano and marjoram work fine. Or a pinch of lemon pepper. But hands down my favorite flavor profile in chicken salad is Indian. I like to add ample curry powder and garam masala, which is typically a blend of cinnamon, cloves, cumin, coriander and peppers.
Enjoy my Curried Chicken Salad with Dried Cherries and Cashews.

Curried Chicken Salad with Dried Cherries and Cashews
Author:
Kim Galeaz RDN CD
Ingredients
4 cups shredded, coarsely chopped cooked chicken*
⅔ cup diced celery
⅔ cup finely chopped green onion
½ cup light mayonnaise
1 ½ teaspoons curry powder
½ teaspoon Garam masala
¼ teaspoon turmeric
⅛ teaspoon each salt and pepper
¾ cup coarsely chopped cashews
1 cup dried tart cherries
2 teaspoons lemon juice
Instructions
Toss all ingredients together in a large bowl. Stir to thoroughly combine and blend. Add more seasonings if desired.
*Best time-saver is to use supermarket rotisserie chicken and shred/chop after removing skin/bones.
*Serve with Naan bread, pita pockets or plain. Even on salad greens.
Nutrition Facts per serving (approximately ¾ cup chicken salad): 320 calories, 14 g fat, 3 g saturated fat, 0 g trans fat, 60 mg cholesterol, 25 g protein, 25 g carbohydrate, 2.5 g fiber, 335 mg sodium.