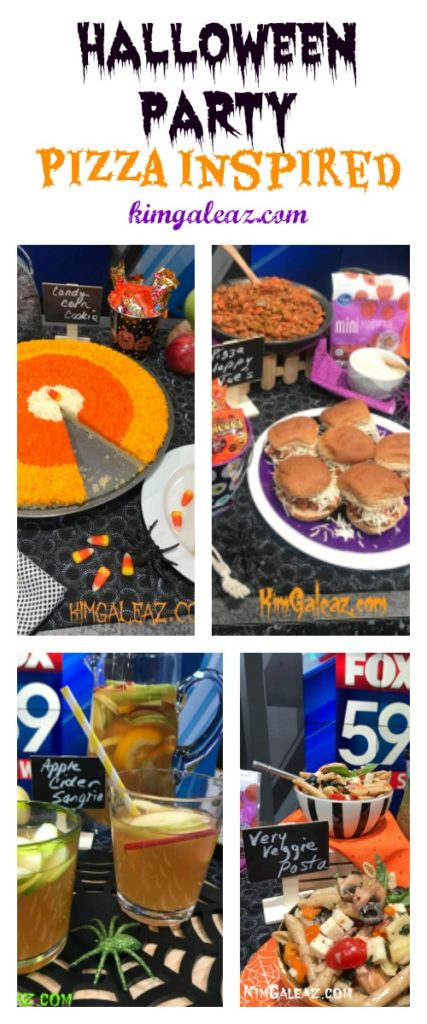 Halloween Party with Pizza-Inspired Foods for the Entire Family
Notice I said "pizza-inspired" party, not just "pizza" party. That's because instead of just a bunch of traditional round pizzas, I thought it would be fun to throw together a main dish, side dish and dessert that all "resemble" pizza in one way or another.
So my Pizza-Style Sloppy Joe's are like Pepperoni Cheese Pizza, but in a quick, stove-top skillet sloppy joe recipe. Italian seasoning, onion, garlic, ground beef and plenty of little mini-pepperonis. Serve on any favorite hamburger bun (of course I highly recommend whole-wheat hamburger buns for a daily dose of whole-grain goodness!) with lots of calcium- and protein-rich mozzarella cheese.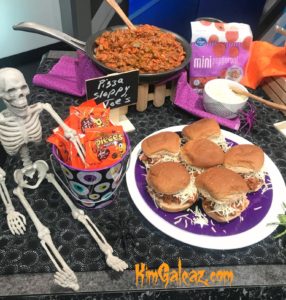 Next, I thought Very Veggie Pizza…..Pasta Salad! So lots of mozzarella and Parmesan cheese tossed with whole wheat (more whole-grain nutrients for you!) penne, and just loads of vegetables. Like the ones on a Very Veggie Pizza: mushrooms, tomatoes, artichokes, bell pepper, onion, black olives and basil. And topped with my favorite Italian salad dressing, Good Seasons Italian. (Who remembers those cruets that Good Seasons has been selling along with the seasoning packets?! I have a collection of them. Anyway, I whip it the dressing – either the low-fat or full-fat version and pour it all over the salad.  I love the big-batch party-size aspect of this recipe (18 cups). Get the full recipe here.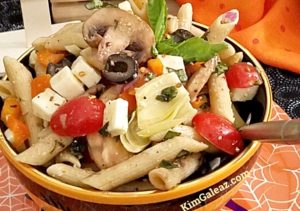 For dessert, I decided Candy Corn Cookie Pizza was just perfect. You can use those refrigerated sugar cookie logs to save time, but I just love my cut-out sugar cookie dough, so that was the "crust." Yellow, orange and white buttercream icing, arranged in bands like Candy Corn became the "toppings."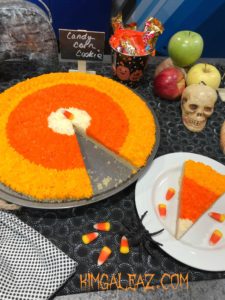 I thought it would be downright spooky, scary and ghastly if I tried to do "pizza-flavored beverage," so I created the next best thing: sangria. White wine, alcoholic ginger bear and lots of in-season Fall Apple Cider. And of course, tons of fruit like apple slices, oranges and a lemon. I even created a "kid-friendly" version for you, so EVERYONE can enjoy this festive drink before, during and after Trick-or-Treating.
Enjoy all my recipes for Halloween – or any time of year!

Pizza Style Sloppy Joes
Author:
Kim Galeaz RDN CD
Ingredients
1⅓ pound lean ground beef (Kim likes 90/10 for this recipe)
1 ½ cups finely chopped onion
1 very large green bell pepper, seeded and finely chopped
2 very finely minced garlic cloves
1 jar (16 ounces) favorite pizza sauce
1 teaspoon Italian seasoning
1 teaspoon dried oregano
½ to 1 teaspoon crushed red pepper
1 bag (4 oz.) mini pepperoni slices
6-8 hamburger buns (white or whole-wheat)
2 cups finely shredded Mozzarella cheese
Instructions
In a large skillet over medium heat, cook ground beef, onion and green pepper until beef is almost done.
Add garlic and cook additional minute or two, until beef is thoroughly cooked. Add pizza sauce, Italian seasoning, oregano, crushed red pepper and mini pepperonis. Stir well and bring to a boil. Reduce heat, cover and simmer for 10 minutes.
Spoon mixture onto bun bottom, sprinkle roughly ¼ cup shredded mozzarella cheese over meat, then top with bun. Enjoy! Refrigerated leftovers in tightly covered container.
Slider buns can be used instead of standard hamburger buns. You'll need two packages, probably.
Candy Corn Sugar Cookie Pizza
Author:
Kim Galeaz RDN CD
Ingredients
Kim's Homemade Sugar Cookie Dough "Crust"*
1 ½ cups sifted powdered sugar
1 cup butter, unsalted
1 egg
1 teaspoon pure vanilla extract
½ teaspoon pure almond extract
2 ½ cups all-purpose flour
1 teaspoon baking soda
1 teaspoon cream of tartar
Optional garnish: fall/Halloween M&M's or any other favorite candy crushed in small pieces
Kim's Buttercream Icing
1 cup butter (or ½ cup butter + ½ cup Crisco shortening)
1 vanilla or clear vanilla**
4 cups (1 pound) sifted powdered sugar
2 tablespoons whole milk
Gel colors: orange and golden yellow
Instructions
Kim's Homemade Sugar Cookie Dough "Crust"
In a large bowl, mix sugar and butter together with electric mixer. Add egg, vanilla and almond extracts. Mix thoroughly until blended. In a separate medium bowl, whisk together flour, baking soda and cream of tartar. Add slowly to butter mixture, mixing well on medium until thoroughly blended. Refrigerate dough 2 to 3 hours.
Heat oven to 375⁰F. Lightly grease or spray a large (12-14-inch) pizza pan. Pat or roll dough on pan, making sure it's the same thickness all around. Bake until done in middle and slightly golden, about 9 to 14 minutes, depending on your oven. Cool on wire rack.
Once completely cooled, ice with my buttercream icing to resemble candy corn. Sprinkle with M&Ms or candy if desired. Refrigerate iced cookie until serving time. Slice into wedges.
Kim's Buttercream Icing
In a large mixing bowl, cream the butter. Add vanilla and mix until combined. Gradually add powdered sugar, about 1 cup at a time, beating well on medium speed. Add the whole milk in between sugar additions. Mix 3 minutes, or until slightly fluffier. Take out a tiny amount of white icing and set aside. Tint slightly over half of the remaining icing a bright golden yellow. Tint the remaining amount orange. Pipe or spread each color in a circular pattern on the cookie (yellow on crust edge, wider band of orange in center and small circle of white in middle.)
Kim's Tips: *Use two of those refrigerated sugar cookie dough logs if you want. Use clear vanilla if you're going to need part of the icing to stay bright white.
Apple Cider Sangria
Author:
Kim Galeaz RDN CD
Ingredients
2 cups apple cider
2 bottles (10 to 12 ounces each) alcoholic ginger beer (or non-alcoholic ginger beer or ginger ale for kids)
1 bottle favorite white wine (1 bottle sparkling cider for kids)
3 large apples, assorted colors (red, green, golden), unpeeled, cored and sliced
1 large navel orange, cut into slices
1 lemon, slices
Optional garnishes: more apple slices
Instructions
In a large pitcher, bowl or container, whisk together apple cider, ginger beer (ginger ale) and white wine (sparkling cider.)
Add sliced apples, orange and lemon.
Refrigerate at least 1 hour before serving to allow flavors to blend.