Fast, easy and healthy.
I've got you covered when you need inspiration for any meal or occasion: lunch, dinner or even breakfast. Tailgating. Hectic weeknight meals. Hungry kids home from school. Pitch-in, parties and more.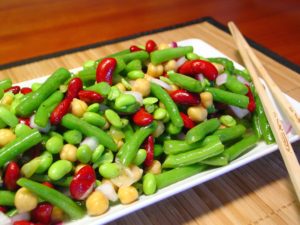 First up, my favorite side-salad that packs easily in lunches or is a great "make-n-take" dish for get-togethers. Also, it's my husband Jeff's favorite salad for lunches. Asian Sweet & Sour Bean Salad.

Asian Sweet & Sour Bean Salad
Author:
Kim Galeaz RDN CD
Ingredients
3 cans (14-15 oz each) Kroger cut green beans, drained
1 bag (16 oz.) Kroger Private Selection frozen shelled edamame, thawed
1 can (15.5 oz.) Kroger dark red kidney beans, well drained and rinsed
1 can (15.5 oz.) Kroger garbanzo beans, well drained and rinsed
¾ cup chopped red onion
¾ cup unseasoned rice vinegar
½ cup vegetable, corn or canola oil
¾ cup granulated sugar
1 heaping teaspoon Chinese mustard
½ teaspoon kosher salt
½ teaspoon ground black pepper
Instructions
Place edamame in separate glass bowl and microwave 2 minutes. In a large bowl, combine green beans, edamame, kidney beans, garbanzo beans and red onion, tossing lightly. Whisk rice vinegar, canola oil, sugar, Chinese mustard, salt and pepper in a separate small bowl until thoroughly blended. Pour dressing over bean-onion mixture and stir lightly to coat all ingredients. Enjoy immediately. Refrigerate leftovers in tightly covered container.
Next, for lunches or dinners – even a protein-rich breakfast burrito – my Hot & Spicy Burrito Meat. I prefer to make it with lean beef, but you can easily sub ground chicken or turkey and even soy crumbles.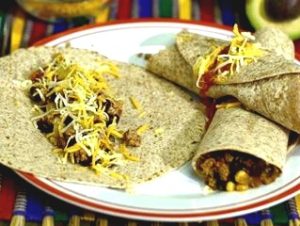 Hot & Spicy Burrito Meat
Fast beef burrito meat chock-full of vegetables and nutrients.
Author:
Kim Galeaz RDN CD
Serves:
5 cups burrito meat
Ingredients
1 pound lean ground beef (no more than 10% fat content)*
1 can (15 oz.) Kroger black beans, rinsed and drained
1 can (10 - 14 oz.) Kroger diced tomatoes with green chilies, drained*
¾ cup sweet corn kernels (from drained Kroger canned corn or frozen and thawed corn)
1 can (4 oz.) Kroger chopped green chiles, undrained
1 teaspoon chili powder
½ to 1 teaspoon crushed red pepper
5 to 10 drops hot pepper sauce
Kroger 100% whole wheat flour tortillas
Toppings: shredded lettuce, baby spinach leaves, chopped onion, Kroger Mexican blend shredded cheese, Kroger tomatillo sauce, Kroger salsa, avocado diced.
Instructions
In a large skillet over medium heat, cook ground turkey, chicken or beef. Add beans, diced tomatoes, green chilies, chili powder, crushed red pepper and hot pepper sauce. Cook until meat is thoroughly done. Serve in Kroger whole wheat flour tortillas with favorite toppings. Can also be served in corn tortillas, taco shells or with tortilla chips.
*Can also use one 12 oz. package meatless soy burger-style crumbles for a meatless filling. If using soy crumbles, do not drain diced tomatoes. Can also use ground turkey or ground chicken.
Finally, my Big Beef Chili. It's brimming with phytonutrients for optimal health. Better yet, it's ready in under 45 minutes. Makes a big batch. All you need is my
whole grain cornbread
on the side!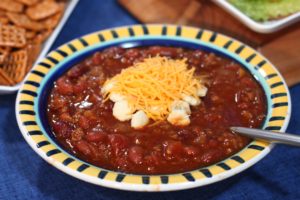 Big Beef Chili
Lean beef and canned beans paired with zesty spices for a big batch of healthy chili.
Author:
Kim Galeaz RDN CD
Serves:
16 cups chili (8 servings of 2-cups each)
Ingredients
1 tablespoon vegetable oil (soybean or corn)
2½ cups chopped onion
1 - 2 tablespoons finely minced garlic
1½ pounds lean ground beef (such as ground round or sirloin)
1 can (15 oz.) light kidney beans, rinsed and drained
1 can (15 oz.) dark red kidney beans, rinsed and drained
2 cans (15 oz.) red beans, rinsed and drained
2 cans (14.5 to 15 oz.) petite diced tomatoes
2 cans (15 oz.) tomato sauce
1 cup favorite porter or stout beer (optional)
1½ to 2 cups lower sodium beef broth
3 tablespoons brown sugar
1 tablespoon ground cumin
1 tablespoons ground chili powder
1 teaspoon ground ancho chili pepper
½ teaspoon Aleppo pepper*
¾ teaspoon crushed red pepper
1½ teaspoons black pepper
½ teaspoon salt
5 to 10 drops hot red pepper sauce
Instructions
Heat oil in large stock pot over medium-high heat. Add onions, garlic and ground beef. Cook until beef is thoroughly cooked. Carefully drain grease (if desired, since there won't be much grease with these lean cuts of ground beef). Add rinsed and drained beans to onion-beef mixture along with all remaining ingredients. Stir well. Bring to a boil, then reduce heat to low. Cover and simmer 35 to 45 minutes. *Just substitute a little extra crushed red pepper if you don't have Aleppo pepper.